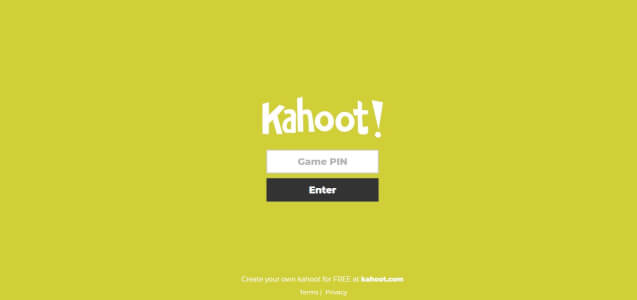 Kahoot being a gaming-based learning platform uses advanced scholastic technology for educational establishments like schools, etc. This application enables you to produce quizzes very easily and also lets you play with your friends anywhere all over the world.
Kahoot is a learning charm for trivia fans, teachers, students, and enduring learners. This app gives you a surprise element to be used in a party with your friends/guests and also has become high-value help in project making for students. 
It is a platform with a large number of games that covers endless topics to make quizzes on, in turn making it the best quizzing app. These quizzes can be played alone or with a group of people. 
Teachers can allocate quizzes in homework to make it an interesting, time saving and fast learning process instead of boring paper assignments. It will also make the homework more challenging and easier to track pupil's learning progress. 
Kahoot app has a long list of basic features that stands it out in many others. Still, one would like to explore options in this category of applications. So, here we are, with a list of a few of the many alternatives of Kahoot for you. 
Best alternative to Kahoot
1. Kids A-Z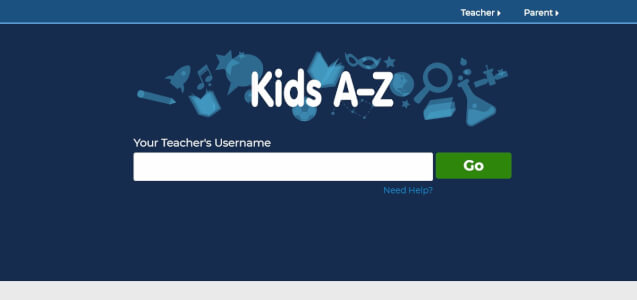 Kids A-Z application is an amazingly powerful platform with a very simple interface created and issued by Lazel Inc. This mobile app is free for cross-platform usage. Kids get an option of quizzes, educational games, resources and e-books library with interactive content for learning every time, anywhere for Science A-Z, Raz-Plus and Raz-Kids. To make learning delightful, it has solid drawing and coloring tools. 
Using professional tools of personalized learning systems from Kids A-Z one gets to create their own quizzes. It also lets players, access a number of developmentally suitable resources, share and play with friends, etc. Other eminent features are notation tools and automatically report to the teachers. 
2. Quizalize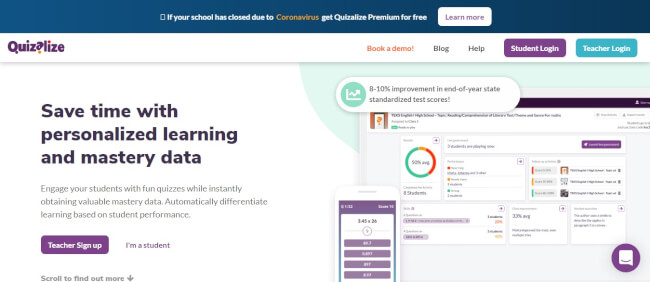 Quizalize is a mobile and web-based simple platform that is easily understandable. It helps the teachers to deliver an evolved and fun-filled teaching in the foremost and effortless ways. The teacher gets an opportunity to revolve a boring test into an amusing classroom team game and also lets the teacher know each student's performance. Student's feedback can also be obtained to know his/her area of trouble. Its gigantic scope of learning tools makes it one of the best classroom applications used. 
Quizalize app has the option of more than 120K off the self-quizzes, allows one to make their own quizzes and stimulates the students for accurate answering. Along with this, one can play various games with teams. As this application imparts knowledge with enjoyment, there are over 2 million users throughout the world and makes it one of the best Kahoot alternatives. 
Also Read: Best Handbrake alternatives
3. Quizlet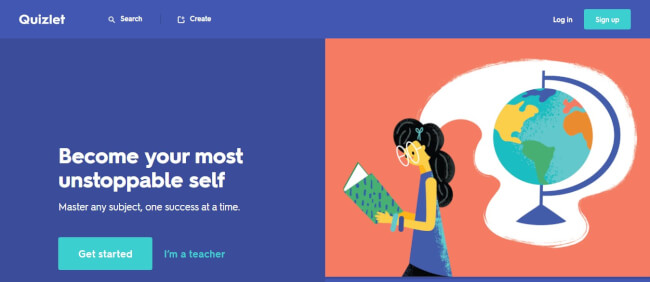 Quizlet is an easy game and web-based study application that has compelling based learning tools and games to practice and attain proficiency in the learned material. It provides an option to choose and/or create and upload study sets of quizzes and flashcards to all the students throughout the world, just like Kahoot. It has over 30 million users who can upload their study materials anywhere, anytime and at the same time can access other's uploaded matter. 
Also Read: 24 Best Ahrefs Alternatives
Its various kinds of tools and features like a race against the clock, along with audio and images intensify the experience of learning. Stories in various categories can be explored, the correct pronunciation of the text can be heard in nearly 18 varied languages and many more features also make it one of the best applications in learning. The games played have great objectives for completion and gaining points. 
4. Acadly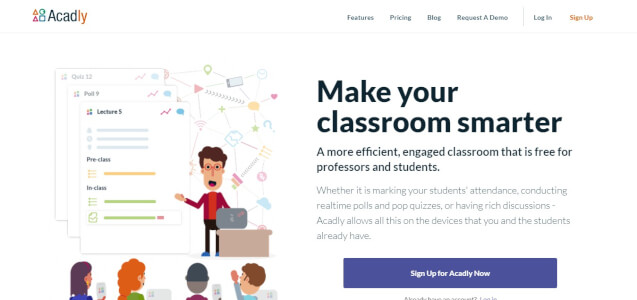 Acadly is a free and outstanding management tool for attendance, question/answers, quizzes, analytics and live in-class polling, etc. with built-in chat features and different learning tools, it becomes one of the best learning package application both for teachers and students. 
Acadly has a peculiar and absolute course structure facilitating various educational techniques. Tutors usually use this application to implement active learning, BYOD teaching, blended learning, collaborative teaching and flipped classrooms. 
Upon installing Acadly, one has to create his/her profile and then get unlimited access to its features. These include creating and playing quizzes with friends around the world. Sharing files, videos, images, and links are also allowed on this application. Teachers can track student attendance, grade assignment, provide various courses, create live polls, etc. 
5. Socrative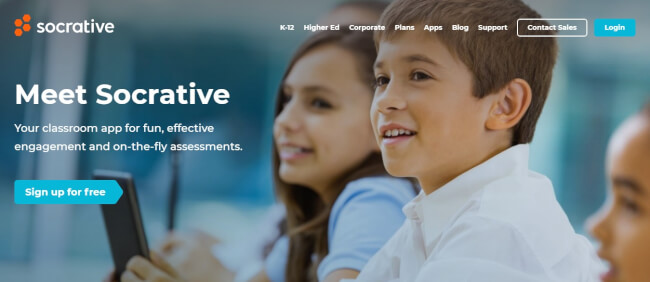 Socrative is a free platform accessible for web, Android and iOS. It is the most fitting, easy to understand, naturally used classroom learning application for both the teachers and the students. Assessments are done in a very effective, engaging, amusing and quick method. Various tools and features help in making the work done, faster and simpler. 
Socrative helps the students to share their knowledge by answering questions of formative assessment in various forms like quizzes, space races, quick question polls, exit tickets, etc. 
Recommended: 13 Best Tumblr alternatives 
All the stuff on the platform is consists of multiple categories, and each category has its own quizzes, multiple-choice questions, and games. Unlimited access to various features can be availed just by downloading, installing and creating a profile in the app. 
6. Seesaw– The Learning Journal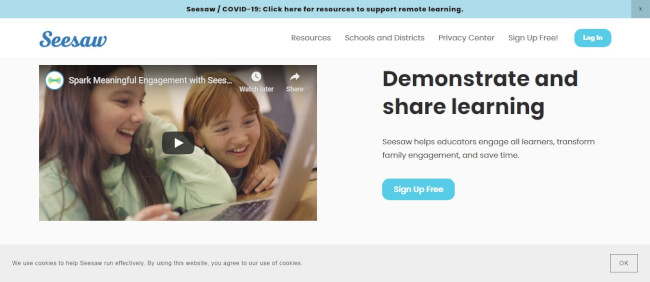 Seesaw – The Learning Journal is a digital portfolio that is student-driven which saves their time and also motivates them to produce the finest work. This majestic learning application presents various tools and games creating a new teaching, learning experience. Better apprehension of each pupil's progress is done with the help of student knowledge assessment by audio and video clippings. 
Teaching is made interactive by multi-category, accessible classroom activities, playing various games jointly with friends and interactions with teachers. Seesaw enables the teachers to focus on their students individually by comparing their scores in real-time. Seesaw is an alternative application of Kahoot that has Kahoot like services along with few additional features.
Above are six out of many Kahoot alternatives, that can be explored, to make the teaching and learning methods easy, interactive and effective for both the students and the teachers. 
Recommended Reading on Alternativoj: If you're looking for miscellaneous  alternatives check out our posts like Alternatives to Kahoot, Alternatives to Google Url shortener, Alternatives to Terrarium Tv.