Video conferencing feature is increasing among corporate employees and freelancers. With the rise in the number of freelancing projects in the current situation, the use of video conferencing tools is also on the rise. 
You can work more comfortably with the help of video conferencing apps. One of the most popular apps for video conferencing is Zoom. This app was criticized heavily by users. Earlier, the people used to complain that they get chat requests from uninvited guests. Apart from that, many users say that Zoom had an unprotected cloud database. 
Some people even said that Zoom used to leak their chats. If you want some secure and robust videoconferencing apps, you can consider the apps listed below. 
Best Zoom alternatives
1
. Jitsi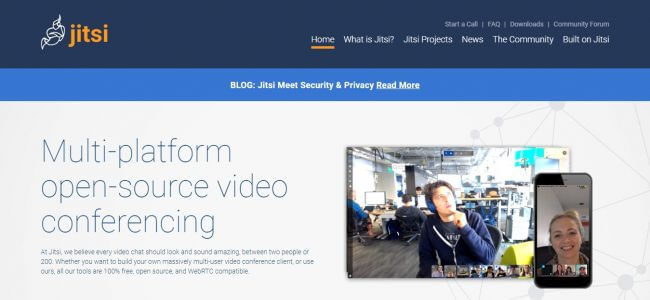 Jitsi is one of the best zoom alternatives that can use to chat with multiple users at the same time. It is an open platform to collaborate and work together. Further, this is a free app to do video conferencing with your colleagues while working on group projects and assignments. 
In addition to that, it offers nice security to the users and prevents the information from leaking. Moreover, the Jitsi app works seamlessly on Web, iOS and Android platforms. You can also customize the features of this app according to your needs and convenience. 
Additionally, this app provides high-quality videos during videoconferencing sessions. It also has the feature of end-to-end encryption for privacy and safety. Jitsi provides you the choice of selecting different video formats for videoconferencing. It makes your online meetings and conferences more interactive and engaging. Furthermore, Jitsi comes with both audio and video chat communicator. 
Also Read: 19 Free Basecamp alternatives for project management
2. Skype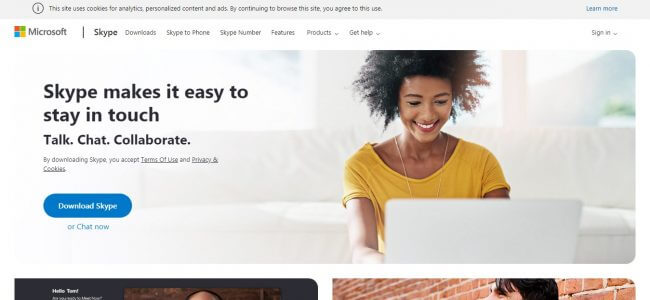 The next on the list is Skype It is the most popular tool to chat with friends and relatives. Apart from that, this app offers you the facility to engage in group chats. Because of encryption, Skype is a safe tool to use for company projects.  
Further, you can create your meetings during projects. It is better than normal video conferencing apps as you need to do sign up procedure. Moreover, you can keep your chats private from outsiders and unknown contacts. 
In addition to that, you can share important files and folders on Skye. Apart from professional conversation, you can also enjoy chats with your college buddies and cousins on this tool. You can also make international calls without paying any charge with the help of this tool. 
Additionally, Skype offers a free monthly trial to check its features. Furthermore, it is a good and professional tool. 
3. Group FaceTime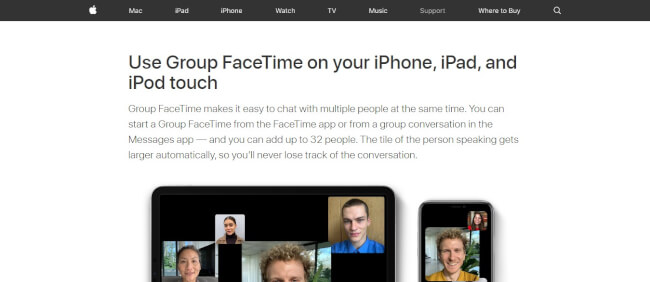 iPhone users know well how FaceTime works to bring people together from different places. Group FaceTime has some of the amazing features for making your conversations more interesting. You can place the window beside that person with whom you are talking. 
Further, this tool includes end-to-end encryption for safety and security. You can talk to 30 callers simultaneously on Group FaceTime. Whether it is image, video or file, you can share everything on this tool. Moreover, it supports all iOS devices. 
In addition to that, it is easy to install Group FaceTime on your iOS devices. You can also ask an expert if there is any doubt while using the app. All you need is a good internet or Wi-Fi connection to chat with your colleagues and friends on the Group FaceTime app. 
4. Signal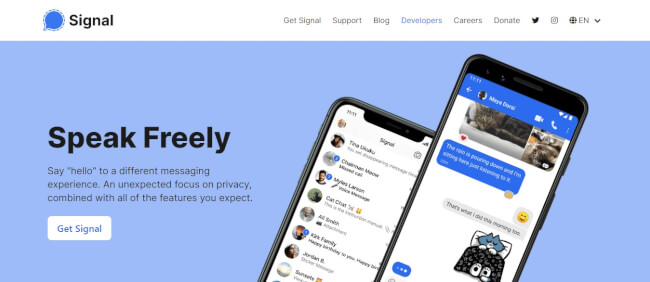 The next tool on the list is Signal. It is one of the robust apps like zoom that you use for successful video conferences. This tool works on many platforms. Apart from that, you can share images, photos, files, and documents using Signal. It also helps you to chat with your office colleagues from any part of the world. 
This tool allows you to enjoy group chats. It is completely free of charge tool available for company employees, freelancers, and individuals. You will not find it difficult to use Signal because it has similar features to that of WhatsApp. Apart from that, the end-to-end encryption keeps all your chats safe and secure. No third party or contact out of your list can view your chat history. 
In addition to that, it offers HD voice calls. It also delivers your message securely and speedily. 
5. GoToMeeting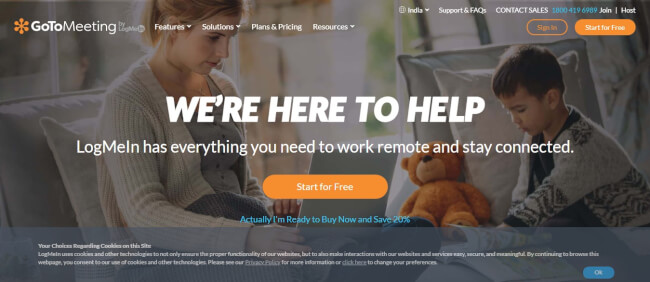 Every employee of the world is well versed with this tool. GoToMeeting is the most famous video conferencing tool used by small companies and IT professionals. It connects you with your group members anytime and anywhere. All you need to do is install this software on your device and start private chats. 
Further, this tool is free and you don't have to pay any subscription charges as well. You can discuss all the important points of your projects and work on this software. Apart from that, the simple sign up process makes it easier for you to use this tool. 
From the calendar to booking, you can get many useful features in the GoToMeeting app. Moreover, you can plan the meeting with the client or fix the date for the project submission. Furthermore, this tool integrates with many other tools such as Gmail, Microsoft Office 365 and so on. 
Recommended: Trello alternatives : 12 Best Kanban Board tools
6. Cisco Webex Teams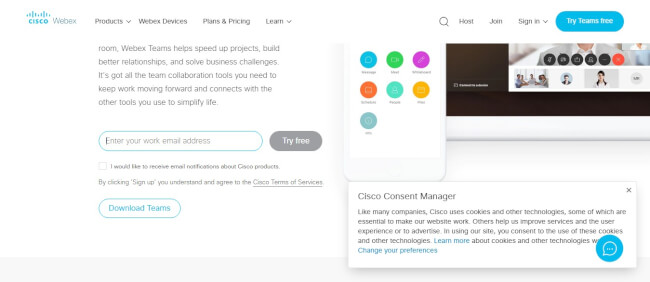 You can now make every group project successful with Cisco Webex Teams. It is one of the best tools for teamwork and group projects. You can enjoy clear communication with your office colleagues on this tool. Apart from that, it sends your messages quickly from any device. 
Cisco Webex Teams has all the tools on the right side. You can choose any tool as per your needs and work. Whether it is calling the friend or booking the meeting date, you can do all the tasks with the help of this tool. It comes with a whiteboard on which you can share your drawings and diagrams. 
In addition to that, it offers you the facility to enjoy private chats with your best buddies. Moreover, you can call them from your phone using Cisco Webex Teams app. 
7. IntermediaAnyMeeting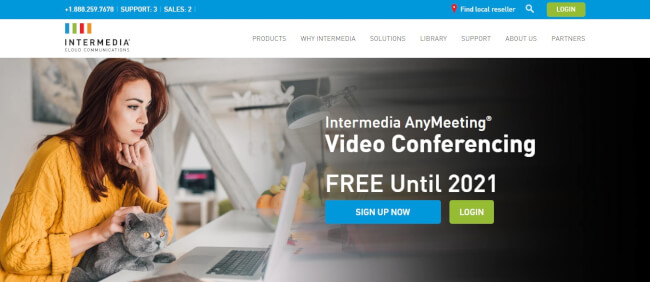 The last app on this list is InterMediaAnyMeeting. You can organize online meetings and webinars using this video conferencing app. It integrates with an array of tools such as LinkedIn, Google Sheets, MailChimp and others. 
Further, this tool will help you to talk with your clients and sales group anywhere. It also helps in running your business successfully by increasing sales. Moreover, you can use this tool on both computers and mobile phones. You can enjoy chats with your friends and office group in HD videos as well as audios. 
In addition to that, this app contains the latest features such as artificial intelligence and collaboration tools. It makes every meeting more engaging and interactive. Besides that, you can also select the various video formats for your video conferences. 
Additionally, you can share important files, documents, and points on a common screen. Furthermore, you can use this tool from apps such s G-Suite, MS Teams and so on. 
Recommended Reading on Alternativoj: If you're looking for productivity tools alternatives check out our posts like Alternatives to Ninite, Alternatives to Yammer , Alternatives to Quip.
Final words 
This is the list of latest apps that you can download for video conferencing. They are free apps to enjoy a group or private chats. Apart from that, they come with smart features such as high-quality videos, audio and calling facilities, and others.