Vonage is one of the most recognized VoIP service providers for all business sizes, which comes with several features, but many people are looking for its alternative! If you are one of them who is looking for the best Vonage alternatives, then you are in the right place.
Here in this post, we will suggest 10 best alternatives of Vonage available in the current market. Before choosing the best alternative, we will suggest you read the entire post and choose the better one for your business according to your need and requirement.   
Before going further, let's know about Vonage and why people need alternative to Vonage in short.        
What is Vonage? 
Vonage is one of the popular and pioneer VoIP service providers, with several features like messages, auto-attendant, integrations, calls, and much more. This company is in this business since 2001 and providing service to many small- and large-scale businesses.     
Why you need an alternative to Vonage?
No doubt, Vonage is a popular VoIP service provider. Still, it has several drawbacks like no support for MMS, high fees with hidden charges, clunky user experience, poor customer supports, limitation on features, and much more. These are some of the main reasons people nowadays are looking for the finest alternative to Vonage.  
Best recommended Vonage alternatives 
1. CallHippo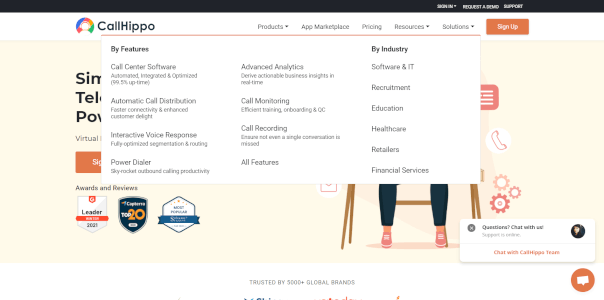 Callhippo is one of the top-rated cloud-based VoIP phone systems specially designed to fulfill businesses' communication requirements. This tool is available as a web and mobile based application in which you can easily handle sales and marketing calls. 
This platform allows users to purchase virtual phone numbers from more than 50 countries to add users and make calls.
This tool comes with several features like CRM integration, IVR and dial groups, contact management, internal call transfer, and voice mails. It's available with three plans like bronze, silver, and platinum. The costs of these plans are $14, $18, and $30.     
2. Nextiva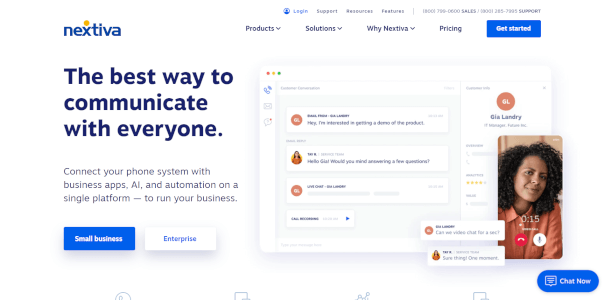 If you are searching for sites like Vonage, then Nextiva can be a good option for you. This is an impressive platform that facilitates communications, together with several business applications, automation, and intelligence.
Overall, you can say this platform helps businesses to communicate with customers to build strong connections. You will get all communication channels on this platform like video call, collaboration, SMS, chat, voice call, and survey.
This platform was founded in 2008 in the United States and comes with many amazing features like call monitoring, call routing, virtual call center, IVR/voice recognition, Mobile access, web conferencing, call logging, and much more. This tool comes with three plans likes essential, pro, enterprise, and costs $18, $22, and $32/month per user.       
Also Read: 
3. RingCentral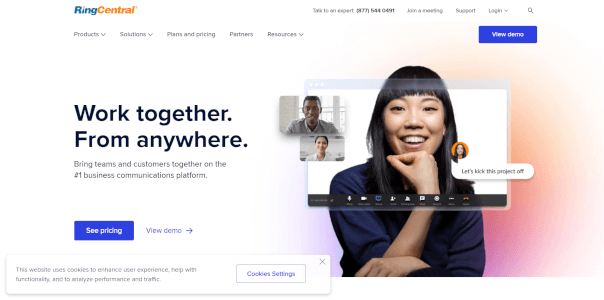 Ringcentral is another finest option for you if you are looking for the best alternative to Vonage. This is an incredible cloud-based communication system which helps business organizations to communicate and build a strong relationship with their customer.
This platform comes with many special specifications like call recording, toll-free options, video conferencing, E911 service, SIP phone support, Voice mail transcription, SMS messaging, and voicemail to email.
This advanced communication platform comes with four special pricing plans like essential, standard, premium, and ultimate, which costs $19.99, $24.99, $34.99, and $49.99/month per user.     
4. Grasshopper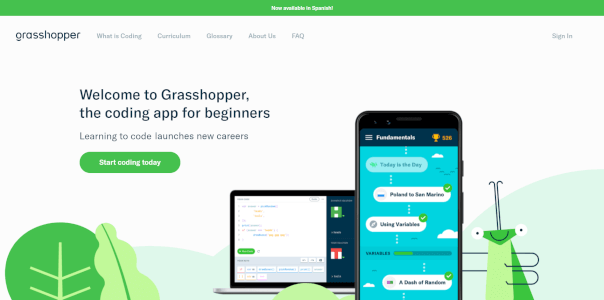 If you are running individual or small businesses and looking for an advanced virtual phone system for communication, then Grasshopper can be handy for you. You will get local, toll-free, and vanity phone numbers on this platform for your business.
Grasshopper was founded in 2003 in the united states, which is best for small businesses. You will get features like IVR/voice recognition, reporting/analytics, desk to desk calls, hold music feature on this platform.
It comes with three pricing plans like Solo, Partner, and small business, which costs $26, $44, and $80 per account/ per month. This tool is another great alternative to Vonage you should try once.  
5.GoToConnect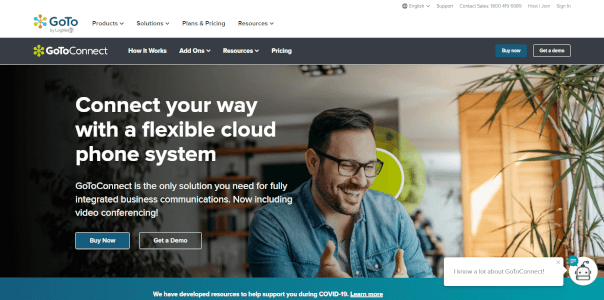 GoToConect, also formerly known as Jive, is a cloud based unified communication solution for all organization sizes. Overall, you can say this is a unified communication tool for an organization where you can get GoToMeeting web facilities along with audio-video conferencing.
You will get several basic communications features on this tool, like screen sharing, phone calls, video calls, and conference calls. Some of the best features of this tool are like automated attendants and hold music. When it comes to access, you can do it via software pairing and browser extension.
This tool's cost is $19.95 per user/month, and this is one of the best Vonage alternatives you can use for your business communication.  
6. Zoom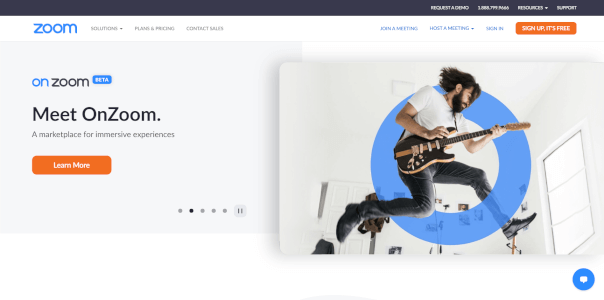 The next on our list is none other than the trendy Zoom platform. Nowadays this is one of the best alternatives to Vonage you should try for business communication.  On zoom, you can arrange cloud video conferencing, online meetings, and group messaging. 
This platform comes with many special features like discussion boards, content management, calendar management, video conferencing, contact management, document management, and real time editing.
Zoom was founded in 2011 in the United States, and nowadays, it's very popular among people. You can go for a basic plan of 14.99/month/user when it comes to pricing.     
7. MiCloud Connect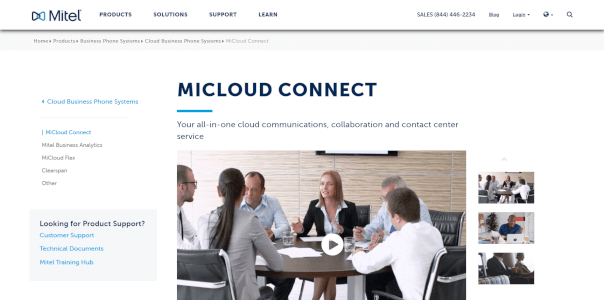 MiCloud Connect is another renowned cloud-based VoIP communication system that provides collaboration and conferencing facilities for the business organization. This platform is specially designed for all business sizes that need flawless communication via group chats, messaging, collaboration tools, and conferencing.
This software was founded in 1973 in Canada, which is also known as Mitel. With this platform's help, users can easily enable system administration settings and do the setting according to requirements. 
Users can monitor call activity, calling data, and keep track of sales performance and service levels via this advanced tool. MiCloud Connect comes with three plans: essential, premier, and elite, which costs $20.99, $26.59, and $38.49 per user/month. 
8. 3CX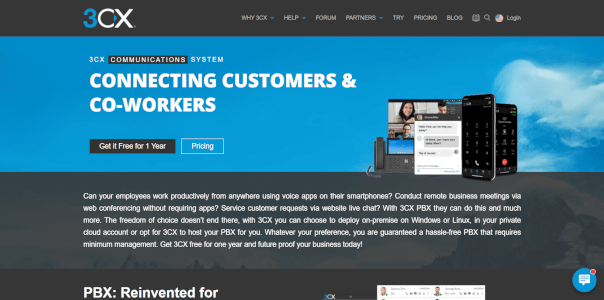 If you are looking for an advanced communication system for your business, then 3CX can be the best option for you. This tool comes with several basic features like phone calls, conference calls, video calls, desk to desk calls, and instant messaging. 
You will get automated attendants and hold music features on this great platform when it comes to advanced features. This platform is available for three plans like standard, pro, and enterprise.
The standard plan of this tool is free to use in which you can get up to 8 calls; on the other hand, the pro plan and enterprise plans come with $325 and $394 annually/user.       
9.Dialpad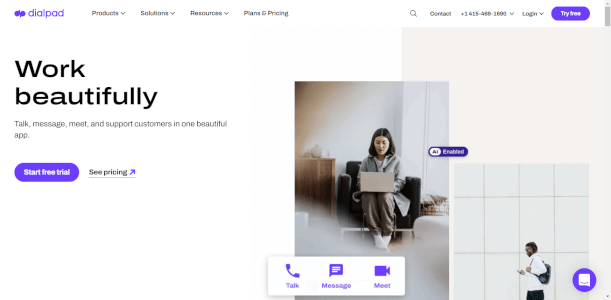 Dialpad is another efficient cloud-hosted unified communication system that can be used as Vonage alternatives. This tool supports both mobile and computer devices, and you can get all essential features like voice calling, video conferencing, and message text on this platform.
This tool supports English and Japanese language and comes with many advanced administrative features like virtual attendants, interactive voice response, customer greetings with music, call logging, and customer call touting.
Dialpad comes with three plans like standard pro and enterprise. You have to pay $15/month/user for a Standard plan, and the pro version comes with $25/month/user. For the enterprise version, you have to contact the brand helpline for the best quote.     
10.Aircall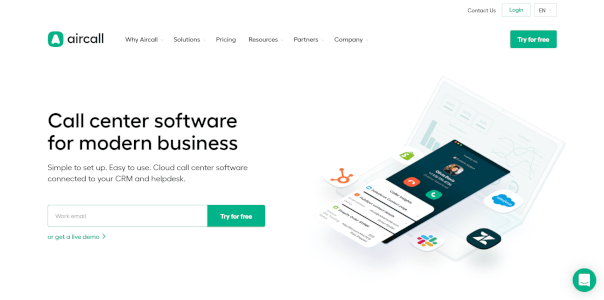 Aircall cloud-based communication software is our next recommendation if you are looking for the best competitor of Vonage. This platform is well integrated with popular CRM and Helpdesk tools, which helps businesses bring sales and communicate well with customers. 
You can access this tool from both desktop and mobile. Aircall also supports languages like English, Spanish, French, German, and Portuguese. The pricing of this tool starts from $30/month. Users can get features like call cascading, analytics, call conferencing, CRM integration, click to dial, IVR, Power Dialer, and much more.  
Conclusion 
The above-listed platforms are some of the best and advanced VoIP service providers available in the current market. All of these platforms can be used as Vonage alternatives. These are amazing in terms of providing high-end service and comes with unique features.
 It's very tough to find out one of the best among them as every platform consists of pros and cons also varies the service plan cost. So, we will recommend you to choose the best one according to your business need and budget. 
Recommended Reading on Alternativoj: If you're looking for VOIP alternatives check out our posts like Alternatives to Nextiva, Alternatives to Grasshopper , Alternatives to CallRail.
Frequent Asked Questions
What is Vonage?
Vonage is an ultimate VoIP service provider for all business sizes. It comes with many advanced and amazing features like messages, integrations, calls. Vonage offers service to both small- and large-scale business.
What is better than Vonage?
Callhippo is anyway better than Vonage! Call hippo comes with advanced features like voice mails, internal call transfer, and CRM integration. Currently, most people love to use Callhippo as an alternative to Vonage as this tool is available for both mobile and web-based applications with modern features.
How do I get rid of Vonage?
No doubt Vonage is an excellent VoIP service provider, but many people are looking for an alternative because of its drawbacks of worst customer support, limited features, and costly package! If you want to get rid of Vonage, you can go with the best alternatives like Call Hippo, Nextiva, RingCentral, and many more.