Not satisfied with the gogng.io performance and features? Searching for some of the best gong.ai alternatives available in the market? If yes, you will get some of the tops recommended alternatives of Gong, which comes with unique features.
Before going for the best alternatives to Gong, let's understand what Gong is and why you need alternatives to Gong.
What is Gong.io?
Gong.ai is one of the patented revenue conversation intelligence tools that can automatically analyze sales and meetings and provide in-depth insights. This is undoubtedly a useful platform for the B2B sales team to boost their business and product popularity in the market.
With this tool's help, you can quickly review calls, track real-time issues, get a better understanding of the trends of different accounts, and prepare according to fulfill your company's goal. 
With the peer-reviewing and commenting features of this tool, your sales team can easily share their ideas. Overall, this platform is genuinely focused on bringing improvements in sales and gathering crucial information regarding your business from the market to crack down on the best sales opportunity and business deals.  
Why you need alternatives to Gong.io?

 
Many users find lag issues on the gong.ai app, and most of the users are also complaining about the confusing and tricky timeline style view of the sales cycle. Sometimes the loading calls feature this platform's result also takes huge time, which is very annoying. If you are also worried about these kinds of issues, you need to go for the best alternative to gong.io.  
Best alternatives to Gong.io
1. Chorus.ai (Top Rated Alternative to Gong.io)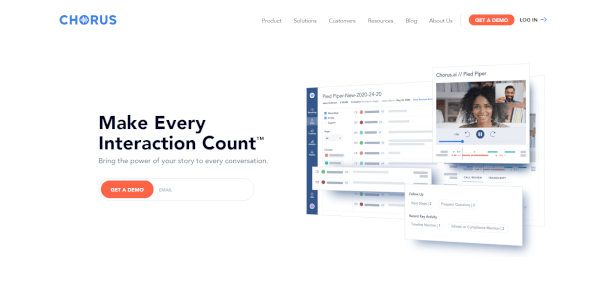 Chrous.ai will be our first recommendation if you are looking for the best alternative of Gong.io. This tool was founded in 2015 in United States and now one of the leading business sales intelligence conversation platforms that can collect your business organizations' insights.
With the help of this advanced software, you can easily record your sales team's calls and discover your faults and the area of improvement you need to bring more perfection.
This tool comes with several features like SSL security, speech recognition, machine learning, CRM integration, sales tracking, and much more. You can get the free trial to understand its feature and then go for the paid plans according to your business need.  
Also Read: Best Chorus.ai alternatives
2. SalesLoft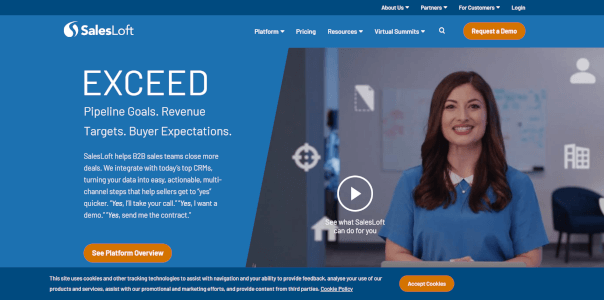 SalesLoft is another fantastic online sales engagement platform specially designed to increase business organizations' sales and revenue. This platform comes with sales groups connected with better communication tools, email tracking, and much more in a single platform.
SalesLoft was founded in 2011 in the United States, and it's best for business organizations who want to get in-depth business insight. You can test the free demo version of this tool to understand the features of this tool.
This platform comes with several features like record & playback ability, archiving, file transfer, call tagging, on-demand recording, and much more.         
 3. ExecVision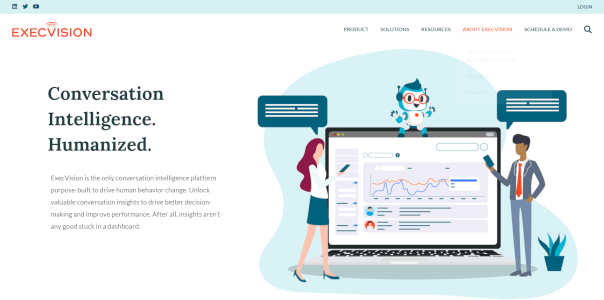 Are you looking for the best competitor of gong.io? If yes, then Exec Vision is always the best option for you. This is another renowned conversation intelligence tool with a simple interface and many useful features like call analysis, call logging, archiving, collaborations, custom scorecards, data management, learning plans, and performance tracking. 
ExecVision was founded in 2007 in the United States, supporting the English, German and French language. The user will get a free trial of this tool to understand the features and interface better.
 4. Jiminny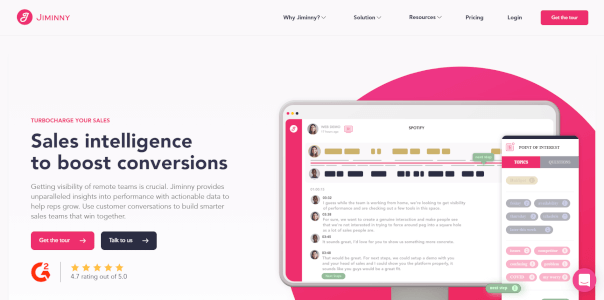 Jiminny is a highly recommended sales communication tool that helps businesses to improve collaboration with clients and productivity. This system can easily capture all the call logs in between your sales team and clients. 
This platform can record every conversation and successfully analyzed to understand the business need and improvement. This platform was founded in 2016 in the United States, and new users will get the free demo of this tool to know everything about its features and interface.
Some useful features like archiving, file transfer, record & playback ability, distributed call recording, and call tagging. Scheduling recording, event-triggered recording, and on-demand recording.      
5. VoiceOps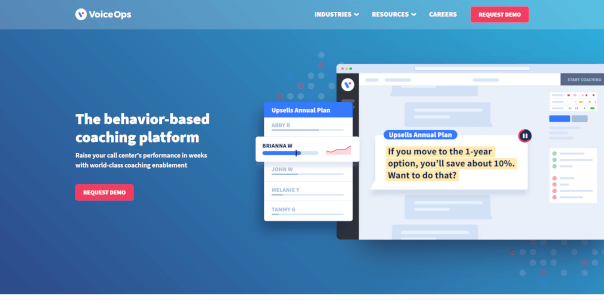 VoiceOps is known as one of the best call coaching and training tools for businesses who want to get call monitoring, feedback, and coaching sessions for improvement. 
This United States-based platform is easy to use and comes with several useful features like call routing, CRM, IVR/voice recognition, call recording, conversation tracking, and keyword tracking.
This tool has many satisfied clients worldwide, and no doubt this is one of the most excellent Gong.ai alternatives.      
6. RingDNA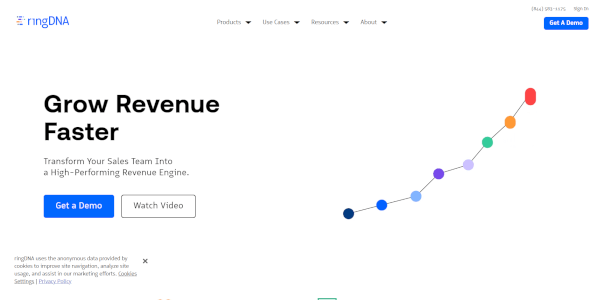 RingDNA is another highly potential sales engagement platform that helps businesses scale up their business goals and achieve revenue growth. This is a United States-based AI tool that was founded in 2012 and got popular within no time.
This tool is useful for sales and marketing businesses of all sizes. Some of this tool's best features, like collaboration, territory management, meeting management, Goals management, content management, lead management, and training management, make this tool popular. You will get cloud, web, and SaaS-based deployment of this tool, which can be a game-changer for your business.          
7. MindTickle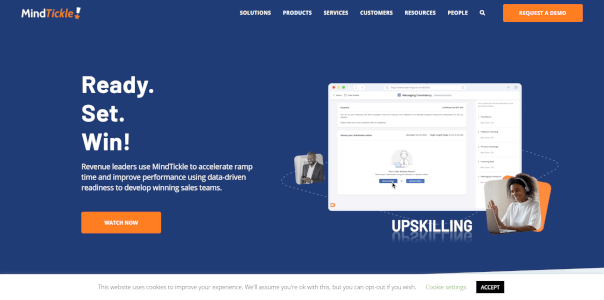 MindTickle is our next recommendation if you are looking for a conversation intelligence tool for your sales team. This tool was founded in the United States in 2012, which effectivity reduces the sales ramp time and boosts sales.
You can collect driven data insights from this tool regarding your organization's sales capability and plan accordingly to enhance the ability and potential of your sales team and product.
This tool is specially designed for mid-market companies and enterprises who wants to achieve their sales goal.        
 8. Showpad Coach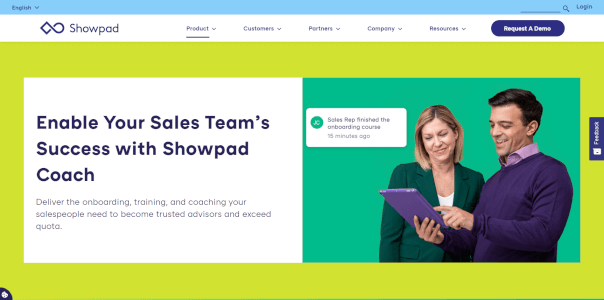 Searching for the best alternative to Gong.ai? If yes, then try to use Showpad Coach. This tool provides complete solutions to the sales team of various organizations on selling experiences, video coaching, and sales training.
With this tool's help, you can easily monitor the performance of the sales team and other analytics data to improve your business plans. The learner board of this tool always guides the sales employees regarding customer handling.
Exciting features like Pitch IQ and data analytics insight make this tool outstanding.       
 9. Enthu.ai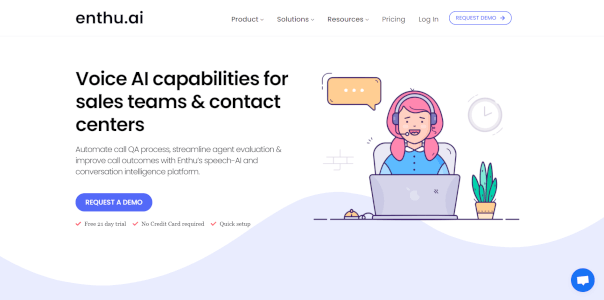 Enthu.ai is one of the best competitors of Gong.ai available in the current market. This is an advanced conversation intelligence tool that helps the voice calling employees of any business organization. 
With the help of the enthu.ai voice team, they can easily monitor all the customer conversations and bring the required changes to customers' better conversation. The interface of this platform is user friendly and very efficient.
This is an Indian based tool best for call centers, BPOS, and other voice-based contact centers. When it comes to this tool's feature, you will get many like agent wise analysis, top-rated accuracy, moment highlighting, 100% coverage, dialogue views, auto seek audio, and feedback management.       
 

10. Call Hippo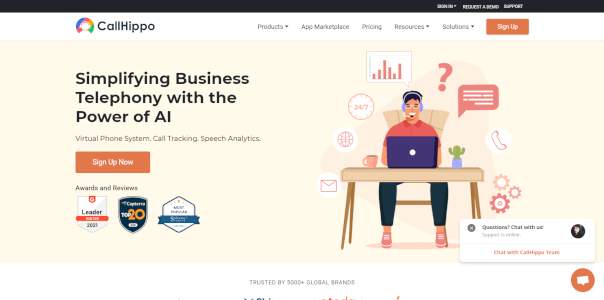 Call Hippo is one of the best alternatives of gong.ai you need to go with. This is an advanced ML and AI-based intelligent tool which allows users to record, analyze, and audit customer interaction via phone. 
This is a user-friendly platform where you can get impressive features like interaction transcription, moment analysis, call analysis, intelligent data filtering, feedback management, library management, and personalized solution. 
Recommended Reading on Alternativoj: If you're looking for miscellaneous  alternatives check out our posts like Alternatives to Gong.io, Alternatives to 123movies, Alternatives to Expedia.
Some Frequent Asked Questions
What is gong.io?
Gong.io is an advanced revenue intelligence platform that records all of your customer's interactions across email, web conference, phone and offers in-depth business insights to grab more attractive sales.
What is better than gong.io?
If you are not happy with the feature and looking for a better option in the market, you can go with Chorus.ai. This is an advanced tool that comes with several unique features, obviously better than gong.io.
What is a gong used for?
Usually, Gong is used to tracking business conversations like meetings, call records, emails, business video conferences and provide detailed insight to the sales team to understand various aspects of the conversations for improvement.