Who doesn't love to travel to new places, meet new people, and explore new tourist destinations? Yeah! Everyone but do you know a well-planned trip can save a lot of money and make your trip hassle-free! All you need is to use the best resources to grab some of the best deals and save your hard-earned money.
No doubt many travelers visit the Expedia website whenever they are planning for a foreign trip. Still, if you are not a big fan of this platform and looking for the best Expedia alternative, then you have several options available in the market.
Currently, you can grab many attractive travels deals and packages via many authentic websites like Expedia. Today we will suggest eleven such popular and best websites like Expedia in this post so read the full post. Before starting further, let's discuss a little bit on Expedia. 
What is Expedia?
Expedia is a top-rated and renowned travel website where you can grab the best deals on hotels, airline tickets, car rentals, and more. This website is owned by Expedia Group, which is a registered American global travel technology company.
Usually, travelers use Expedia mobile app to check out the deals. You can download its mobile application for both Android and iOS devices. Overall, you can say this is an all-in-one travel package app that is very helpful for easy reservations, bookings, exclusive deals, and trip reminders.     
Now let's discuss our top 10 recommendations as Expedia replacement!  
Best Expedia alternatives 
1. TripAdvisor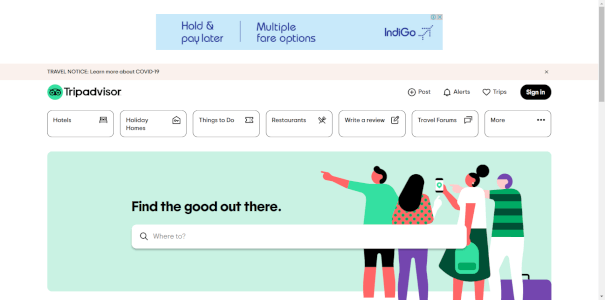 TripAdvisor comes at the top of the list as the best alternatives to Expedia. This is a great social media travel platform where you can get more than 700 million reviews on different hotels, tourist destinations, and restaurants.
On this website, you can get the best deals on hotels and flights. This company usually generates revenue with the hotel, restaurant bookings, and from affiliated companies.      
2. Booking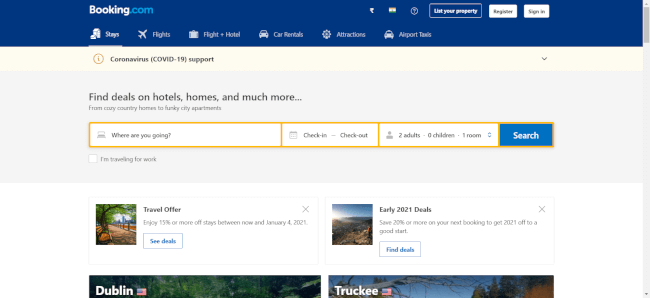 Booking.com is our next recommendation as this is another big travel social media platform where you will get vast numbers of listings on destinations. This website provides accommodations, flights, car rentals, airport taxis, and tour activities to the users. 
Booking.com was launched in 1996 and available in 43 languages. You can easily access this website and grab the best deals for your upcoming trip. No doubt this is one of the best websites like Expedia to try for the best travel deals. 
3. Hotwire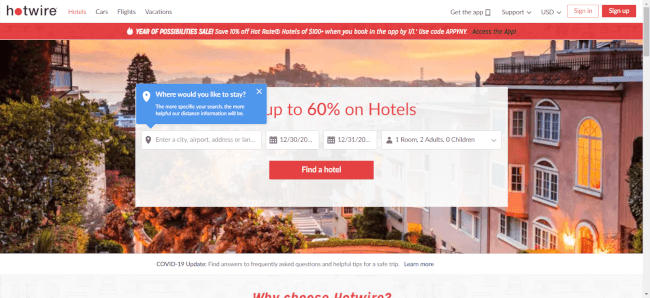 Hotwire is another excellent travel helping portal where you can find great deals and outstanding 24×7 hours support. You can book hotels, flights, and vehicles for your trip at the best price. 
Hotwire also provides mobile apps, which are available for android and iOS devices. You will get apple pay, Touch ID, and the smart google lock feature on this platform as safe and easy payment options.    
4. TravelSupermarket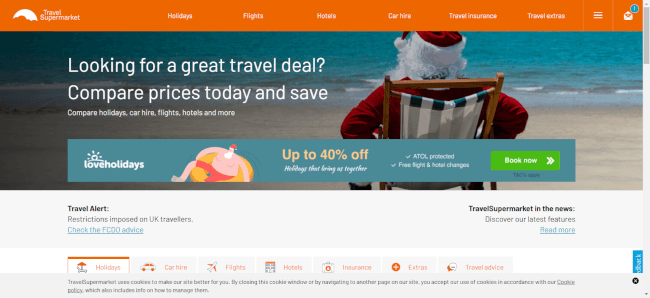 No doubt TravelSupermarket is another top Expedia competitor ever in current days. This platform has enormous traffic, and it's only because of the fantastic deals and easy shopping and price comparison feature.
You will get an easy-to-use feature to grab the best deal on this website rather than wasting time searching all deals. TravelSupermarket website holiday packages are protected by ATOL, a reputed financial protection scheme.
5. Kayak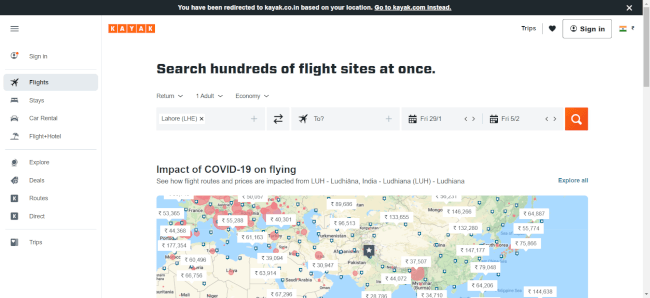 Kayak is another impressive travel-based search engine where you can search for the best deals on flights, rental cars, and hotels for your foreign trips. This portal allows users to search hundreds of travel websites at once.
If you are a registered member, you can save up to 35% on private deals and personalized recommendations. The Kayak mobile app can give you even more incredible deals, so we will suggest you access this platform via its mobile app.  
6. Skyscanner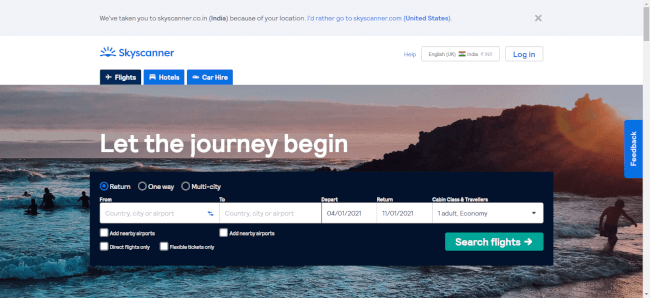 If you are looking for alternatives to Expedia and especially searching for the best flight booking deals, Skyscanner is the ultimate choice for you. You will get cheap flight booking deals on this website to several popular tourist destinations.
The comparison, world map feature of this platform helps the user get the best deals to your destinations quickly. This platform also provides car and hotel booking facilities to its user, so try it and share your experience with us.    
7. Hopper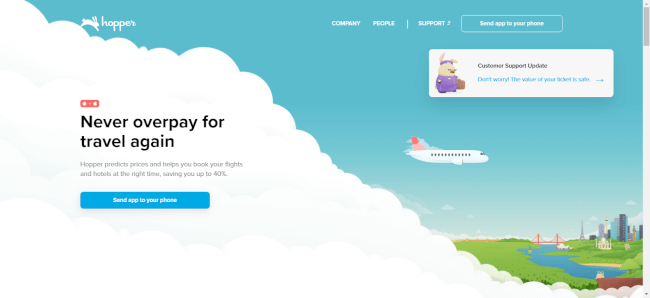 With the smart algorithm and user-friendly interface, the Hopper travel website is our next recommendation for you. This website can help you book your flight at the lowest price, and you can save up to 40%.
According to data, over 30 million travelers are got benefitted from this website. Hopper mobile application is available for Android and iOS devices, so install it today and enjoy its fantastic feature and deals.     
8. Hipmunk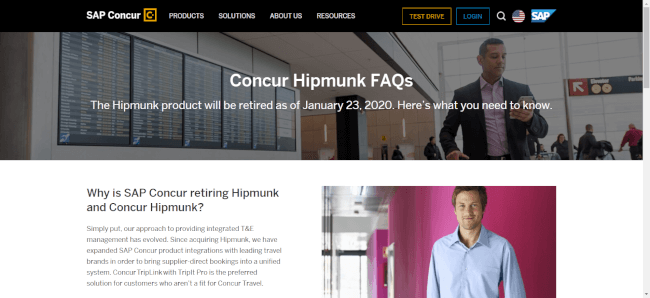 Hipmunk is another top competitor of Expedia's current day. If you are a traveler, then this platform is fantastic for you. On its portal, you can get comparisons of several travel-related options. Hipmunk always shows you the best possible hotels available in your destination and provides affordable flights and the best schedule for your travel.
If you are on a tight budget and looking for instant hotels, then the Hipmunk mobile app can give you the best option to save up to 60%. On its app, you will get hotel maps with a clear vision of that hotel's distance from essential places like shopping malls, restaurants, and your other travel destinations.            
9. Priceline 
Priceline is another excellent option for you if you are searching for the best alternative of Expedia. You can get great deals on booking hotels, resorts, cruises, and flights on this platform.
When it comes to vacation packages, you will always get the best deals on this platform. The search functionality of this website can give you access to the best running deals on several things.
If you are a resisted member via your email on this portal, you will get coupons, special promotions, and exclusive deals.      
10. Orbitz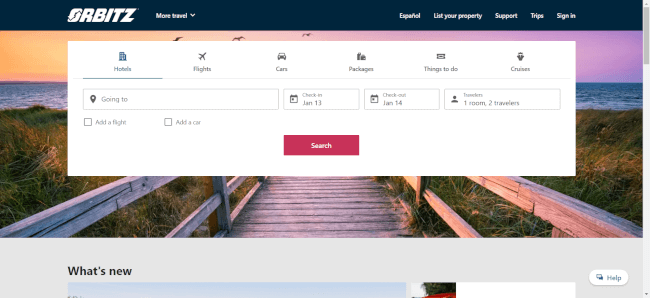 Orbitz is another popular travel search engine where you can get amazing deals on hotels, flights, car rentals, and cruises. The best thing about this platform is you will get reward points. 
According to the terms and conditions of the brand, if you book more than 12 nights per year, you can unlock the special promotions, insider prices, and exceptional hotel perks like high-speed Wi-Fi and breakfast.
This platform's reward program is just excellent, and last but not least, you will get the travel blog section on this website where you can get important information regarding several places and many useful travel tips.
11. BYOJet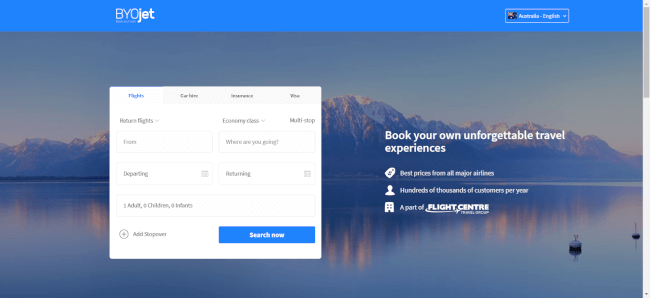 BYOJet is one of the best travels online portals where you can get amazing deals on flight booking. If you plan for an abroad trip, you can save a lot of money via this website because of its good discounts. 
Every year thousands of travelers are using this platform to get the best deals on flights, hotels, car rentals, and travel insurance.
For any doubts, you can also contact their 24×7 hours' active customers support team. This website belongs to Flight center travel group, one of Australia's largest travel agencies. 
Because of this portal's popularity, it has a huge visitor base, and you can get some of the best deals frequently on its portal. Just try this site and compare with others and share your experience with us. 
Recommended Reading on Alternativoj: If you're looking for miscellaneous  alternatives check out our posts like Alternatives to Expedia, Alternatives to Bookzz, Alternatives to Chorus.ai.
Final words
Above listed platforms are the best Expedia alternative ever available in the market. It's tough to choose the ultimate site to get every facility with the best possible deals.
 It's your responsibility to check out these portals and grab the best deals for your upcoming travel to make it hassle-free and save a massive amount of money by grabbing amazing deals on hotels, flights, taxis, and other bookings. 
The above-listed sites are equally good with easy access, extraordinary features, and offering good deals like Expedia, so plan your travel trip with some deep research on these platforms to make it wonderful and memorable forever.        
Frequent Asked Questions
What is Expedia?
Expedia is a reputed website for booking travel accommodations. Here you can book hotels, cars, flights and other travel-related packages at the lowest price. Overall, this website aims to provide the best possible price for booking things for your travel.
What are the disadvantages of Expedia?
Most of the people find disadvantages like expedient reservation cancelation process and lack of customer service. If you cannot cancel within 24 hours of booking, you will have to get a warning of standard cancellation fees to apply notification.
Who is the best competitor to Expedia?
TripAdvisor is one of the best competitors of Expedia in current days. This is a platform with a huge user base, and you will get more than 700 million reviews of hotels, tourist destinations, and restaurants on its official website.