If you are dealing with business lead qualification and handling customer scoring things, you must understand the basic functionality of tools like chorus.
 No doubt, Chorus.ai is a top-rated and reliable cloud-based call recording solution that helps several mid to large scale business organizations with conversation analytics and improving sales skills.  
With the help of chorus.ai, you can easily record and analyze your sales team calls. This software also comes with several features that can help you improve discovery calls, sales methodologies, track adoption, and identify competitive deals.
Overall, this is a conversation intelligence platform that can transform your sales organization in a significant way.  
Chorus is undoubtedly an excellent software for sales leaders, sales operations, and marketing teams, but this software has many cons. That's why many people nowadays are looking for the best alternative to the Chorus.
We will discuss it in a separate section below, but before that, let's understand what this chorus.ai platform is and how it helps the business organization.
What is chorus.ai?
Chrous.ai is one of the leading cloud-based call recording tools, which comes with crucial features like artificial intelligence, process management, and reporting, call summary. 
With this software's help, users can easily record, summarize the customer conversation in real-time, and note all the crucial moments, which can convert sales opportunities.
 You can get the conversation map and all the important points of a sales opportunity to the CRM as a clear report.
 Users can easily integrate this software to third-party applications like Google Meet, G-suit, slack, Web-Ex, uber conference, and much more.        
Why we need Chorus.ai alternative?
As many of you will agree, chrorus.ai is a fantastic tool, but people are still searching for the best alternative to Chorus! So, what's the reason behind it? Why we need an excellent Chorus alternative?
According to a survey, many users are complaining about the slower and confusing interface of this software. Many users are also not satisfied with this tool because of the difficulty of finding analytics on calls.
That's why people are searching for chorus.ai competitors to get more advanced and more comfortable to access features. If you are also looking for Chorus's alternative tool, overlook the under mentioned tools, and grab the best one according to your requirement.     
Best Alternatives to Chorus.ai 
1. Callhippo Coach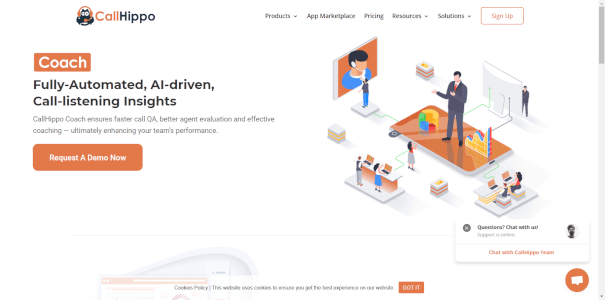 Callhippo Coach is one of the best alternatives of Chorus you can purchase. This is a special kind of tool which comes with a user-friendly interface along with robust functionality. 
Additional features like automatic call distribution and power dialer make this tool more useful. CallHippo is an ideal too, which can empower sales and arrange effective conversations with customers. This tool was founded in 2016 in the United States. 
Key Features of CallHippo
Auto dialer

Call Monitoring

Reporting/analytics

VoIP

Call center Management

Predictive Dialer 
Pricing  
The pricing of CallHippo starts at just $14.00 per month/user. You will also get a free version of this software with limited features. This software doesn't provide any free trial to the new user.      
2. Enthu.ai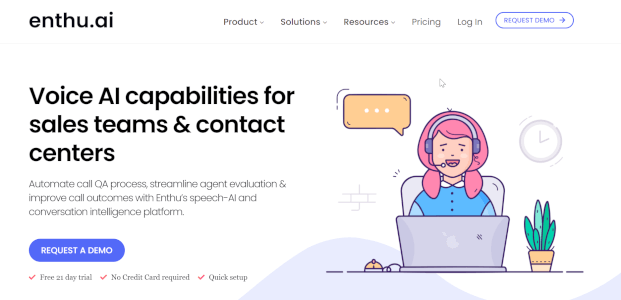 Enthu.ai is a great alternative to Chorus. Meant for voice teams across multiple business functions, Enthu helps you customize the platform as per your calling themes and scripts, without the need to involve a developer.
Enthu.ai's USP lies in fastening your call quality assurance process by 10X, resulting in better and pin pointed agent coaching, with an ultimate objective to improve the quality of their conversations.
Key features of Enthu.AI
– Top rated accuracy
– Detailed call reviews
– Exhaustive call filtering
– Auto seek audio
– Feedback management
– Review management
– Playback library
– PII redaction
– Transcriptions
Pricing
Enthu provides a free pilot for 21 days. Best thing is that Enthu doesn't bind you in annual contracts or asks for minimum agent commitment. You can get started with the free pilot right on day 1 and start playing with the system. You need to get in touch with the team at Enthu to get a custom pricing.
3. Gong.io 
The next best alternative of Chorus in our list is Gong.io. This is a powerful tool that provides in-depth visibility of sales conversations. You will get the automatic recording and analysis feature of your sales calls and meetings in this powerful software. 
 Gong.io is a fantastic tool for sales and service firms that deals over the phone or web conference. This tool was launched in 2015 in the United States.
Key features of Gong.io
Call recording 

Dashboard 

Data management 

Performance management 

Sales forecasting

Conversational AI platform  
Pricing 
This software doesn't provide a free version to users, but yes you can go for the free trial for one time. When it comes to pricing, you have to contact their team member as the vendor on its official website does not provide the pricing.    
4. Dialpad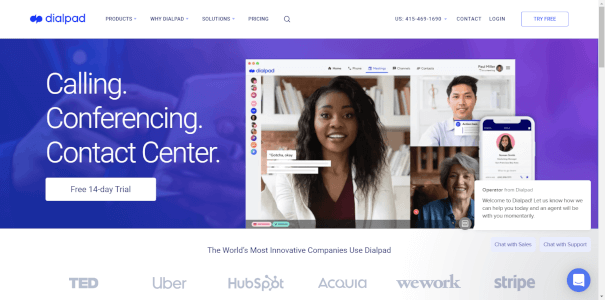 Are you worried about Chorus's confusing interface and looking for the best alternative to provide a user-friendly interface, easy to set up, and fully packed essential features? If yes, then Dialpad is always the best option for you. 
This tool is powerful and always enhances the customer experience and agent effectiveness. You will get real-time recommendations on this tool, which always boosts the agent's confidence during the client's conversation. 
Dialpad was founded in 2015 in the United States and currently popular among big sales organizations.
Key features of Dialpad 
Call recording 

Inbound call center 

Manual dialer 

Queue Management 

Reporting/analysis 

IVR (Interactive Voice Response)

Outbound call center 
Pricing 
You can grab Dialpad at just $15 per month/user. Sadly, they don't have any free version, but it provides a free trial to new users.       
5. Wingman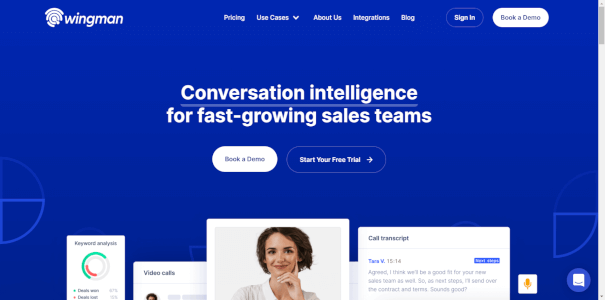 Wingman is currently one of the top competitors of Chorus.ai. "Wingman" is an advanced tool that offers real-time sales coaching to the user and provides the right information during the client's conversation. 
Wingman is a fantastic tool that automatically joins sales calls and provides cue cards to help the user with clients' questions, objections, and suggestions. This tool also notes all-important points during the call in real-time.
The user-friendly interface makes this tool one of the best sales coaching software of 2020. If your SaaS company is selling to other businesses or your organization mostly involves complex selling, this is always effective. Wingman is a USA based software that was founded in 2018. It became popular within very few days after its launch due to its unique features and user-friendly interface.             
Key features of Wingman 
Performance Metrics 

Assessments 

Call recording 

Onboarding 

Audio/video conferencing 
Pricing 
The pricing of this tool starts from $500 per year/user. You will not get a free version of this software but yes! You can go with a free trial of this great tool to understand its feature and other things in detail.  
6. ExecVision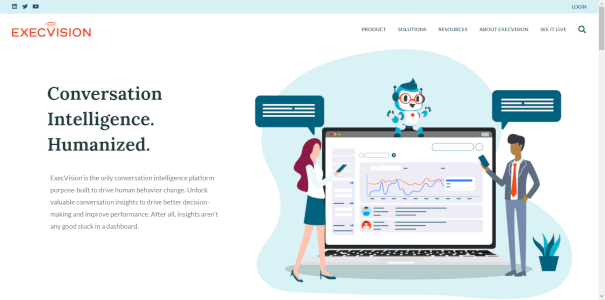 ExecVision is one of the ultimate alternative tools to Chorus. This tool was founded in 2007 in the United States and is currently used by several prominent firms. ExecVision is one of the adequate conversation intelligence tools that is simple and provides deep insight into customer interactions. This tool always improves performance as per the change in human behavior. ExecVision is a useful platform for organizations that are dealing with customers regarding services and sales.
Key features of ExecVision 
Assessments 

Learning Plans 

Performance Metrics 

Onboarding 

Audio/video conferencing. 

Goal setting and tracking 
Pricing 
This tool's official website does not provide the price details, so if you want to buy this tool at the best price, you have to contact the sales team of ExecVision.
Final words 
The above-listed software is currently the best alternative to Chorus available in the market. No doubt, it's tough to rate the best one among the listed software because every software comes with different features and interfaces.
When it comes to pros and cons, no software is perfect in this world; you will get pros and cons in every software. Just understand the features of these tools and choose the right tool according to your requirement and budget. 
Recommended Reading on Alternativoj: If you're looking for miscellaneous  alternatives check out our posts like Alternatives to Chorus.ai, Alternatives to Patreon, Alternatives to Craigslist.
Frequent Asked Questions on Chorus.ai alternatives  
What is better than Chorus.ai?
According to reviewers Gong platform meets all the need of the users and definitely provides better product support with advanced updated features.
What is Chorus.ai?
Chorus.ai is an advanced conversation intelligence platform that assists sales team to grab more deals and sales to become the best performer in the market.
How much does chorus.ai cost?
Chrorus Ai costs around $25,661.04 per annual.