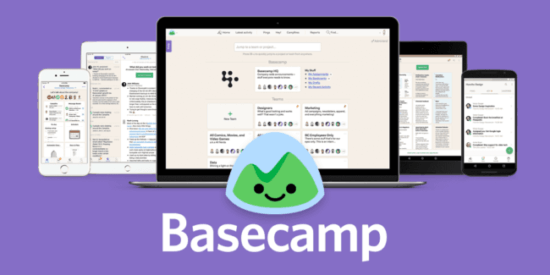 When we are working at some organization, it becomes important to us to bind with the deadlines. We try to cover up things on times and complete the tasks as scheduled. But it doesn't matter how much careful you are about your responsibilities towards work, at times it happens that you forget some task. Many times it happens that it becomes difficult to handle the responsibility of managing the entire team, monitoring task of each and every person and to track the performance of the project to view its progress.
At these points of times, there are some team management apps that are available in the market and come up as the life saviors. Basecamp is one such project management tool. Basecamp is considered as one of the very simple and easy to use the tool as it can easily handle the things like designing the website and many other related tasks. Till now, around 285,000 customers and thousands of completed projects have taken the help of Basecamp only. Hence, no one can deny the fact that it has been a very successful project management software solution.
However with the change in time the philosophy changes. There are many complaints regarding the Basecamp like it has some of its functionalities missing. For example, there is no option supporting embedded time tracking. Also, the viewing of the task list is not possible with it.
Hence, now there is a requirement of some best Basecamp Alternatives which can fulfill the missing issue of this software solution. There are many alternatives to Basecamp which fulfills all these requirements along with the ones that are available in Basecamp. These tools can provide similar functionalities and usability and that too at lower prices.
All these alternatives of Basecamp are simple and transparent and very easy to use. Therefore, if you are deciding to sign-up with Basecamp, it would be better if you have a look at these alternatives too.
Best Basecamp alternatives for project management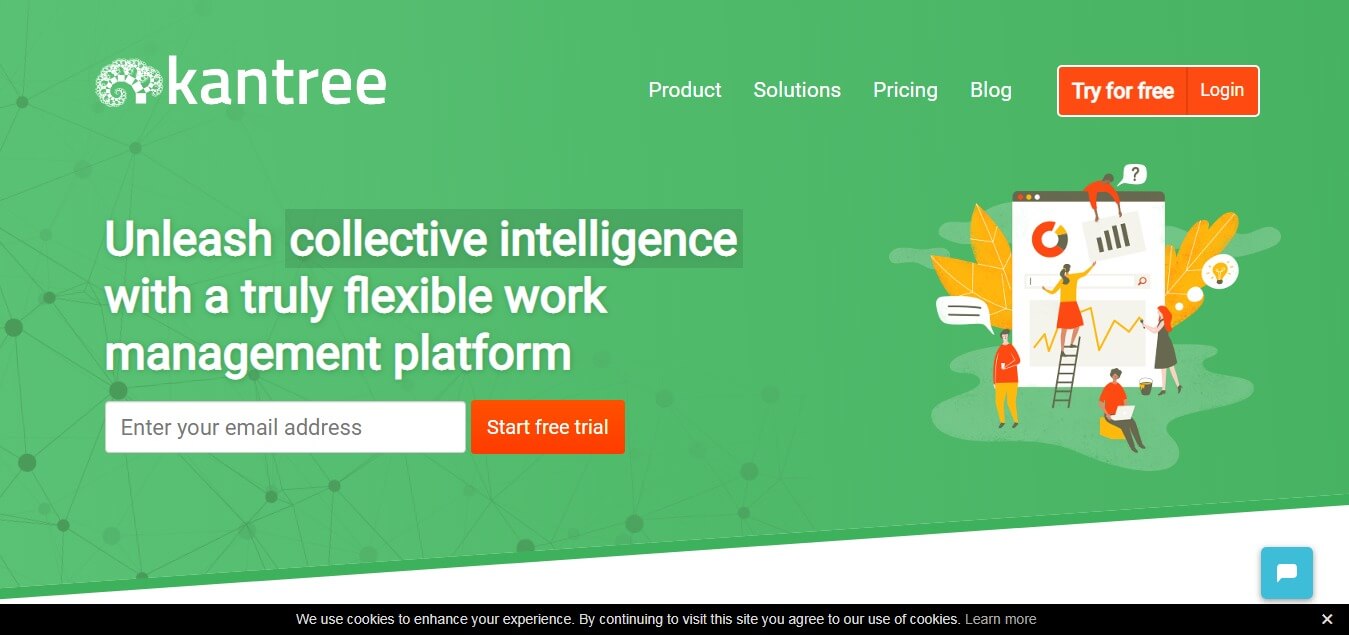 This platform gives full control to teams to manage their projects and processes. With the help of this tool you can manage, plan and organize work. With the help of this tool you can deliver work more effectively.
2. Asana

Manage tasks, collaborate with the team, manage deadlines and lots more. It's a cloud-based task management tool and there are no installs and downloads required. You can try Asana for free as well, which will allow you to add 15 members only.  If you are looking for basecamp alternative for designers then asana is the best choice for you.
Recommended: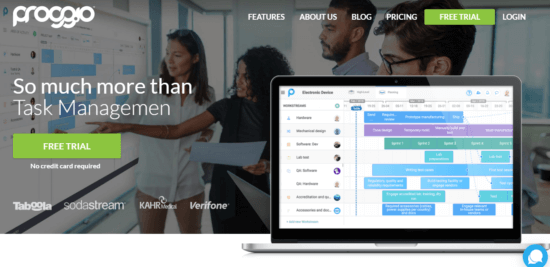 Proggio is the project management software for teams doing great things together. Proggio features the projectmap – an improvement on the typical Gantt chart with communicative visuals and a whiteboard feel. The projectmap is similar to a blueprint for a project; it is both a guide for the project and a set of instructions for the team. The platform is intuitive – teams can use Proggio together and have a working project plan in ten minutes. Designed around the dynamic of successful project teams, Proggio has the collaborative tools needed to design and manage your project to successful delivery.  Also provides 30 days free trial as well.
4. Trello
Trello one of the most popular kanban based project management tool and is one of the best alternatives to basecamp. With the help of trello you can easily create a checklist, share files and monitor task progress. With the help of trello, you can create unlimited cards to track as many tasks you want. You can access this tool on your android and ios devices as well.
5. Wrike :
Including customers like PayPal and Nissan Wrike is a very handy tool for both mid-size companies and large organizations and one of the closest alternative to basecamp. Loaded with features like Gantt chart, reporting, @mentions, budget tracking and more.
6. Teamwork
Has an amazing dashboard with the help of which you get a quick overview of milestones, tasks, and comments from team members. It also provides a free plan which has 10 Mb storage and you can work up to 2 projects. eBay, Disney, and Forbes are some of the teamwork customers.
7. ProofHub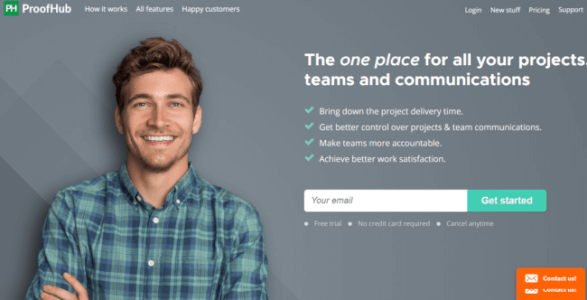 A cloud-based project management software loaded with features like time tracking, group chat, Gantt chart, reports, proofing and more. This tool will help you to assign the task to your team members, track project progress, collaborate with team and more. This is the one of the best basecamp alternative present in the market.
8. Freedcamp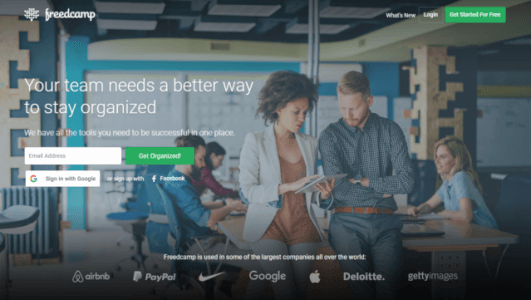 With the simplest interface and similar feel to basecamp, Freedcamp is the one of the robust project management software. Freedcamp is the best free alternative to basecamp. Among their 14000 customers Enavu, ABC, Chase bank are some of the popular. In Freedcamp you can add unlimited users, tasks, projects with 20 MB storage space.
9. Liquidplanner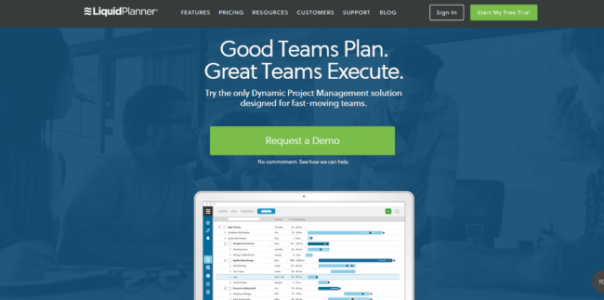 Dynamic project management solution designed for teams of all sizes. CISCO and Daimler are some of the famous companies that are using Liquidplanner. Resource management, time tracking, collaboration, advanced analytics are some of the best features of this tool. If you are looking for basecamp alternative then we'd suggest you try this tool.
10. Podio

It is a cloud-based project management tool founded in 2009. Loaded with features like social collaboration, task management, personal dashboard, workflows, meeting scheduling, unlimited storage, integrated chat and many more. This tool is available on both web and mobile.
11. Monday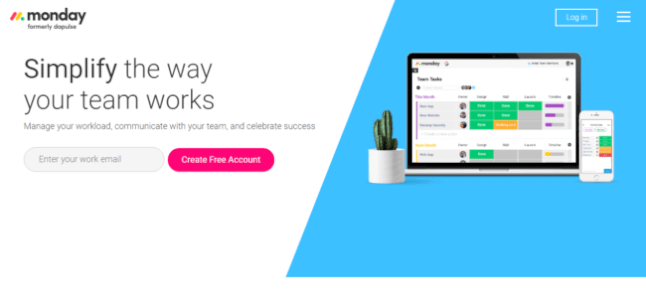 Previously known as Dapulse, Monday is a project management software with intuitive interface and easy to use. It's a kanban based project management tool where you can manage your projects with the help of boards. This tool integrates with Jira, Slack, Github, Smartsheet, Toggl, Quickbooks and more.  If you are looking for basecamp replacement then we'd recommend you to try this tool.
12. Scoro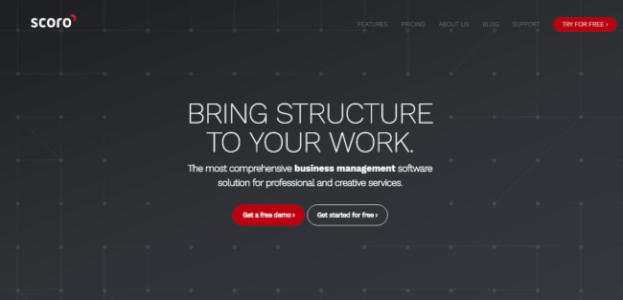 Scoro is very easy to use yet handy project management tool. Includes features like time tracking, content management, sub-tasks, invoicing, detailed reports and more. It's an all in one project management tool that will help you to streamline progress of your projects. You can integrate Scoro with MailChimp, Toggl, Box, Outlook and more.
13. Workzone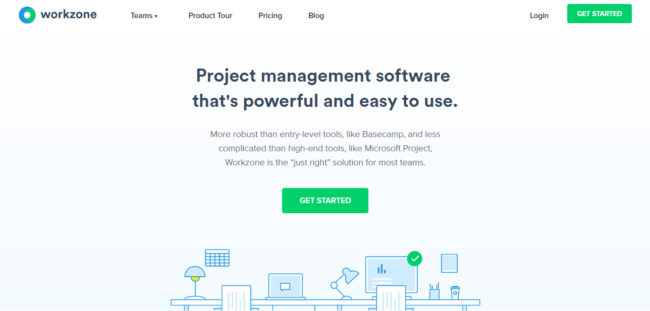 This tool is more robust and intuitive than entry-level tools like  Basecamp. With the help of this tool, you can collaborate with your team, review files, create a to-do list, track project progress, share files with the team, world-class customer support and more. Reputed companies like Adidas and Verizon are using this tool.
14. ActiveCollab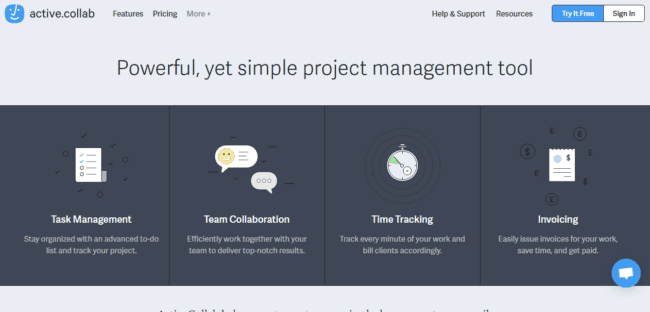 This tool is available in both web version and self-hosted. ActiveCollab has customers like Apple, Harward University, and Adobe. This tool integrates with Xero for generating invoices and tracking time.
ActiveCollab starts with $25 per month plan and you can even buy its self-hosted version for $499 and install it on your own server.
15. Mavenlink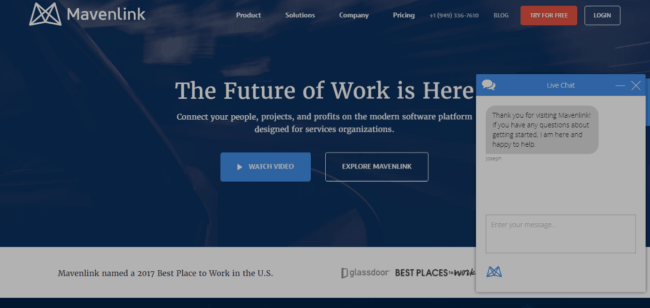 Organizations like Buzzfeed and the San Antonio Spurs use this alternative to basecamp. This tool integrates with QuickBooks and Google play.
This tool starts at $19 per month for up to 5 users. If you want to use its advanced features then its pricing starts at $39 per month per user.
16. Clarizen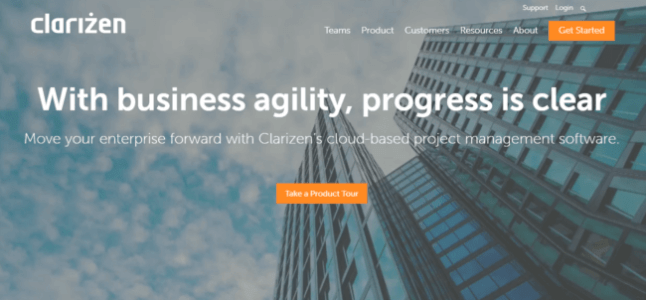 This is a very feature rich but little complex basecamp alternative. This has amazing features like SalesForce integration and real-time updates. This tool is mainly built for enterprise teams.
17. SmartSheet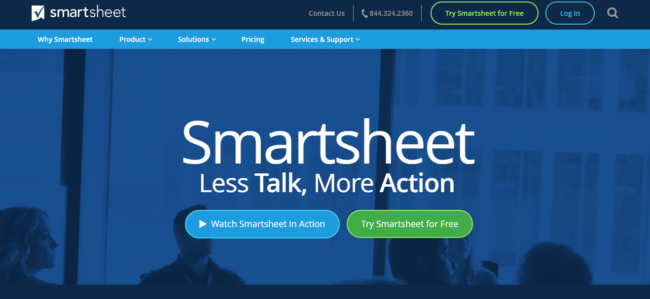 If your team is found of spreadsheets then Smartsheet is one of the best basecamp alternatives for you. Used by companies like Hilton, CISCO, HP, Netflix and more.
18. TeamGantt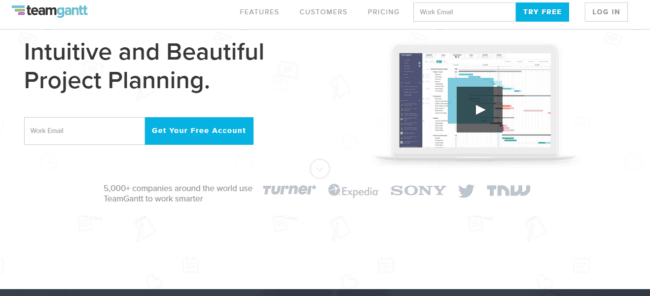 People who love to use Gantt charts then TeamGantt is the best alternative to basecamp. It's interface is based on the breaking down your team members tasks on the timeline. There is an option available to comment on tasks too.
19. Clickup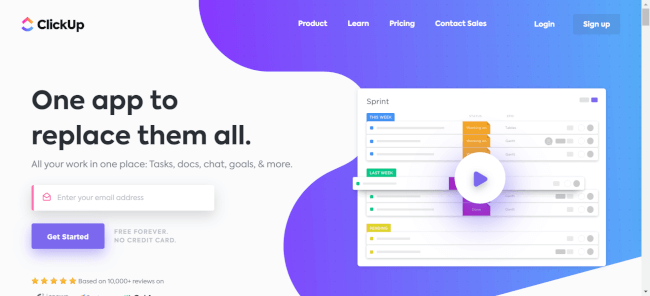 Clickup is one of the best tools like Basecamp for work management. It offers storage to save your tasks, documents, and files. You can prepare task lists according to the date and time. Apart from that, you can also comment in the box while doing any project. 
You can also chat with your group members while doing the teamwork. Besides, you can import your documents and chats and documents. It has a Google calendar to book appointments with clients and fix meetings. Furthermore, this tool offers Gantt charts, spreadsheets, and so on.
20. Stackby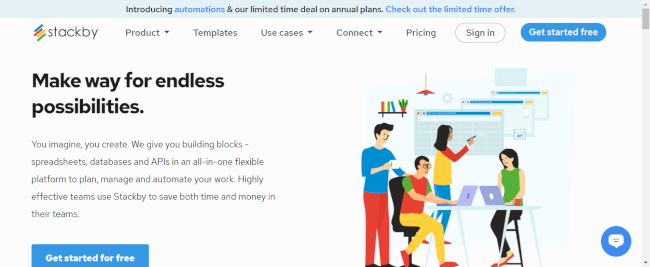 Stackby is straightforward as a spreadsheet, functions like a database and it's supercharged with APIs and automations. 
Built for non-technical teams – it's a collaborative platform, that allows you to customize your own work tools your way. With over 25 unique column types and 30+ native column connectable API integrations with popular services like Google Analytics, YouTube, MailChimp, Facebook Ads – it's powerful, yet simple to use.
Best Open Source Basecamp Alternatives
21. OpenAtrium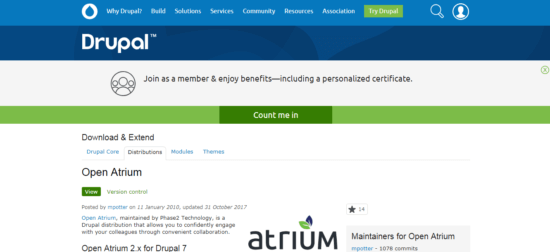 OpenAtrium tool offers features like collaboration with team members, track work progress, share documents. This is an open source alternative to basecamp so there is no need for license. To use OpenAtrium you only need to download code from their site.
22. Redmine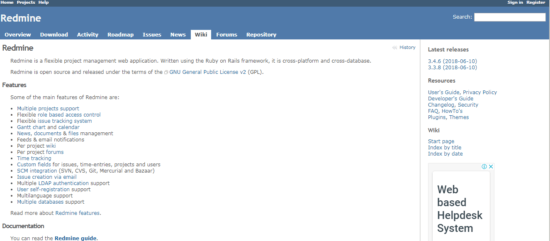 Features like time tracking, issue tracking, calendars, charts and project forums and more are available in this tool. This tool is available in multiple languages. If you are looking for open source basecamp alternative then this is the best fit for you.  
These are some of the Basecamp alternatives in 2018 that you can try. Which one is your favorite let us know in the comments.
Recommended Reading on Alternativoj: If you're looking for productivity tools alternatives check out our posts like Alternatives to Airtable, Alternatives to Logmein , Alternatives to Handbrake.
Frequent Asked Question
What is Basecamp?
Basecamp is the new project management tool for companies and businesses. It helps you to manage all your important projects and assignments. You can use Basecamp on smartphones, tablets, or any other device. This tool helps your team to work together and discuss the project. You can add team members and clients on Basecamp. Moreover, this tool helps in making every project successful.
What are the disadvantages of Basecamp?
Basecamp has some flaws. It does not have the facility to put a label or tag for any task. This drawback makes it tough for team members to arrange work and projects. You cannot organize projects in a serial wise on Basecamp. Secondly, there is no time tracing facility in the Basecamp tool. Team members cannot know when to finish the project.
Who is the best competitor to Basecamp?
Basecamp has few drawbacks such as a lack of tags and labels. You can try some of the alternatives to Basecamp such as ProofHub, Gantt Pro, Huddle, Trello, ClickUp, Workfront, FunctionFox, and so on. These sites have better features than Basecamp and make project management better and smoother for every team member. They are also affordable in price and easy to install.