Are you using Airtable as a project management tool? Not satisfied with the performance! And looking for the best Airtable alternatives If yes, then you are in the right place. Here in this post, we will suggest to you the five best alternatives to this tool.       
Undoubtedly, over the years, the popularity of Airtable has been growing remarkably; unlike other databases, this cloud collaboration online project management tool comes with features like a spreadsheet with a database.
You will get an easy access interface, with assorted options to envisage and store data, but due to the limited functionality, many professionals are looking for other apps like Airtable!
Before going for the alternatives, let's understand what is Airtable software and why you need an alternative to Airtable?
What is Airtable software?
Airtable is a project control software that offers a cloud collaboration service. You can easily target data organizations and collaborate within organizations with the help of this software. Overall, you can say this software works like a spreadsheet, but here, you will get different types like checkbox, dropdown list, and contact number.
Apart from that, this software can easily be integrated with some trusted and popular services like Evernote, Dropbox, and Google drive. Usually, people use this software for project planning, task management, and CRM (customer relationship management).
When it comes to Airtable pricing it costs $10 for plus and $20 for the pro subscription. You can also access the free version with limited features!
Why Should You Look for Airtable Alternatives?
For project management, no doubt, Airtable is one of the most popular tools ever and used by several trusted and reputed companies worldwide. But do you think you should go for a tool only for its popularity?
Well, not! We have to go with the best Airtable alternatives available in the market, offering you more features and functionality.
Undoubtedly, the Airtable recurring task management system is the best and easy to handle, but people are mostly complaining about the limited features and functionality of Airtable!
As per them, the feature of this software is too generic and very much limited. This software is useful for visualization and data storage, but when it comes to project management, modern-day data organization, this software will disappoint you. Another big issue people usually complain about this software is the lack of time tracking of projects.
These are some reasons for which you should look for an alternative to this software. 
In the market, you will get several Airtable competitors, but here we will provide you five best tools that will help you a lot for project management.
So have some patience and read the whole post to gain further information!
Top 5 best Airtable alternatives you should check out 
The undermentioned are the top 5 airtable alternatives you can go for today to manage your projects seamlessly.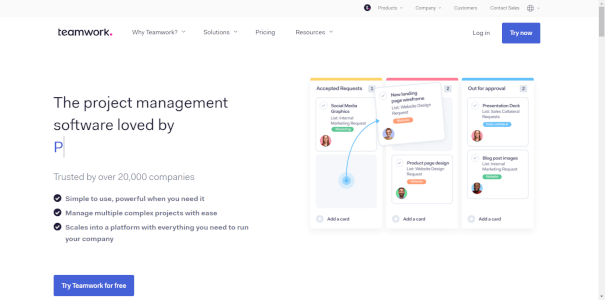 Teamwork is the number one choice of our as the best Airtable alternatives! This software comes with many advanced features that will help you achieve successful results in managing projects.  This tool is based on cloud control and offers accurate project management analysis to the user to control business functionality better.
You will get all unique features like time tracking, messages, task listing, file uploads with this software. If you are looking for software in which you can manage group goals, communicate with team members, and practice business processes, then Teamwork is always an excellent choice for you. You can combine this tool with Dropbox, Google Drive, FreshBooks, and other such applications as per your convenience.
Pros
Complete control of the user 

Lessen the complexity of collaboration 

Unify your knowledge   
Cons
You will get a basic invoicing system 

Sometimes the tool becomes complicated 
Price     
If you are a new user, then you will get 30 days free subscription! The free version is also available, but the pro and premium versions cost $10 and $18. For enterprise subscription, you have to contact the team members of Teamwork.   
Recommended: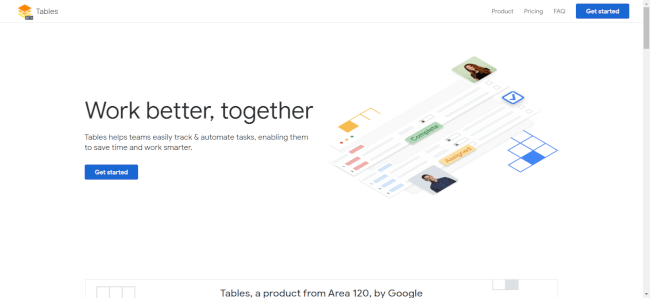 Google tables is another best and reliable alternative to Airtable you can go with. This is an effective workflow management and automation tool suitable for teams, businesses. This is a table in which you can get a feature of both spreadsheets and databases. It comes with user-friendly access as well as integration and visualization features.
For large projects and team management, this tool is always a superb choice! You will get customer tracking facilities and bot automation features with this tool. Some other key features like integration of Google services, importing spreadsheets and templates, and customizable forms for data collection make this tool superb. 
Price 
When it comes to the price of Google tables, it's available for free with 100 tables limit and 1000 rows per table and $10/month/user with 1000 tables limit with 10 k rows per table.    
3. Asana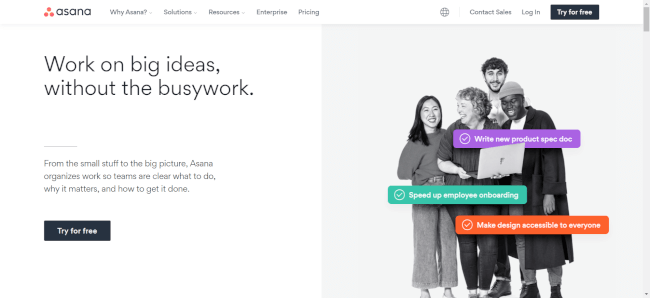 Asana is our next choice when it comes to the Airtable alternatives list. Asana tool doesn't require any introduction as it is already popular in the market and comprises extensive features and capabilities for both individuals and teams. 
Asana software gives you an excellent project management experience and translucent team channels for better communication among team members. On this platform, you can easily share files and required information among team members. The best thing about this tool is you can add any third-party add-ons for ease of collaboration.
Overall, you will get comprehensive task management experience with some outstanding features like task tracking, uploading attachments, and options to show the value and thoughts for any new task.
Pros 
Automatic inbox update facility  

Customize programs 

You can integrate this tool into various apps 

It offers the best team productive tool 
Cons
No facility to merge programs 

You will mark lack potential in any assigned task  
Price
When it comes to the price of Asana, you will get both free and paid subscriptions. The basic plan is free; on the other hand, the premium plan and business plan cost the US $10.99 and $ 24.99. If you want to go with an enterprise plan, you have to contact their customer helpline for the best price offer.   
Also Read: 
4. Notion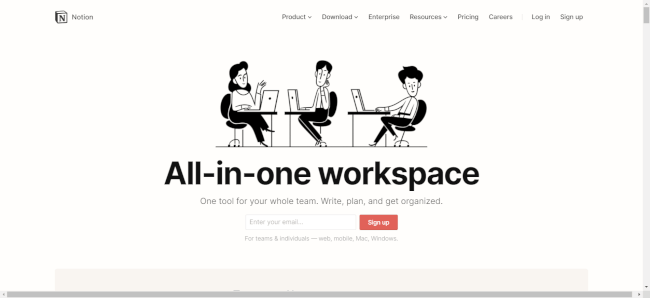 Notion is another best alternative to Airtable you can go with. This tool provides enough flexibility and offers a fantastic interface. If you compare with Airtable the approach is different as Airtable provides a spreadsheet-like interface that is good for more massive data sets. On the other hand, Notion has a text editor like interface.    
With Notion, you can easily create a page and add headlines, text, and lists. You will feel more flexible with this tool. With the help of this tool, you can easily add an inline table database. 
If you are looking for a robust database, text editor, and spreadsheet in a single tool, Notion will probably be the ideal choice for you. Though this is not an open-source tool that supports any plugins, you can add loads of inbuild embeds like google map, tweet, and many more to your page.
Pros 
Awesome interface 

Loads of templates to choose from 

Option available to share pages publicly 

Its apps support android, iOS, Mac, and Windows platform

Easy to access documentation 
Cons  
No plugins 

SaaS only 

Limited database 

Not ideal for lots of data 
Price 
You will get one-month of free use if you are a new user! The personal plan costs $4 per user/ per month, and the team plan of Notion costs 8$ per user/month. The enterprise plan will cost you around $16 per user/month.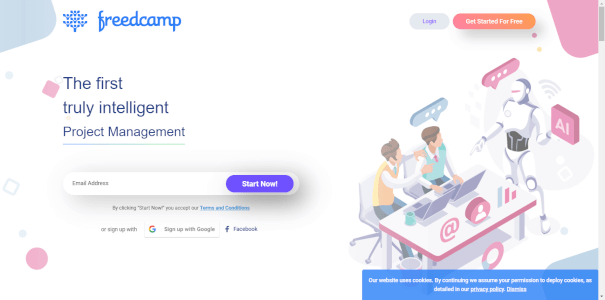 If you are looking for the best and cheap alternative of Airtable, Freedcamp is the best recommendation. This software is available for free as well as a paid subscription. You can create single and different users for the project management on this software to take complete control of your project.
You can create private tasks and giant charts to control the progress of your project. The wiki feature of this tool always helps the user to collect organizational information in one place.
The user will get the feature to store all contacts and guides in one place for efficient CRM (customer relationship management). The user can quickly generate the bill for clients and share invoices as per the timesheet entries.
Pros
It offers a wall for team members to interaction 

You will get time tracking and invoice generation feature 
Cons
It lacks many simple primary features 

The time tracker is not well organized 
Pricing        
When it comes to pricing, this tool comes with three paid subscription packs like minimalist, business, and enterprise package and costs like $1.49, $7.49, and $16.99. You can also use the free version with limited features.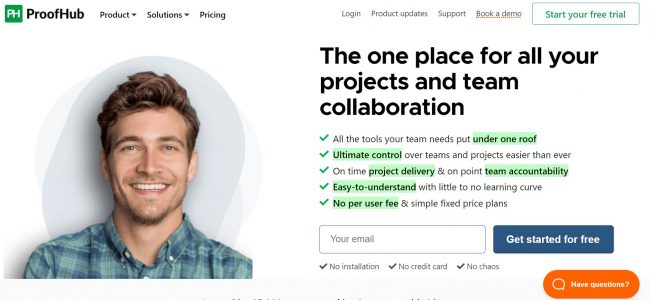 Although Airtable has an easy-to-use interface, teams won't see it as the best PM solution. But, ProofHub is an all-in-one perfect project management tool that is brimming with tools that can assist an individual, a team, or even a whole organization in planning, working, collaborating, and delivering results more quickly and efficiently.
By using ProofHub, you can create personal tasks or assign tasks to multiple people in one place. ProofHub allows you to divide tasks into smaller and more manageable subtasks. You can even add labels, set the start and due dates, set time estimates, track time spent, create recurring tasks, and attach files in one place. 
ProofHub's Gantt Chart lets you visualize, plan, and schedule tasks. With the help of ProofHub, you are able to set task dependencies, highlight critical paths, associate milestones, track progress, drag and drop tasks as work changes, export or print Gantt charts, and see all your Gantt data in one central place.
Pros
Clear tasks visualization 

Personalized dashboards

Suitable for teams and single users

Easy-to-use user interface 

Export Gantt charts easily 

Effective team collaboration
Cons 
Limited integration available 

Lacks budgeting tools 
Price
ProofHub offers a 14-day free trial and after the free trial, you can choose from its two plans. Its ULTIMATE CONTROL plan costs a flat $89/month billed annually and its ESSENTIAL plan costs a Flat $45/ month billed annually.
Final Thoughts 
Nothing is perfect in this world; even if it is software, you will not get all features and positive points in one tool. Here we tried our best to provide the five best Airtable alternatives recommendation with massive research with unique characteristics. If you know any reliable and best alternative of airtable, feel free to share with us under the comment section. 
Recommended Reading on Alternativoj: If you're looking for productivity tools alternatives check out our posts like Alternatives to Logmein, Alternatives to Handbrake , Alternatives to Evernote.
Frequent Asked Questions
What is Airtable?
Airtable is an advanced software platform where people can build the solutions required to bring innovation and growth within team members. It comes with several features like advanced account permissions, two-factor authentication. single sign-on integration,
What are the disadvantages of Airtable?
Some of the main disadvantages of Airtable are lack of communication solutions, higher learning curve, lack of formula builder, no auto-refresh feature, and much more.
Who is better than Airtable?
Trello is always a better option than Airtable. It comes with many advanced features like To-do lists, dependencies, drag and drop, task prioritization, recurring task management, project map, and issue tracking.