If you own a business and have been using VOIP services to handle customer feedbacks, call, complaints and queries then you know that there are ample amount of VOIP service providers in the market, if you have not deeply researched, all of them might seem similar to you, but if you look closely there is always a difference of features among them. Nextiva is one such VOIP service provider you might be using. You can get the same features at lower prices, and better facilities too, In this article, I have for you, a list of VOIP tools like Nextiva and all the necessary information about them.
Before proceeding further, let us first know, what is Nextiva.
What is Nextiva?
Nextiva is one of the leading VOIP service providers and has a very large customer base, the service was started in the year 2006 and currently has more than 1000 people employed in the company. Nextiva is a highly ranked service and is often loved by businesses. They offer a wide amount of services, for all types of businesses, be it a small business or a company, they have got it all covered under their various plans. Nextiva offers both VOIP and call center services, it depends on what you opt for.
The headquarters of Nextiva are situated in Scottsdale, united states and the company is headed by Tomas gorny. Their revenue in 2019 was about $125 Million.
Why do you need Nextiva alternatives?
There can be various reasons why you don't like the service or want to change the service. Some of the reasons include, lack of customer support, inappropriate pricing, low budget, lack of features, call drops, lack of international services or just anything.
Anyways, if you want to change your VOIP service provider, then it is a good decision indeed, there are many service providers who may have what you need, you can get the same services at a lower price too, you can get a better international coverage, better call handling and what not. The market is full of options and you should learn about all of them before making a decision over the best alternative to Nextiva.
So, without further delay, let us jump straight into our list of best Nextiva alternatives.
Best Nextiva alternatives 
Here is a list of top 5 best tools like Nextiva, and all the required information about them, make sure you check all of them and read this article till the end before coming on to a conclusion.
1. Vonage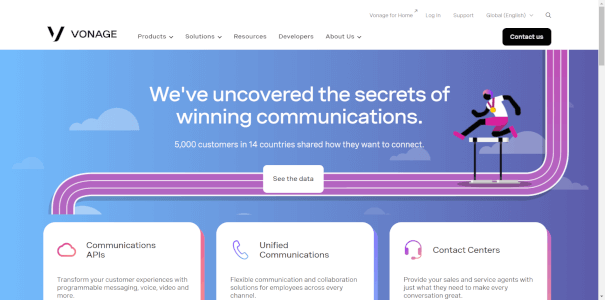 Vonage is popular name among the VOIP service providers and has recently collaborated with Amazon's Chime service to offer UC solutions. Vonage is the first company to offer such unique integrations and is also one of the very first service providers in the market. During the Initial years of their services, the company only focussed on their residential VOIP but with the expansion plans of their business, they now offer their services to the business world too.
The company has a great vision and has worked very hard for their business plans, they have the best in class conferencing services. The customer support is also top notch and is available 24X7 365 days.
The plans are priced effectively where the basic plans cost only $19.99 a month and the middle and top tier cost $29.99 and $39.99 respectively.
2. 8×8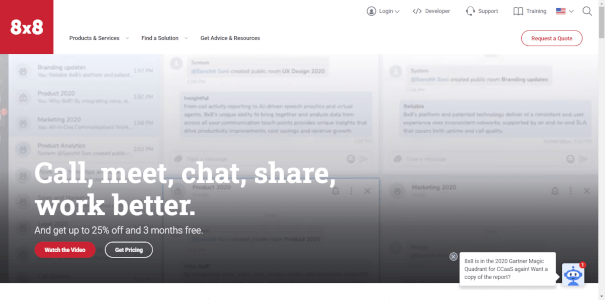 This company call them the world's first communication cloud, and which is somewhat true too. Their system allows businesses to tear down the walls of communication gaps between the employees and customers. The company has been in this industry from a considerably long time, they have been serving since 2002 and have never stopped since then.
If you get to handle a lot of international customers than this company is the perfect solution for you, they have a huge international coverage of. According to the plan, you get to choose from 14 to 47 countries which honestly is huge for a company and a business as well. This company also provides UK phone number for business at a very affordable price. 
The customer care services however are not as great as others, there is no livechat option on their website and when you get to talk to an employee, he can only solve your basic problems.
The plans are very affordable, the basic plan costs $25 a month which gives you a coverage of 14 countries and the top plan costs you $ 47 a month which gives you a huge coverage of 47 countries.
3. RingCentral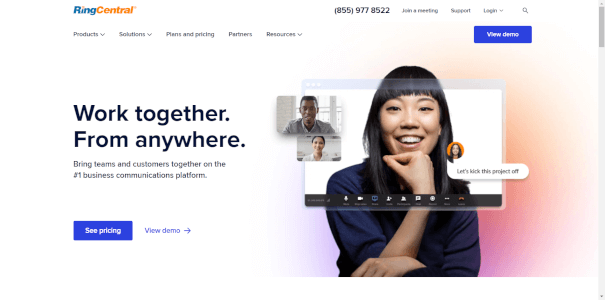 Headed by Vlad Shmunis, this company in the first several years of its establishment was completely bootstrapped. The company was established in 1999 and is an old and established name in the industry. The USP of the company are its cheap and affordable plans.
In the most basic plan of the company itself you can get pretty much everything, you get 100 premium features. As and when you start paying more, the features increase. You can get unlimited calling, toll free minutes, video conferencing and other features with its standard plan that costs $20 a month. 
Their system supports numerous integrations and so you can add your loved features in it. The system is efficient and the pricing is best suitable for small businesses. The customer support is upto the mark, the wait time is average, it can be improved, but considering the pricing of their plans, it is good and working. There are a few call drops in the VOIP service.
4. Megapath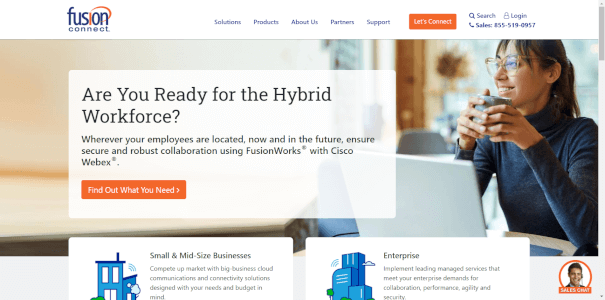 This service does not discriminate among its users for the amount of money they pay, all the features of this VOIP service is available to everyone and the discrimintaion happens in the customer service. When you opt for the basic plan, you get simple and slow customer service and when you opt for the more premium plans, you get prioritized customer service. While customer service is not a differentiator for a lot of businesses, for businesses that are new to using VOIPs this can be a thing of concern, so choose your plans accordingly.
There is another added advantage of using this service, there is no limit on the maximum number of users you can work with, you can have as many operators you want without having to pay a single penny more.
5. GoToConnect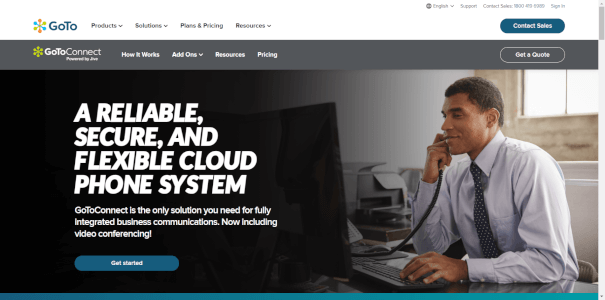 GoToConnect is the enterprise level thing, this company has worked with huge government organizations and huge businesses. This company poses great competition to the Amazon's chime platform. Just like 8×8 does, GoToConnect also offers a comprehensive cloud platform.
The auto attendant feature for the calls is highly and easily customizable and all these features can be accessed with their basic plan of just $19.95 a month. The company has great features with its mobile apps and offers you all the things its competitors offer. The company is an established and powerful market player and have been serving long.
GoToConnect is a great option for businesses which want a phone system with all the meeting and video conferencing services, but hate services like Amazon AWS.
Conclusion
Well, this was all for our article on best alternative to Nextiva. While switching between VOIPs can be hassle for businesses, it is always good to try better and new service providers since the world is nowadays more competitive and every service provider tries to give their best. If you are a person who is looking for good international coverage then you should definitely go for 8×8. If you need a perfect balance between all the services, then you should try Ringcentral. If you have a large number of operators and don't want to pay more for them, then Megapath can prove to be a great option.
Nevertheless, these are all just suggestions, the final decision of which one is the best of these Nextiva alternatives lies on you.
Hope you liked the article! Please share this article with everyone. Sayonara!!
Recommended Reading on Alternativoj: If you're looking for VOIP alternatives check out our posts like Alternatives to Grasshopper, Alternatives to CallRail , Alternatives to vonage.