VOIPs reduce the hassle of managing calls from different people with different queries, and also help in managing time better. If your business gets a lot of inbound calls and is using a VOIP service, then you might be using a service like Grasshopper to manage them.
But sometimes, you might just not like the service the VOIP you have been using and might want to change. There can be numerous reasons for this, whether it is the features, customer service, pricing, limits, or anything. In such a case you might be looking for alternatives to grasshopper.
Finding alternatives to such a crucial service for a business is an important and difficult task, if it does not turn out to be good, you might end up losing customers, but don't you worry, we have taken all that hassle for you and have brought for you our list of grasshopper replacements.
Just make sure you read this article till the very end so that you get a better idea about which product is better for you and which can handle all the inbound calls of your business very well.
Why do people use Grasshopper?
Small businesses and people who manage small teams love Grasshopper for one reason, their freemium features, and cheap plans. Grasshopper has got a good amount of features to offer.
Grasshopper offers number porting and voicemail transcriptions which can take your VOIP calls to the next level of efficiency and productivity. But if you are handling VOIP calls in a heavy amount, then there are definitely more options that you must try.
Best Grasshopper alternatives for your business
These are some of the most popular grasshopper replacements available, just make sure you check all of them before making any decision.
1. Dialpad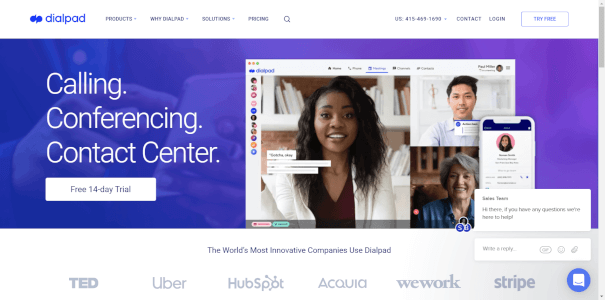 Dialpad was founded in 2011 and raise $50 Million in Series D funding last year. There are around 300 employees in the company. Dialpad has this feature which makes it a deal-breaker, Dialpad can integrate with G Suite. This feature makes it very convenient for its users to set up and use the service. With G suite integration it also gets user friendly since there are over  5 million businesses that use G Suite.
All the users of the service get local and toll-free numbers with their plans. The service offers call forwarding, voicemail transcription, and HD video calls.
All of Dialpad's plans provide unlimited calls within the United States and Canada. The customer service is great too, there is a slight turn down to this since there is different priority customer service for users of different plans.
The standard plan costs $20 and the pro plan costs $30. You get the option of paying on a monthly or yearly basis.
2. Mitel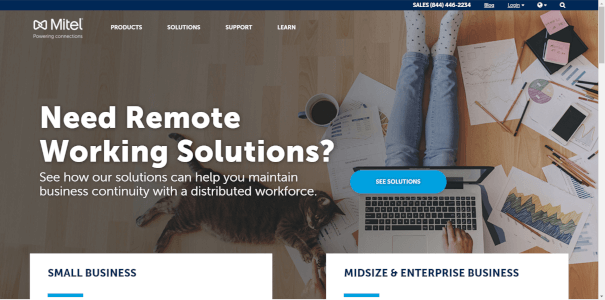 Mitel is one of the oldest providers of VOIP products which started in 1973. Since 2001 when the company's ownership was changed, its focus has only been on VOIP services and products. It had over $1.3 Billion in revenue.
Mitel is feature-packed! You will be happy to know that it also supports G suite integration. They have instant messaging and apps. Their app supports video calls, audio conferences, and even supports screen sharing. This makes it a great competitor in the list of tools like grasshopper.
Not all the features are available on the lower plans since an important feature such as voicemail transcription is only available for users of a premier and elite plans.
The customer support of Mitel is fantastic, they are available 24×7 and on every holiday. Their mail support is fantastic and makes it very convenient for small as well as bigger businesses.
Mitel has 3 Plants to offer, essential, premier, and elite which cost $20.99, $26.59, and $38.49 respectively. The essential plan is totally worth the money for the features it provides, it has got unlimited call minutes too.
3. Vonage business communications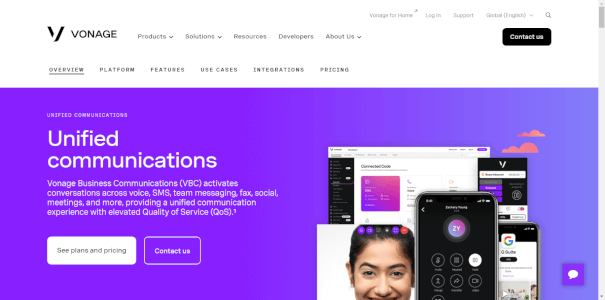 Vonage business communications is one of the earliest market players and has an active customer base of over 50,000 clients using their services everyday.
Vonage has got great features, their desktop and mobile apps are available for users of each and every plan. There is a feature for team messaging. The deal breaker feature here is the Visual voicemail feature that enables you to transcribe emails into text form and email or text yourself, this feature is though exclusive to only the users of their advnaced plan.
The customer support here is top notch, they are available 24/7 365 days. They also have live chat access on their website, where the wait time is just a few seconds.
The plans are priced just right. There are three types of plans, the basic, the middle tier and the advanced which cost $19.99, $29.99 and $39.99 respectively.
4. RingCentral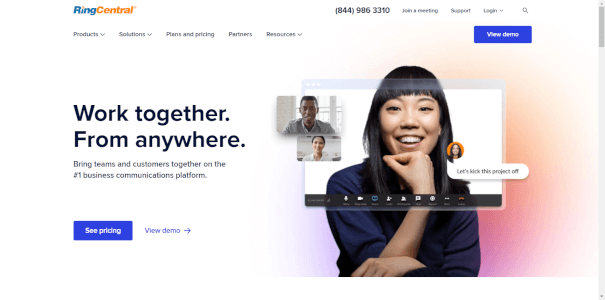 In the first seven years of this company, it was completely bootstrapped and when finally in 2006 it had some investors, it had already made a couple of million dollars in revenue. RingCentral was founded in 1999. The current CEO is Vlad Shmunis.
The features of RingCentral are simple yet effective, if you were attracted towards Vonage's voicemail transcription feature, then you will be pleased to know that the same feature is available in RingCentral for the basic plan users too.
The Customer support of the company is good, but nothing extraordinary. You can connect with them using the live chat feature on their website or via their hotline.
The pricing is a bit more than the basic plan of Vonage, the basic plan here is priced at $29.99. You can also upgrade to the standard plan by paying $34.99 a month.
5. 8×8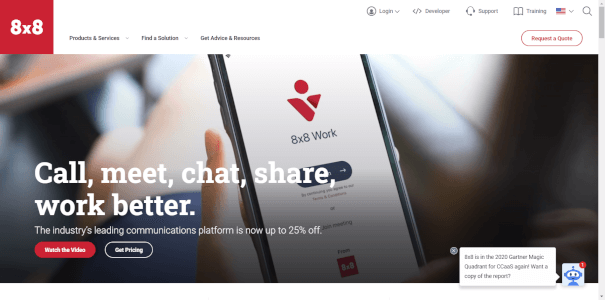 This is the second oldest company on the list, the company launched its VOIP services when it was relaunched in the year 2002 and has been listed on NASDAQ ever since. The company was originally founded in the year 1987.
This company has a huge international coverage, which is a way better than any of its competitors on this list, this is a huge plus point for the businesses which get to handle international customers. This makes it one of the best alternative to grasshopper for businesses handling international clients.
This company has the advanced auto attendant feature and also offers you 1 to 10 GBs of media storage according to the plan you choose.
The customer support for 8×8 is sadly not that good. There is no live chat feature on their website. You need to guide yourself through a haystack of options to be finally able to talk to an agent who is only capable of solving your basic queries.
The plan pricing is good. The basic plan costs you $25 per month and gives you a coverage of 14 countries. You can also upgrade to the X4 plan that costs $47 a month which gives you a range of 47 countries.
6. Nextiva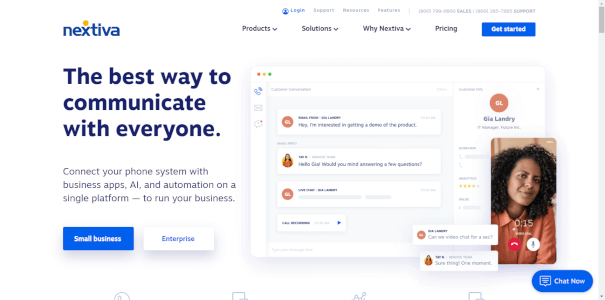 Nextiva was founded in 2006 and has been a top name in this industry since then. Nextiva is packed with a ton of features and is known for their good and knowledgeable customer support.
The Basic plan has promising features, the basic plan offers you unlimited calls and SMS facility along with the voicemail feature that informs you everytime a voicemail is received through email. You also get a toll free number at no additional cost. This is the most cost effective and affordable option amongst our list of grasshopper replacements.
If you buy the enterprise plan, you can also add a live chat feature to your website which is just a cherry on the cake. Any user with the pro plan can also add the survey feature to the end of each call.
The customer support is great, they are available on all days of the week but only at specific timings, you can also solve your queries through the live chat feature on their website.
There are 3 tiers of plans i.e the basic, professional and enterprise plans which cost $19.95, $20.94 and $27.95 respectively.
Conclusion
Well, this was all for our article on the best grasshopper alternatives available in the market. If you are looking for the best and most affordable option, then you must go with Nextiva. If you are looking for great international range, then you must go with 8×8, it is a matter of requirements and personal thought on which VOIP you should get, these were all just suggestions. Hope you liked this article. Please share this article with everyone.
Recommended Reading on Alternativoj: If you're looking for VOIP alternatives check out our posts like Alternatives to CallRail, Alternatives to Vonage, Alternatives to Nextiva.
Frequent Asked Questions
What is Grasshopper?
Grasshopper is one of the best virtual phone systems for small businesses. It offers a toll-free verified phone number for the business purpose which belongs to your brand. You can easily use this phone number to forward calls and also use as a desktop apps communicator for clients.
What is Grasshopper?
Grasshopper is one of the best virtual phone systems for small businesses. It offers a toll-free verified phone number for the business purpose which belongs to your brand. You can easily use this phone number to forward calls and also use as a desktop apps communicator for clients.
Can I use a VoIP phone with Grasshopper?
Yes, you can use a VoIP phone with Grasshopper. This platform offers to customize your phone number, which can be more effective for your business. It also allows companies to choose a VoIP phone number according to their business keywords after the zip code.
How much does Grasshopper really cost?
Grasshopper comes with three separate packages like solo, partner, and small business. When it comes to the solo package, it will cost you $26/month, but for a partner and small business, the cost will be $44/month and $80/month.