No doubt Workflowy is one of the standouts and easy to use task manager platform available in the market. Still, if you are looking for workflowy alternatives for any reason, then we will help you to choose the best one.
Here in this post, we will list the top ten best alternatives of workflowy and give you a complete review of those platforms and essential features, so read the post till the end for a better understanding.
Before that, let's know why someone needs an alternative to Workflowy.
Why you need the alternative of Workflowy? 
Most of the Workflowy complain about the weak mobile apps, no automation, and no regexp in search. People are also frustrated with the lack of image, color, link preview, and customization. Some people also find this software cluttered. These are some main reasons why many users are looking for the best alternatives of Workflowy.
Best alternatives to WorkFlowy 
1. Dynalist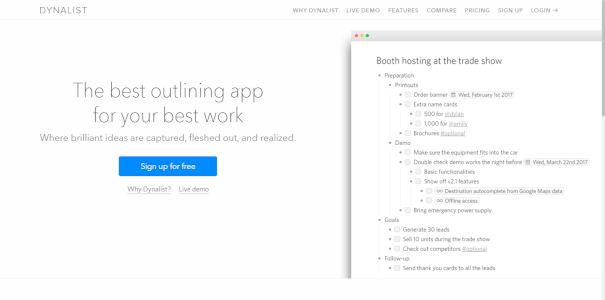 Dynalist is our first recommendation as one of the best alternatives to WorkFlowy. This software has a minimalist and eye-grabbing design which is simple to use and allow users to create countless tasks with checklist and date. You can easily track your tasks via this software.Usually, Dynalist works mainly with three concepts like list making, documentation, and folder creation, and each of them is well associated with others. The best thing here is each document can grow as much it can. This platform supports both Linux and Android systems.
Key Features
Because of this software's support labels feature, the user can organize all tasks under a different section.
Users can mark items on the list with various colored labels to recognize and explain them easily.
You will get internal links to feature for your tasks
Easy to integrate with Dropbox, Google backups, Google Calendar, and attachments.
You will get keyboard shortcut features to access all the functions easily by the keyboard.
2. Notion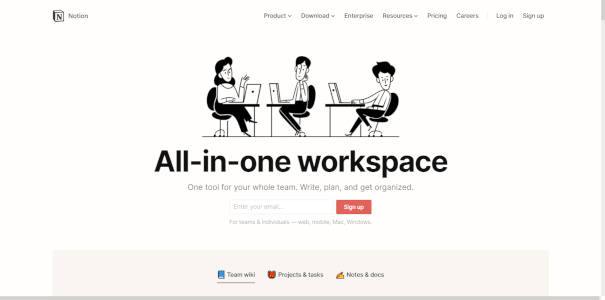 If you are looking for sites like workflowy then we will recommend you to go with Notion. This is another excellent option you have when it comes to the task management platform. You will get almost every essential task management feature on this tool, along with a Kanban table and in-built calendar. Users can create their templates on this platform and also choose the pre-existing templates. This system software supports iOS, Android, Windows, and macOS.
Key Features      
On Notion, you can create notes and documents and track everything on a neat spreadsheet for better insight.
This software has no limitation of file uploading and entries like other free platforms.
You can use Notion as an all-in-one tool for your workplace.
This software offers the free version, which allow you to add unlimited members and provide up to 1k entries of 5 MB limitation of files.
3. Checkvist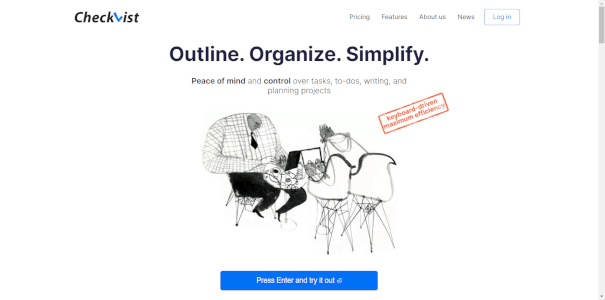 If you are looking for a reliable keyboard-centric interface task manager, then Checkvist is always the best option for you. You will get all kinds of keyboard shortcuts choices for the functionality of this software. Checkvist is a cloud-based application with several useful features like advanced keyboard commands, hierarchical listing, task assign capability, labels, dates, and much more. The overall interface and design of this platform are user-friendly and straightforward.
Key Features      
You will get the facility to add a due date, tags, and unlimited numbers of hierarchy, lists, and checklists entries.
It offers an easy interface with a filter tool and gives you the facility to add tasks via email.
Users will get several cool advanced features on Checkvist like UI customization, calendar app integration, attachment supports up to 1 GB, and much more.
4. Todoist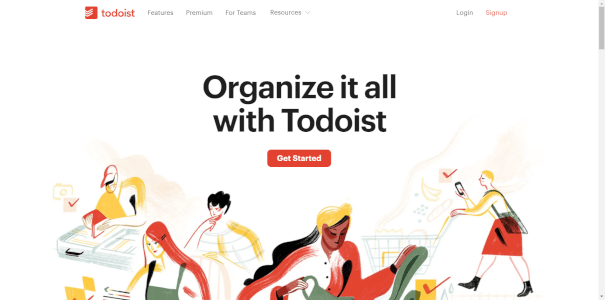 Todoist is another best alternative to workflowy where you can get several notable features. When it comes to personal task manager, no doubt, this tool is always an excellent option for users. It is swift, user-friendly, and productive.When it comes to the interface, you will get a clean design. You can integrate this software into different browsers, email applications, and operating systems.This is a simple web supplication that is free and launches fast. The best part of this tool is to organize tasks by project type and use color code for better recognition.
Key Features 
User can group different tasks into the project with other folders
You can create different kinds of labels and add them to your tasks
User will get the reminder feature on the premium version and deadline feature on the free version
This tool's fast search engine always helps users find out the urgent tasks or projects they need to focus on.
5. Zim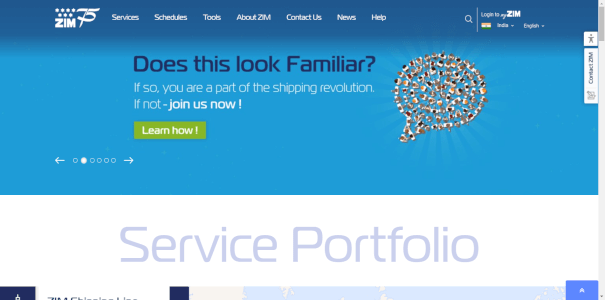 For personal use, Zim is one of the best task management tools. You can use this tool on your desktop, and it comes with a simple editor. This editor will always help you to manage lists and tasks.You can store and manage information on this tool in the form of text files as wikitext, and that's why people also recommend this tool to create a wiki for personal use. This tool supports operating systems like Ubuntu, Windows, Linux, Free BSD, Fedora, and Debian.
Key Features 
Multimedia file attachment facility
HTML file exporting and publishing content on the web
Regular notebook mode with the calendar
Print mode
Cloud synchronization facility with services like Dropbox and next cloud
6. Asana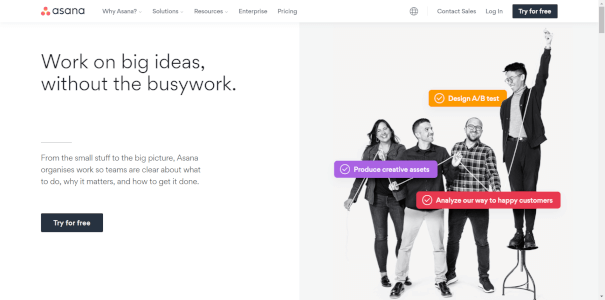 Asana is one of the tremendous workflowy replacement you must try for task and teamwork management. This is a great practical tool that is very useful for organizing both individual and group projects.On Asana, you will get 100% synchronization of group members to meet deadlines and achieve objectives. This is an advanced web-based platform that supports the Android operating system. 
Key Features 
Series of dashboards for the overlook and track the current project and task status
Task scheduling feature
Easy integration of email, texts, and other files
Share and reporting segment for the exact idea regarding the progress of work.
7. OneNote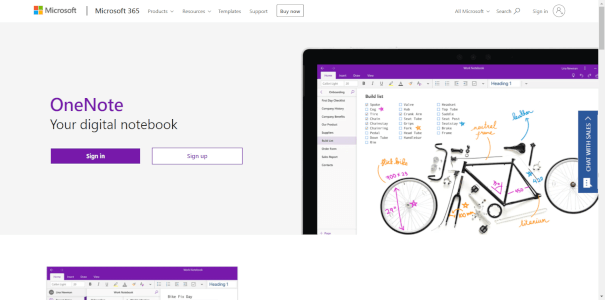 If you are looking for a reliable task management tool that can easily manage information gathering, multi-user collaboration, and note taking, OneNote is ideal for you.On this tool, user can easily place notes on pages which can be well organized in pads and tabs. You can also add photos, diagrams, and other multimedia stuffs on that note according to your requirement. This web-based tool supports the windows system and always allows you to insert power points, excels, and word files. You can keep your files in one place for better and quicker access to data.
Key Features
Make note anywhere you want on the page
Image, handmade drawing, and other elements insertion facility
User can easily create Label, icons, high light reading, and underline on their project or task
Embedded text in the images search
8. Hitask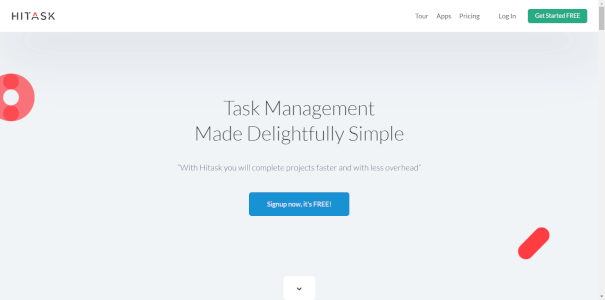 Hitask is another top competitor of Workflowy, which comes with advanced features and a clean interface. You can use this app on any device you want. This is a to-do list app that comes with outstanding data support.You can easily break down the workload into different projects on this app and assign them as the task to your team members. This tool comes with both desktop and mobile app versions.
Key Features
Task assign and progression tracking feature
Drag and drop file attachment and task distribution
Recording during task execution
Generate separate reports from different projects
Supports both iOS and android platform
9. Moo.do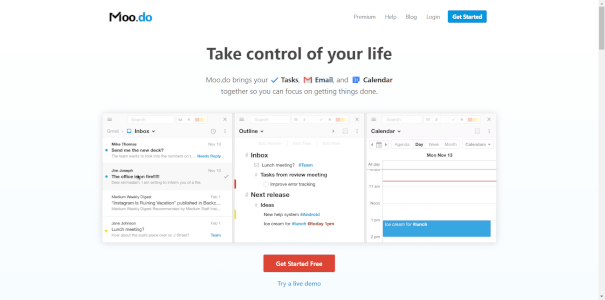 If you are searching for apps like workflowy, then Moo.do is our next recommendation for you. This is a useful and simple task management tool that can help you in your workplace and personal level.You can create lists, organize different projects, and much more because of its flexibility and user-friendly interface. Overall, you can say this is a multiplatform tool that can help the user organize personal and working life separately. This tool supports android, windows, and yes this is a useful web-based tool you must try once.
Key Features
Data importing from productive applications like Trello and Todoist
User-friendly as all tasks are archived
Very simple keyboard shortcuts
Hashtags feature for group information
Dates and time set option
Available for iPhone, iPad, Android and Google Chrome
10. Remember the milk 
Last but not least, one of our personal favorites. Remember the milk is always the best task management software you can use. This is a web-based application that comes with loaded features and supports mobile applications on popular devices.You can integrate this tool into Outlook, Gmail, and other applications easily. On this platform, you can create countless numbers of lists and tagged them as per the priority. You will also get the push notification system on the professional edition of this software.
Key Features
Task pending list creation
Date, estimated time, and priority adjustment feature
Search engine which reminds about pending task
Instant messaging services along with notifications of email and SMS
Conclusion 
The above-recommended tools are some of the best workflowy alternatives you will find in the current market. No doubt all the listed tools are top class and comes with different features. We can't choose the best one as every tool is unique and has some pros and cons. So, we will suggest you choose the best one according to your need. If you have any questions about these tools, then feel free to put them under the comment section; we will love to answer them.     
Recommended Reading on Alternativoj: If you're looking for productivity tools alternatives check out our posts like Alternatives to Habitica, Alternatives to Basecamp, Alternatives to Airtable.
Frequent Asked Questions
What is WorkFlowy?
WorkFlowy is the tool that helps in organizing various tasks of the office. It helps to take notes of important assignments and projects. This app increases productivity in the work and saves time. You can get all the important files within a short time using WorkFlowy app.
How much does WorkFlowy cost?
WorkFlowy app is very affordable in price. It costs about $4.99 every month. If you want to buy an annual plan, it is $49 per year. Taking a yearly package is more affordable than paying monthly charges. Apart from that, you can also get many smart features in annual plan.
What is the best WorkFlowy alternative?
There are many alternatives to WorkFlowy app that you can try to manage your daily tasks. But the best alternative is Dynalist. It is a free app that helps in organizing daily work of your office. This app enhances communication between employees and managers. Moreover, it helps to focus on the work properly.