SmugMug, a commercial platform for image and video hosting and sharing, is an ideal platform for uploading images and videos, saving and protecting the best moments and memories you want. 
SmugMug is surely one of the best sites with a large number of visitors. If you are interested in looking for SmugMug alternatives, this is the article for you. 
Best Alternatives to Smugmug
1. Google Photos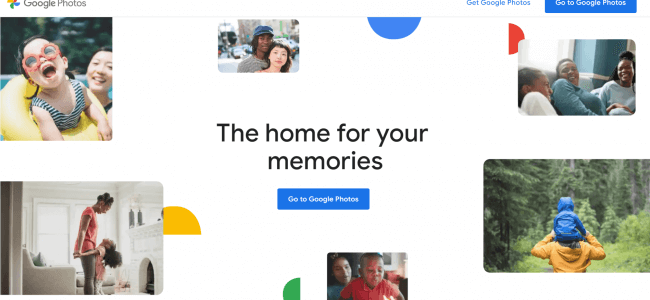 Google photos is one of the free SmugMug alternatives that offers your photos and videos a home where they get organised and backed up automatically and enables you with easy sharing. The cherishable memories get stored for free up to 16 MP and 1080p HD. With this you can keep abundant backups, organised mechanically in a searchable manner. 
The photos and videos uploaded in the Google Photos are available and accessible on any and all devices like mobile phone, tablet, laptop or computer at photos.google.com. Your photos will stay safely protected with you all the time. 
Once you have uploaded the photos and videos, they are organised in such a way that, even without being tagged, you will be able to find pics of a particular type, only by typing the name in the search box. You just need to type 'dog' to find all the pics of your pet. 
Running out of your phone space is not an issue any more, just upload your photos and videos onto google photos in one tap. And delete them from your device and live in peace with ease. 
2. Photobucket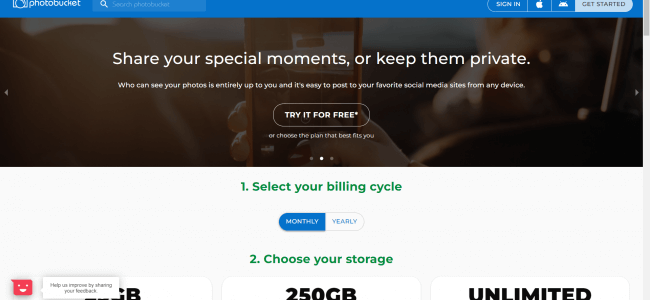 Photobucket is one of the tools like SmugMug that works on the basics of photo hosting and sharing applications along with editing options. Alex Welch and Darren Crystal created Photobucket in 2005, a simple and secure to use, inexpensive way to store and backup the photos that promises to carve our memories for years to come. 
Free trial of Photobucket with 2GB space is available if one wants to experience a few of its offered features before investing any money. Paid charges vary according to the storage space. A number of features can be availed as per the paid plans. 
All formats of photographs and videos can be uploaded and backed up on Photobucket. The uploaded images can be edited, added effects to and then can be shared over the internet with family and friends. The quality of the photos is maintained by the embed link which is also used for sharing the same photo on different platforms. Private encryption, EXIF data removal and visibility controls keep all photos in your control. 
Also Read: Best Alternatives to Weebly
3. Imgur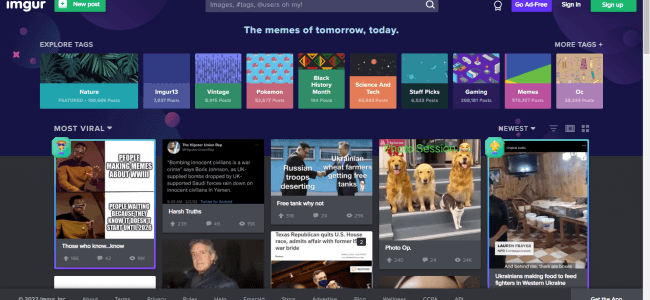 Another one of the free SmugMug alternatives is Imgur, a website with a simple platform design enabling you to share images, videos and stories. In 2009, Alan Schaaf founded Imgur, an online photo dispensing and hosting community platform. 
This online platform software is very basic yet is highly adaptable. It enables you to recreate the interface in your own style with the help of a third-party software. 
Uploading and sharing of images, videos and Gifs is not only easy and simple but also offers you options of safe and secure public or private sharing onto the drafts. On uploading the content publicly, you can get real-time feedback too. 
Along with community interaction, it offers a fascinating feature of shifting landscapes which is something to always look up to. This has created a huge collection of high-quality images, Gifs and videos which are vastly classified into funny, TV, Video Games, Celebrity and many more. It gets updates on daily basis. 
Each classification has limitless options to search from. A powerful internet browsing of interesting stories and photos is made possible with collaborative working with Reddit. 
4. 500px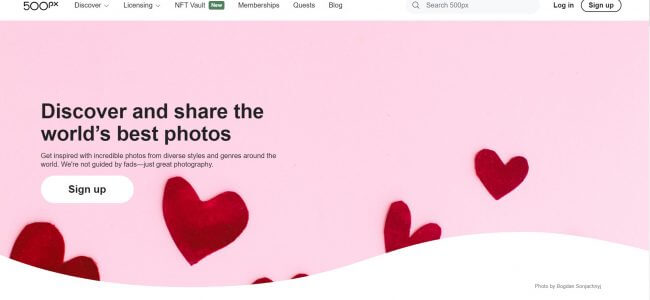 500px is another one of the best alternatives of SmugMug for photo sharing and trading platforms. In 2009, 500px started giving you a free tier enabling you to upload seven photographs per week. For the ad free services and visitors analytics, you need to get a paid plan ranging from
Both uploading and downloading high-quality photos is a very easy and quick process for the social media account holders. Its design is simple yet attractive, considering the professional level of the photos uploaded. 
The photographers, professionals and amateur both can share their best work and also interact with the community. Also, the photographers can follow others of their own choice, to see their latest work, in the community created by this app. 
The user not only shares the work publicly but also gets an option to sell and buy photographs on 500px Marketplace. This way the interested photography lovers can become sellers and buyers and get to exchange photography showpieces. 
500px website also gives its users an opportunity to take photography classes from different multi-talented, photography experts. New photos are kept on the top with the help of Pulse algorithm. This way valuable insights are received on day one only from the group of photographers in the app community. 
5. ShootProof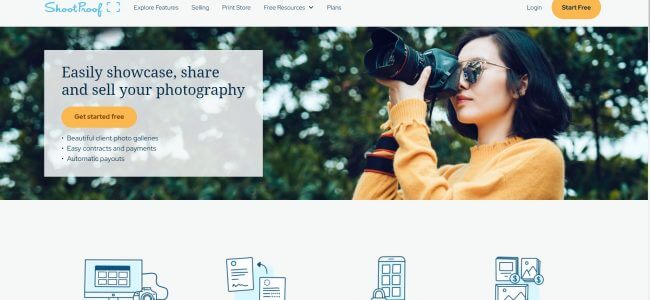 ShootProof is a good SmugMug alternative in the photography business. Since the founding year, 2009, ShootProof has been a user-friendly, technology empowered photo uploading and sharing platform. 
A free trial is available in which 100 photos can be uploaded in 14 days' tenure. This free subscription can be anytime converted into a paid plan. . 
ShootProof is empowered to share and sell the user photos in client galleries. Along with it, commission-free sales and integrated contracts are also catered for simplified workflow. 
The professional features like mobile app, customizable and password protected galleries, photo proofing, contracting, invoicing, credit card processing and partnered labs around the world for printing makes it a one stop for all business needs of the user. 
ShootProof services are availed by the photographers in 18 languages all over the world in 38 different countries. This is in line with a vision to become a leading SaaS platform where the photographers can run an unceasing and victorious business with elite email and phone support. 
6. PhotoShelter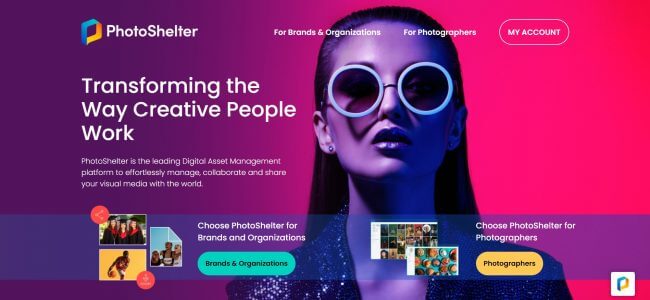 Founded in 2005, PhotoShelter is a best alternative to SmugMug, in photography management platforms that has an aim towards an improved future of photography.  
It offers secure cloud storage, photo organization, image workflow management, selling and buying of customer photos along with delivering them to the clients. Users are enabled to browse one of their favorite display formats and customizable site. 
PhotoShelter has reliable photography vibes, with features supporting the professional photographers with reassuring tricks, marketing and E-commerce tools for their portfolio site.
It has a two-week free trial for you to test the claims of the platform. Once you create your account by registering on their official website, you can upload your images. Once uploaded the images can be sold/bought by the site visitors as soft copies or prints. Associated labs are also to get high-quality prints. 
It allows a professional photographer to not go into traditional site building, instead they can use PhotoShelter, a portfolio website making website along with a photo sharing platform. 
Easy and simple interface, present themes and templates, client proofing are few of the catchy features making PhotoShelter worth a try. 

Conclusion: 
Storing, sharing, selling and buying photos is really fun. However, finding the right website for the same is a big deal. I hope the list of above SmugMug alternatives will give you a boost to find a better option. 
Recommended Reading on Alternativoj: If you're looking for website builders and online portfolio alternatives check out our posts like Alternatives to Weebly, Alternatives to Wix , Alternatives to Squarespace.