Graphics have entered every sector in the present times. Whether it is a restaurant site or software development website, graphics can be seen on every web page. Canva is one of the most powerful tools for graphic designers. It helps in designing posters, banners, graphics, and presentations.
The app comes with various templates for different users. It has both free and paid versions. However, many users are not comfortable with the user interface of the Canva app. But now, you can try some of the best alternatives to the Canva app for creating unique designs. Let us further discuss the apps that are similar to the Canva app.
Best Alternatives to Canva in 2023
If you want to create robust graphic designs and posters, try the below apps:
1. Crello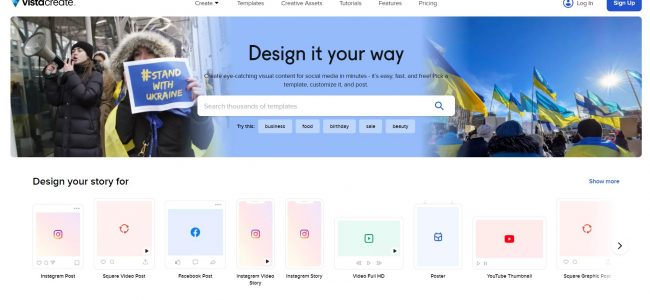 Crello is a free app for graphic designing with an amazing user interface. It is simple to use this app for beginners as well as professionals. The app comes with a wide range of templates for various posters and designs.
Templates have beautiful designs that help you to make a unique banner or poster. Some templates also have written messages to create special designs for festivals. There are different tools and features in the Crello app that help to improve graphics.
You can edit your graphics with special tools of this app such as removing background elements and increasing the sharpness of the image. You can post these graphics even on your social media account.
2. Dochipo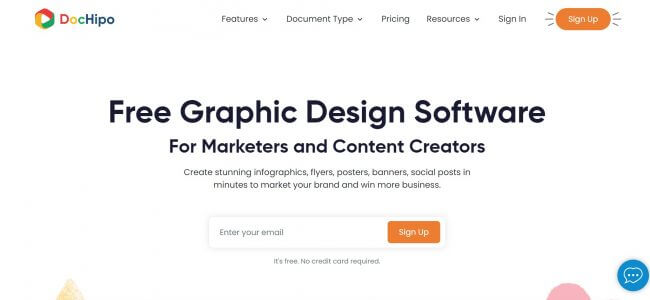 DocHipo is one of the best alternatives to Canva for marketers and content creators.
You can choose from a massive collection of beautifully designed templates for infographics, flyers, posters, web banners, social graphics, and various other document types. The templates are segregated by industry, occasion, and so on. 
Also, you can download the design in JPG, PNG, PDF, MP4, or GIF format and use them off-line or publish them on your favorite social channels right from DocHipo itself!
3. Snappa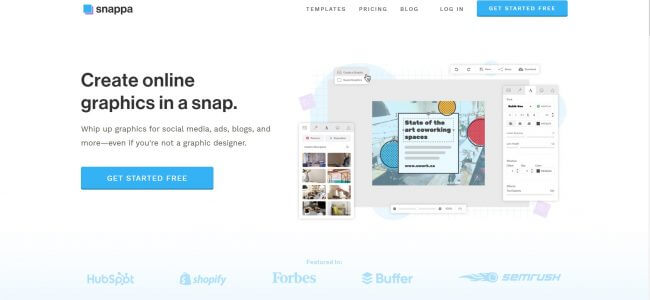 The next alternative to the Canva app is Snappa. It is one of the best tools like canva app with simple features of a user-friendly interface. You can create attractive graphics for social media posts, business posters, banners, and logos of your business.
It is easy to use the app even for unprofessional designers. Simple features make it easy for beginners to start their work as graphic designers. The app also helps to make your images more beautiful with some clicks.
Snappa app is a must for online businesses that have to display their products on the site. It contains a lot of pre-made templates that help online businesses to make online ads and posters.
Also Read: Best Photoshop Alternatives for Logo Design
4. Fotor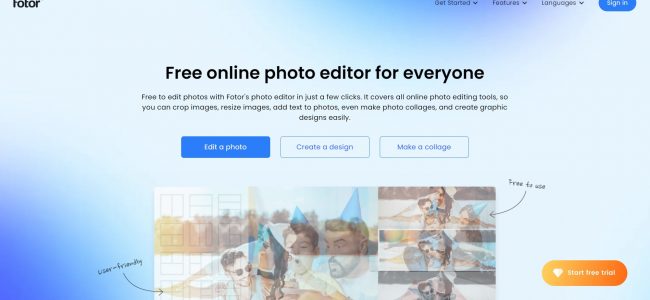 Fotor is a photo editor that helps to create wonderful images by adding artwork. It is a free app to edit as many images as you want for posting on social media sites. You can crop images and resize them and add text or special effects as per your wish.
This app will help to collect all your special memories and form a collage. It includes a bunch of tools that edit your images professionally. Anyone without knowledge of photography can use the Fotor app on the mobile phone. 
In addition to that, the app contains a feature that removes blemishes from the face and makes your face clear. Moreover, this app increases the brightness of the image as you want.
5. Pixlr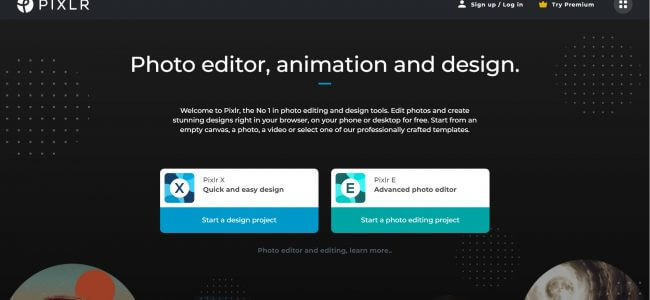 The next Canva alternative on the list is Pixlr app. It is one of the best tools for photo editing and animation. This app contains a wide range of templates to create stunning videos, images, and short clips.
Pixlr works on every compatible device. It has many templates that help to create brochures, business cards, Instagram stories, and YouTube banners. This app helps graphic designers to create many images and photos.
Additionally, this app aids in designing various anime. It also helps to remove background from your images with the AI removal feature. Furthermore, this app contains a variety of filters for making your images more creative.
6. Pictochart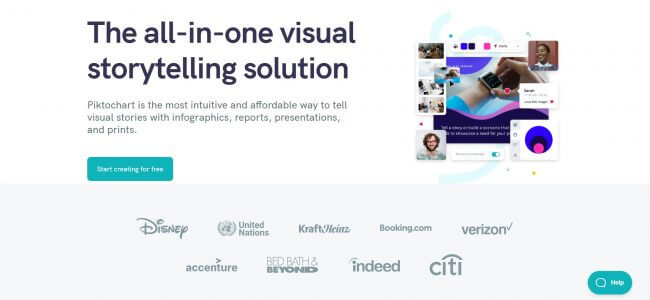 Pictochart is one of the most stunning apps for storytelling. It has a good user interface with amazing features. Everyone can use this app without any professional guidance. You can make infographics, prints, and reports with Pictochart app.
This app helps many businesses to explain the features of a product or service. It also creates beautiful presentations to display sales of the company. You can work with your team members on a single page with the Pictochart app.
You can also put data creatively using the special tools of this app. If you want to start a new business, the Pictochart app makes superb posters for promoting your business.  It is overall a nice professional tool for beginners and experienced designers.
7. Visme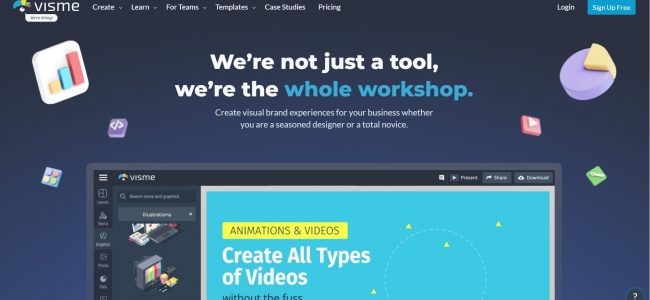 Another powerful app for graphic designing is Visme. It helps to make creative images and presentations for clients. This tool also creates powerful infographics to promote your products and services.
You can edit both audio and video content with Visme app. Some of the most advanced features of this tool make your site more engaging for the audience. This app also includes free-to-use stock images for promoting your products.
It is a free tool to use for editing images, audio clips, and videos. This app contains many attractive design elements for graphics and images. Visme will also remove background from the images and make them look more stunning with a perfect balance of brightness.
8. Animoto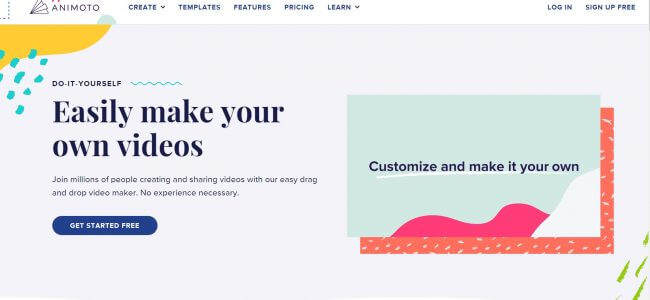 Animoto is the latest and one of the best alternatives to Canva to use for graphic designers. It helps to create colorful videos for your business. You can create your own music, images, and videos with Animoto's different features.
If you are striving hard to generate sales for your business, use Animoto. It will help to make interesting video content that generates more traffic on your website. Many small businesses use this tool to boost social presence and engage with audience in different parts of the world.
Animoto is one of the best tools for those who love to experiment with their videos and images. It creates top-quality videos to post on social media platforms.
9. Stencil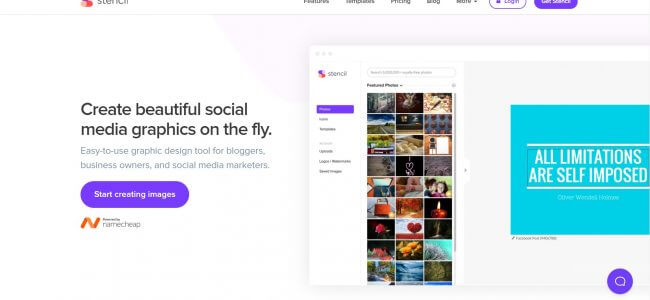 This app has a simple name but contains a lot of robust features for graphic designers. It is a useful app for businessmen, graphic designers, and web designers. You can create wonderful graphics within a few minutes using this app.
Many social media marketers also use Stencil to promote various products and services. This app contains a lot of features that can be used for marketing purposes. It also crops and resizes your images perfect for sharing them on social media sites.  
Stencil app gives the benefit of viewing your work before posting on any site. It is available in free and paid versions.
10. Illustrator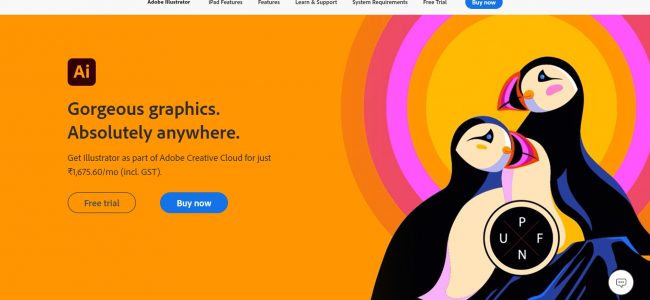 Illustrator is listed as the best tool like canva app. It creates unique infographics for social media channels and other platforms. You can also use this tool for the promotion of your business.
It is a great app for digital professionals and graphic designers. You can use the Illustrator app with the Photoshop tool. It helps to make colorful illustrations for sharing on social media platforms.
11. Desygner

Desygner graphic design tool that is best Canva Alternative in the designing
With thousands of templates available, and millions of free stock image for you to choose from. It has an Easy UI and Drag and Drop software. Not only that, features like Background Remover, PDF Editor, Image Reziser and Animator are free to use.
Create Logos, Banner, Card, Watpad Covers, and many more. Desygner has an affordable Subscription Plan than Canva not only that it has access to 120+ million shutterstock image + the tool.
Recommended Reading on Alternativoj: If you're looking for miscellaneous  alternatives check out our posts like Alternatives to Canva, Alternatives to Yesbackpage, Alternatives to Treasure.

Final words
These are excellent tools like canva app that are ideal for graphic designers. From simple images to videos, these apps are useful for editing every design element. They are easy to use in daily work and do not include any complex features.
These apps are also helpful for creating online ads, banners, posters, brochures, and other marketing elements. You can pick customized packages in these apps according to your business requirements And with free design resources like aesthetic design patterns, royalty-free backgrounds, free fun fonts, you will be able to create amazing designs at absolutely zero cost