Lemlist is the first automated outreach email platform with customized images. It is a program that enables you to send one-of-a-kind and memorable cold emails to customers to foster warmer relationships. While Lemlist is a popular tool for cold email marketing, it has a few flaws. It's pricey, has a different UI than Gmail, and doesn't handle email attachments. So, if you are looking for a Lemlist alternative then examine a variety of top Email Marketing tools that provide features like Lemlist with better services. Choose the best Lemlist competitor that matches your specific business needs to empower your team. 
Marketers can use email marketing software to send a commercial message to a group of people. These tools like Lemlist can be used to create and model personalized emails using CSS and HTML or simple visual editors. Users may create and maintain opt-in email lists with email marketing software segment those lists to deliver targeted emails, and handle unsubscribes and subscriber responses.
The tech world is full of options and choices, and you as an explorer can feel free to choose from any of those options. In this article, we will show you the top ten best alternatives to Lemlist for cold email outreach.
Best Alternatives to Lemlist
1. Mailchimp (Top Rated Alternative to Lemlist)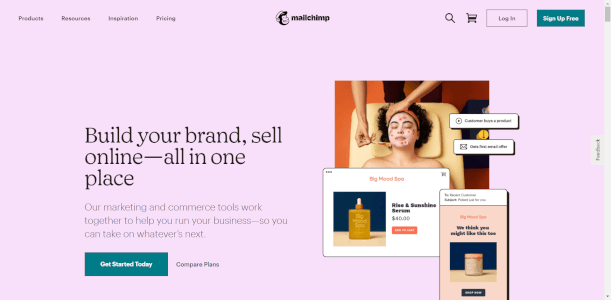 To promote smarter and grow faster, small businesses may use Mailchimp's all-in-one marketing platform. It provides AI-powered, user-friendly tools so that anyone can use them to thrive and also is serving as the cornerstone for your customer connections. Mailchimp puts your customers first, allowing you to send automated messages and marketing emails, as well as, construct landing sites, develop focused ad campaigns, send postcards, analyse data, track and sell online. From neighbourhood organizations to Fortune 100 enterprises, millions of businesses and individuals rely on Mailchimp to connect with their audience with the right message, at the right time and place. 
2. iContact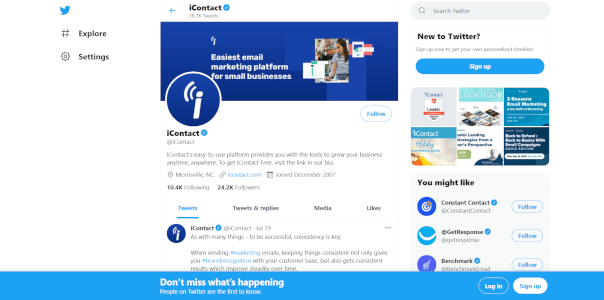 When you're establishing a business, life can get stressful. We understand that a busy marketer doesn't have time to spend, whether you're new to email or have experience. Every iContact customer gets unlimited technical support for the duration of their account. The elegant, modern UI of iContact makes it simple to design that perfectly fits into your business. You can perfectly save color palettes, row layouts, content blocks, and typography, in your fully adjustable drag and drop theme builder. With all these edits you can smoothly transform your product marketing into compelling and persuasive email messages. Email sent through iContact takes no detours: your communications won't end up in spam folders or on ISP blacklists.
3. Constant Contact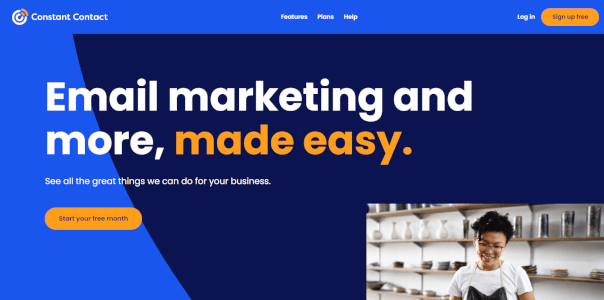 Constant Contact is a dependable partner for small businesses and NGOs looking to improve their online marketing outcomes. Constant Contact makes it simple to establish a professional web presence, attract consumers, and increase sales—all while assisting you in moving your business ahead. Email and Automated Processes increase sales for your company, create professional emails, attract your audience, and automate your communications, integrate with e-commerce sites, connect your current e-commerce platform to send targeted emails to increase sales.  In a few easy steps, you can get a custom-designed website or online store and begin selling online. 
4. Sendinblue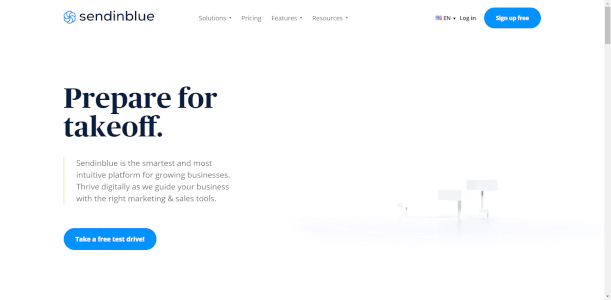 One of the best alternatives to Lemlist. Sendinblue is an all-in-one marketing tool trusted by over 1, 80, 000 organizations around the world for interacting with contacts and developing stronger customer connections through targeted and meaningful communication. With the all-in-one solution for marketing automation, SMS marketing, email marketing, chat, CRM, Facebook Ads, etc. Even, you can send sending transactional messages through email and SMS and cover your whole marketing funnel. The main strength of Sendinblue is its agile and adaptable marketing automation platform. 
Sendinblue's price is fixed by the number of messages (email) that you would be sending. However, the price is not determined by the number of contacts your account has. You can easily send around 300 emails through SendinBlue. The free account feature by SendinBlue allows you to mail such emails. Slowly and gradually as your business flourishes, you can broaden and use the plan according to your needs. All this is possible easily without you having to spend multiple pennies.
As a result, Sendinblue has created an Enterprise solution, a personalized plan that is suited to your specific needs and scales with you.
Also Read:
5. Zoho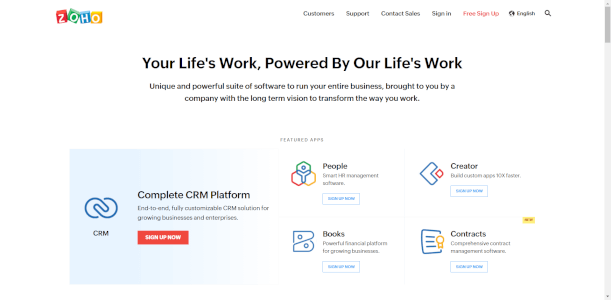 Zoho Campaigns is an email marketing automation tool that allows you to send the correct message to your subscribers at the right time. Using the pre-designed layouts, templates, and drag-and-drop editor, you can generate beautiful emails in minutes. You don't need to import and export list data from CRM; because its sync feature will do it for you. You just focus on building clients, audience, and sales. You can also use the pre-made sign-up forms to automatically add subscribers to a mailing list by embedding them on your website. 
You can still manually import your subscriber data if it's on an excel sheet.  And In real-time, you can easily track email openings, forwards, and clicks, and forwards all at once. The best thing is that unsubscribes, and bounces are dealt with automatically. You may analyse the performance of your campaigns and understand your audience's behavior with the aid of campaign and list comparison reports. 
6. MailerLite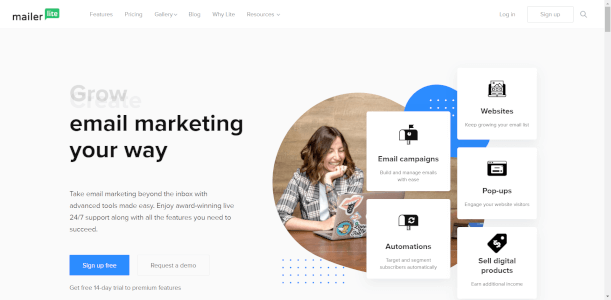 MailerLite is an email marketing platform that is laser-focused on offering outstanding value to its existing customers, such as quick 24/7 live support, an intuitive user experience, and simple pricing. MailerLite allows you to develop professional campaigns from start to finish. Custom landing pages, pop-ups, forms, etc. help you to grow your audience. With it, you can produce gorgeous newsletters with pre-designed themes and an intuitive drag-and-drop editor. MailerLite is with you every step of the way, providing the tools you need to thrive in email marketing. WordPress, Zapier, Shopify, WooCommerce, and a slew of more platforms have been added to the list of integrations.
 7. Salesforce Email Studio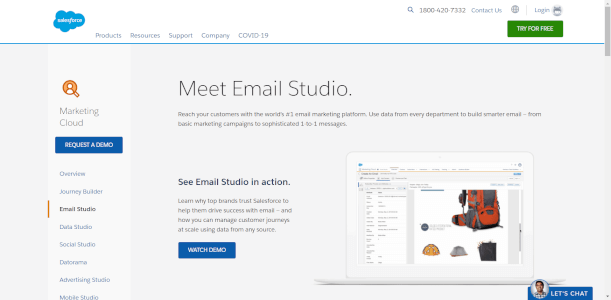 Marketers can utilize Salesforce Marketing Cloud's Email Studio to swiftly create and distribute tailored emails, ranging from simple newsletters to complicated campaigns. Salesforce sends promotional, transactional, and triggered communications to customers, with detailed real-time reporting to track and improve performance. Any email marketing approach can benefit from Email Studio's features and capabilities. Marketers can produce timely and highly relevant messages to connect — and re-engage with customers using native predictive intelligence and behavior, as well as robust first-party data. Drag-and-drop tools make creating emails with simple content blocks a breeze. This Lemlist alternative delivers pre-built mobile-optimized email content that allows you to personalize email content rapidly.
 8. GMass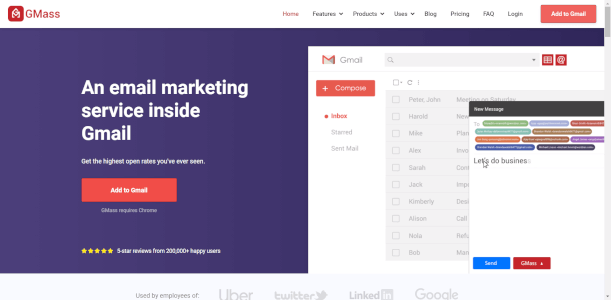 GMass is a Gmail plugin that allows you to launch email marketing and automation campaigns directly from your inbox. GMass is the only tool that effortlessly bridges both categories. You may send a 100K-recipient email newsletter with GMass. This allows you to launch a cold email outreach campaign to 100 warm leads and follow-ups until you receive a response.   
As your campaign's restrictions are approached, GMass slows down the sending speed. It is constantly looking for signs that you've exceeded your restrictions, such as the "You have exceeded a limit" bounce.
9. Moosend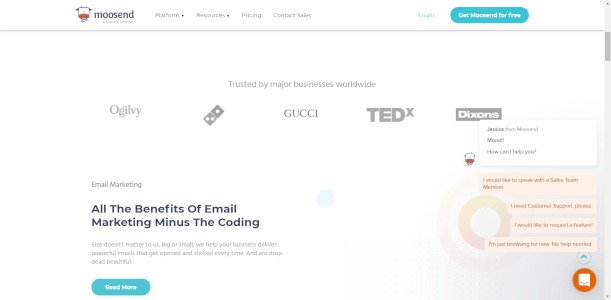 With Moosend, you can effortlessly manage several mailing lists and   .campaignsThe built-in campaign editor allows you to create and deliver visually stunning and responsive newsletters. Besides this, personalization tags, intelligent email automation, subscription forms, and landing sites may all help you enhance your marketing campaigns. Get actionable campaign reports and keep an eye on your stats in real-time. Moosend is the best alternative to Lemlist and a cutting-edge email marketing platform with industry-leading capabilities, cutting-edge marketing automation, and an award-winning user interface. Moosend is used by hundreds of organizations around the world to engage their email subscribers and build their businesses, from small startups to Fortune 500 enterprises.  
10. AWeber
AWeber has proven to be the business leader in email marketing software when it comes to small businesses. AWeber was founded in 1998 and has helped over one million customers across the world dependably connect with business prospects and customers using powerfully easy email marketing software for over 20 years. This particular Lemlist alternative offers the ability to swiftly construct responsive landing pages, load and manage contacts, send stunning emails, send immediate push alerts, and analyze outcomes, etc.  
All of Aweber's email templates are 'responsive.' This means they resize themselves to fit the device they're being viewed on automatically. This is a necessary function in today's world of smartphones and tablets.
The preview button option of Aweber gives a quick preview of the mobile version of your email. And with the 'mobile preview' switch, you can see how your e-newsletter would appear on a smartphone.
Recommended Reading on Alternativoj: If you're looking for productivity tools alternatives check out our posts like Alternatives to Workflowy, Alternatives to Habitica , Alternatives to Basecamp.
Wrapping Up 
These were some of the finest Lemlist alternatives for cold email outreach software. Marketing automation technologies frequently include email marketing as a function. This category comprises some of the best Lemlist competitors that deliver you solutions and services like Lemlist. Why should you reduce yourself to only one option?  Lemlist isn't the only email marketing software available. Look at different possibilities and competing options. Many consumers are looking for user-friendly, easy software solutions including surveys, social media integration. So, you should explore different sites like Lemlist, and choose the best tools like Lemlist according to your specific needs.