Tracking employee time and productivity is one of the most beneficial yet challenging tasks when it comes to managing a business. The kind of tool you use will depend on your kind of work.
When used right, time tracking improves employee performance. Other pros include precise task management, improved payroll processing, increase in productivity, reduction of costs, and many others.
Let's take Time Doctor, for example. This tool has many features to keep you focused, your work in order, and your tasks organized. Here are some of the many features of Time Doctor:
1.     Time Tracking and Employee Monitoring
2.     Distraction Alerts
3.     Offline Time Tracking
4.     Website and App Monitoring
5.     Productivity Measuring & Summary Reports
6.     Screenshots & Activity Levels
And yes, it can be used on all devices.
 Given these features, using Time Doctor or any employee time-tracking tool is a necessity given today's highly paced work life and the productivity demanded in almost all workplaces.
Best Alternatives to TimeDoctor
 So, apart from Time Doctor, you have many other options at your disposal. Here are nine Time Doctor alternatives to keep you organized, motivated, and focused.
1. ActivTrak (Top Rated Alternative to TimeDoctor)
ActivTrak is a cloud-based tool that allows employers to track which websites their employees visit and which applications they use. Here are some of its key features.
ActivTrak has an impressive dashboard that lets you analyze productivity trends and work performance. This wide-angle view of productivity will better help you make task-related decisions.
Productivity reports from ActivTrak provide valuable information on team productivity and show various trends.
Tracking employee website and application usage allows employers to keep an eye on their employee's productivity or give them an understanding of where they can perform better.
Alarms and Website Blocking is a feature that can be customized to notify you about file sharing and deletion and block websites that could be a distraction.
Real-time user activity can be seen on ActivTrak, which makes it a fantastic tool for remote and hybrid teams. Managers can check on their employees without bothering them in the middle of important work.
Screenshots of suspicious activities can be captured through a triggered alarm.
You can set benchmarks and goals and track their progress in an efficient manner so you can make necessary tweaks to improve any deficiencies in your goal-related tasks.
What's also great about ActivTrak is that you can integrate productivity data with other applications to get a much clearer insight into overall productivity.
ActivTrak includes an Advanced and Premium version in addition to the free version.
Recommended: Best apps like Trello 
2. ClickTime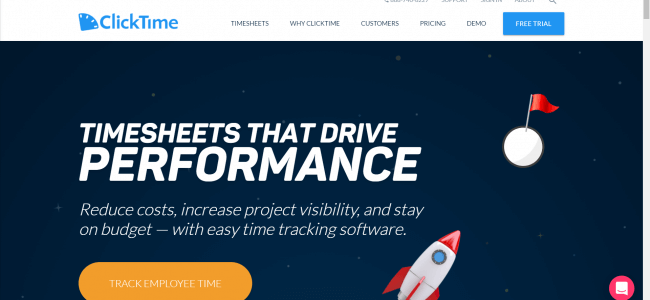 ClickTime is a time-tracking software that allows you to track and manage employee work time and productivity and helps make performance-related decisions. Here are some of its key features.
ClickTime can be used on desktop and mobile devices so employees can track their work time while they are on the move.
Detailed reports designed for teams that focus on time productivity are easily available. Some of the key information provided are project budgeting, timesheet management, employee resource management, expense reports, overtime reporting, and employee performance reports.
ClickTime helps you create easily manageable and presentable timesheets that can better explain projects while also making it easier to copy, paste, and edit time entries for projects. Another crucial feature within this is time entry comments, where an employee can comment on each time entry so that no details are missed out in the bigger picture.
Easy integration of ClickTime with various CRM, accounting, and payroll software reduces the chore of switching through multiple apps and comparing data.
There are well-integrated budgeting and forecasting tools that can help with cost-saving, project management, and productivity improvement.
So, if you'd like to give ClickTime a go, they allow a FREE fourteen-day trial, WITHOUT a credit card entry requirement. There are three paid versions available: Starter, Team, and Premier.
3. Clockify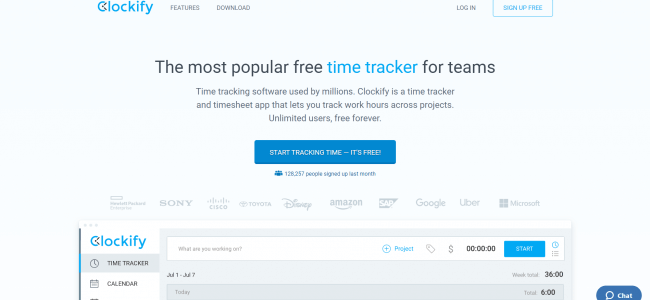 Clockify is a free time-tracking tool that accommodates unlimited team sizes. It is used by many agencies and freelancers for time tracking, creating reports, and managing projects and teams. Below are some of Clockify's key features.
Like every standard software like itself, Clockify features a presentable and easy-to-use time tracker, where you can set tasks, start and stop timers on them, and mark the ones that are hourly billable. Hours can also be entered and edited manually.
Timesheets make it very convenient to log all the activities for the week. Each activity's time can be entered for every day of the week. Additionally, reminders can be set for timesheets that are due.
 The calendar feature lets you visually track time for your tasks and log them in. You can also track time for planned events. The calendar provides a visually appealing comparison of time for different tasks. Tasks appear in a block shape, which can be resized to edit time. Events from Outlook and Google Calendar can be added as well.
The dashboard shows you where your team spends the most time and what they're working on while also giving you a broad view of your week.
Detailed reports and invoicing are also easily managed features on Clockify.
 The best part is that all these features are free. But if you'd like some of the extras, there are four plans to choose from.
Also Read: Best Alternatives to Airtable 
4. DeskTime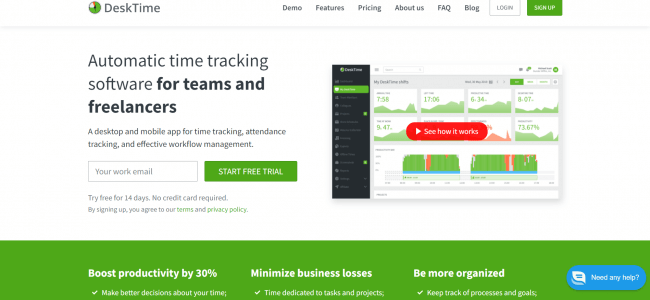 DeskTime is a fully automated time tracking tool, which, according to Capterra, boosts employee productivity by 30 percent within the first few weeks of use. Below are DeskTime's key features.
Time tracking is automatic. Meaning that the software tracks your time as soon as you start working, and it stops when you do. This is so you can spend more time on your work and less time tracking and editing.
The URL and app tracking feature help employers track their employees' productivity by categorizing websites and applications as productive or unproductive. This helps them monitor employee productivity by knowing what websites and applications were most used.
Document title tracking is a helpful feature that lets managers know which task their employees are engaged in based on the specific application the employee uses. It also shows the amount of time spent on a specific document, as opposed to showing the time spent on the application.
The employee absence calendar gives managers and fellow employees a heads up when one of their own is on leave. This allows for better planning, especially around heavy workloads.
The private time feature, when turned on, stops time tracking, allowing employees to take a break, during which time websites will also not be tracked.
            All paid plans come with a free trial.
Hubstaff is a time tracking tool, along with other features, that lets employees track their time, allowing them when to turn the tracker on or off. Below are some of Hubstaff's main features.
The time tracking interface is well laid out and organized, and it's easy to keep track of employee tasks, projects, attendance, and hours worked. It also tracks website and app usage on mobile and desktop.
A very interesting feature is the geofenced time tracking. This allows the time tracker to begin as soon an employee enters their workplace(s). It shows the routes taken as well as the time spent on each site. This is beneficial to hybrid teams and employees attending meetings. This feature also has a built-in GPS system. This helps in managing and tracking travel costs and time spent at each work site.
Time tracking reports provide detailed information and make analyzing data much easier. These reports can be customized by client, team member, week, and projects. The information provided provides a better understanding of a project's profitability, which in turn helps teams better plan future projects.
            There are several other features that Hubstaff offers that boost productivity. Hubstaff offers a free trial without the requirement of credit card information. The paid versions are Desk Starter, Desk Pro, and Enterprise.
6. RescueTime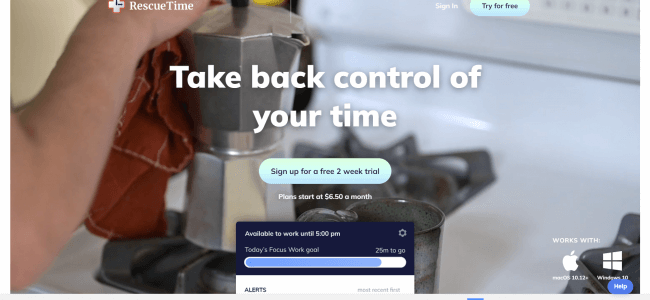 RescueTime is a productivity app that lets you track your work on your desktop and mobile device while offering insights on how to be more productive. Unlike other tools which are used for employee monitoring and time tracking, RescueTime gives you suggestions on how to better use your time based on the apps, websites, and files you use.
RescueTime works by assessing an employee's work style and schedules. Then, it compares it to many other similar work patterns and produces a Focus Work Goal for the day.
In addition to daily insights on better improving work quality, RescueTime generates an end-of-the-day summary.
A special feature of RescueTime is Focus Sessions. Let's say a task needs complete focus and attention. When you activate Focus Session, RescueTime blocks all websites that most affect your productivity. As you use RescueTime, it learns which apps cause you the most distraction.
RescueTime offers a free two-week trial before you pay. Most reviews say that the free version is enough for first-time users. The paid version is $9 a month.
7. Teramind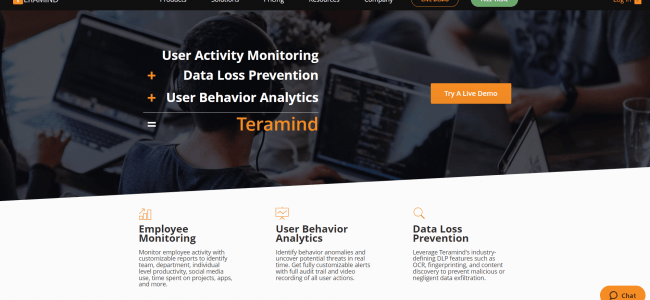 In addition to being an employee monitoring software, Teramind offers protection from security threats and helps prevent company network and data loss. It is known for being the most expensive but most comprehensive tool of its kind. Here are its key employee monitoring features.
Teramind tracks employee work activity in real-time. It tracks apps, websites, file transfers, emails, messages, social media, and other platforms on the employee's system.
 Teramind analyzes an employee's productivity. A manager will have to enter which websites and apps are the most productive to their employees. Then, the reports will show how much time each employee spent on those sites. This will help keep track of employees who need improvement and those who perform well.
The track management features allow employees to manage, track and switch between their tasks while also allowing employers to assign tasks.
The time tracking feature tracks more than just time. It monitors leaves, breaks, attendance, and idle time via timesheets. This information can help keep track of productive employees and those who are slacking.
Another key employee monitoring feature is the setting up of automated behavior rules. These are customized alerts and responses that can be set for specific users, teams, and departments. Whenever a certain unproductive activity is engaged in, or if someone spends too much idle time, the software will send them an automated message to make sure time is used productively.
            Teramind offers a free trial period before you buy the paid versions.
8. TimeCamp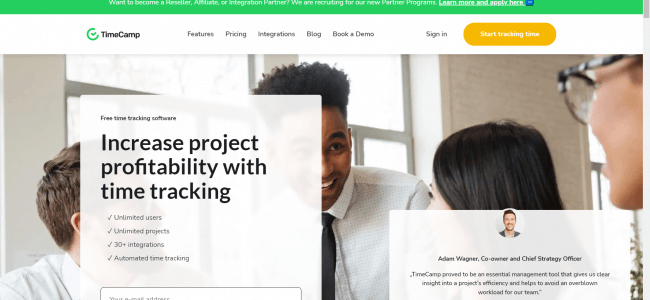 TimeCamp describes itself as "a simple yet feature-rich time tracking app to help you gain insights into your projects and tasks." Here are some of its key features.
Automated time tracking helps employees spend less time focusing on the small tasks involved in time tracking and spend more time on the tasks themselves—all it takes is one click. A graphic timesheet allows for smooth copy-paste and editing time entries. Keyword-based tracking makes switching between projects easier since you won't have to do so manually.
Productivity tracking features website and app monitoring, switching idle time on and off, turning on private mode for breaks, and a productivity assistant to set goals and measure time spent on tasks to maximize productivity.
TimeCamp's smart timesheets make it easy to submit and approve timesheets, discuss and provide feedback on timesheets, give automatic approvals and reminders, and lock the timesheet after approval so data cannot be manipulated.
Attendance tracking in TimeCamp consists of features such as clocking in and out of work, leave applications, payroll automation, and overtime tracking.
TimeCamp allows for quick, seamless integration with over 100 applications, including Chrome, Outlook, Asana, Edge, iCalendar, and Google Calendar. You can directly track your time via apps like Asana or Trello using the Chrome extension.
9. Toggl Track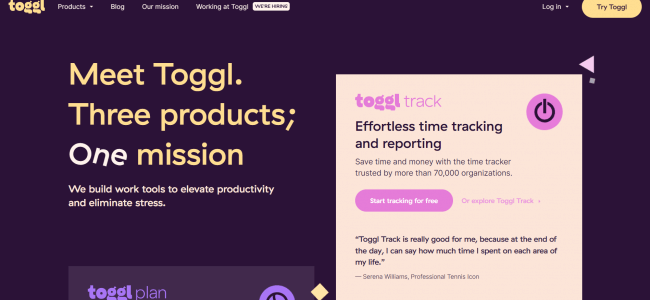 Toggl Track is a time tracking software used by over 5 million users. Below are its key features.
The one-click timers can be used on the web, mobile, and desktop app, and all entries are automatically synced.
The auto-tracking feature reminds you to turn on time tracking ten seconds into using an application.
An interesting feature of Toggl Track is pinning your favorite time entries on top of your timer page.
Calendar integration simplifies your schedule by syncing Toggl Track with Outlook or Google Calendar. Time tracking can be started and stopped based on events in the calendar.
Toggl Track allows for integration with over 100 applications such as Salesforce, Asana, Tello, and Todoist.
In addition to the free version, Toggl Track offers a Starter and Premium version.
Now that you've seen the various alternatives to Time Doctor, it can be a little overwhelming to decide which one to pick. There are various factors to consider, such as your goals, team size, cost, and team productivity.
If you find yourself, whether as an individual or as a team manager, suffering from low productivity, you might want to consider using one of these apps so as to use your time as productively as possible.
Perhaps you're good at managing your time, or your team works well together. Well, you can always be better. Many of these apps provide insights and reports that provide valuable information on where you can improve.
Because no matter how good we might be, there will always be room for improvement. So why not invest in a time monitoring software and make some positive changes?
Recommended Reading on Alternativoj: If you're looking for productivity tools alternatives check out our posts like Alternatives to Time Doctor, Alternatives to Trello , Alternatives to Asana.
Frequent Asked Questions 
What is Tor Browser?
Tor is the browser that keeps your identity safe. It analyzes your web traffic and also protects your IP address. This web browser helps you while investigating any matter or visiting any government site. It works on Windows, Linux and Mac and many other operating systems. You can also get Tor Browser from Google Play Store or App Store.
What are the disadvantages of Tor Browser?
Using Tor Browser is a little risky task. It is used by many political leaders and government agencies. Your data might also get leaked to hackers and criminals. This site might put you into trouble and lead to monitoring your online activities.
Who is the best competitor to Tor Browser?
Tor Browser is a risky tool to use on your system. It is because this browser is used by many political parties and government agencies. You can use some of its alternatives such as Tails, Subgraph OS, Freenet and so on. These tools are not as risky as Tor Browser but contain many features.