Time tracking app is a modern technology that has transformed manual, tedious, and time-consuming business processes by bringing in various digital features. This allows organizations to improve business productivity and workforce efficiency. Not only this, with the help of such applications or solutions, organizations can reduce the use of touch-based biometric attendance tracking, and other conventional methods can risk contamination.
Clockify is a leading application that provides time tracking, project management, and timesheet. Its few features can be leveraged for free, yet some of the basic features to track time accurately are paid. For organizations that want to improve their attendance management or employee tracking, Clockify can be very costly because it also focuses on project management, timesheet, and invoicing. If you are looking for the best alternatives for Clockify, this article is for you.
Top Clockify Alternatives for Your Business
Here are the tools that can work best for you and are light on your pockets as compared to Clockify. Read further to find out your best suitable one.
factoTime is a mobile-first, budget-friendly time tracking tool that helps capture employee time effortlessly. It eliminates the need to use conventional methods such as attendance musters and biometric machines to reduce the risk of contamination and save hours. Though it offers options like attendance punch with selfie or location, it has a unique QR code attendance which works differently. Instead of allowing employees to scan a single QR code, the app requires admins to scan each employee's QR code to capture their attendance.
On top of this, it has a user-friendly UI and a quick implementation process to help you get back to your work within a little time.
You do not need to integrate any third-party app to calculate wages. Instead, you can configure varied pay rates and automate wage calculations directly using the system. In addition, it calculates overtime using the attendance data and integrates it with employees' data to help you finalize salaries. factoTime can be easily used through desktops and mobile devices.
Key features of factoTime
Real-time location tracking when employees mark attendance

Fixed and flexible shift management for both day and night shifts as per your requirement

Dashboard for complete details about the attendance tracking and other metrics

Accurate day and leave status of each employee

Create company calendar with complete list of holidays you want to input

Detailed report generation. For example, all-in-one attendance report, daily selfie punch report, etc.

Attendance correction that can be done from the admin side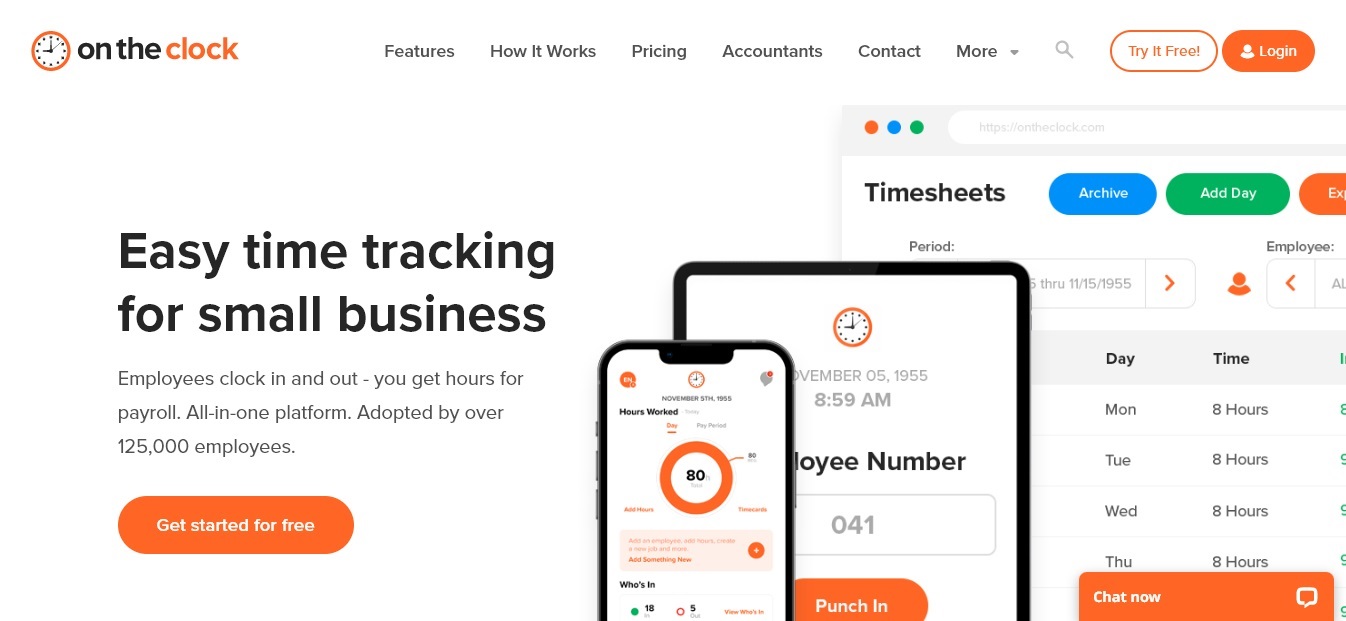 Regarded as the High Performer for 2022 by G2, On The Clock is a simple and easy-to-install tracking application for small businesses and startups. It establishes an effective workforce time tracking technique where employees can punch in and out in the office or at a remote location. Moreover, you can take full control to ensure accurate attendance and reduce buddy punching using device restrictions and GPS tracking.
All the prolonged calculations of payroll can be drastically reduced as you can complete the whole process within 3 simple steps – Add employees, capture attendance, and calculate payroll.
Key features of On The Clock
Integrate payroll software to ensure seamless data flow for payroll calculation

Different user roles such as admin, manager, and employee to fulfill different needs

Monitor paid time-offs, including casual, sick, and vacation holidays

Track overtime accurately and link it to payroll

In-built messaging to communicate with team members

Create and publish employee schedules with a drag-and-drop tool
Recommended: Free BaseCamp alternatives for 2022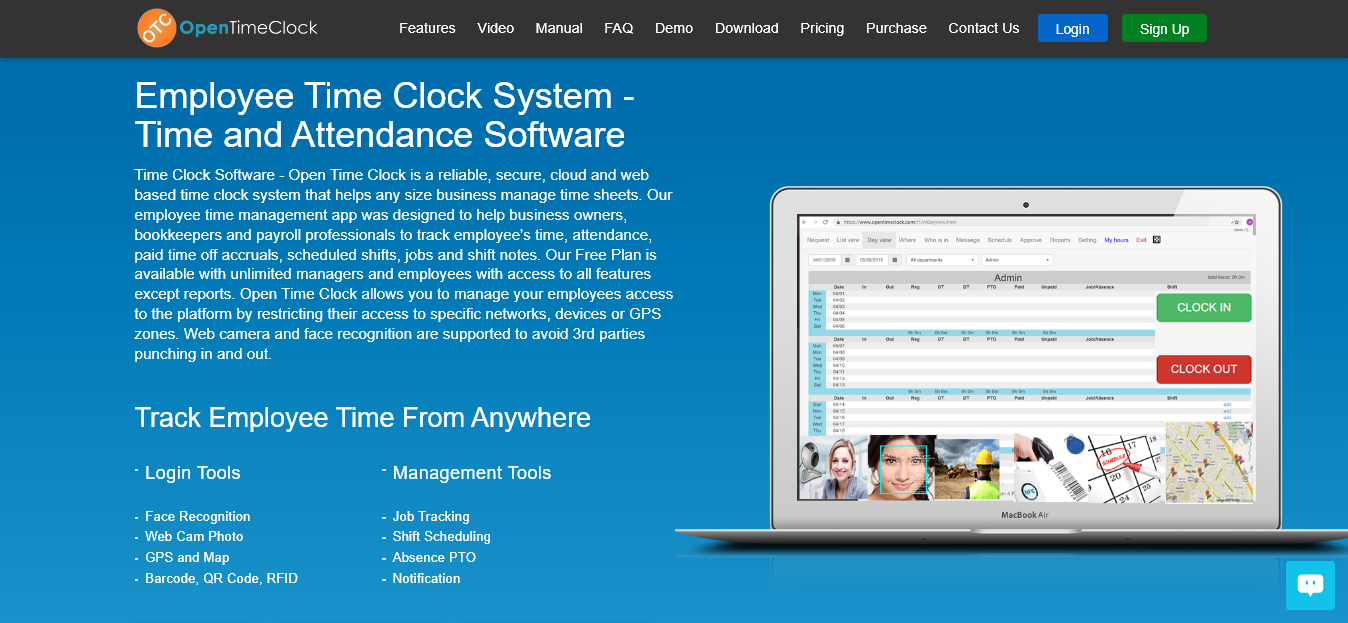 Open Time Clock is a cloud-based solution that enables organizations to monitor employees' attendance, leaves, and tasks so they can concentrate on other essential matters. It is a robust tool to improve the overall workforce productivity and accountability. To help you make more intelligent and profitable decisions, it provides 30+ predefined reports in different formats.
The features like face recognition, barcode scanner, QR code, and RFID transforms the method of tracking attendance. In addition, the app is made simpler in design, so employees do not require extensive training to adapt it. You also get 16-hour free support via call, chat, mail, or tickets.
Key features of Open Time Clock
GPS tracking to monitor location along with attendance

Configure and schedule shifts

Accrual rules setting for leaves and automatic leave balance calculation

Track work hours and estimate the cost of tasks performed by employees

Customized features as per your requirements

Missed attendance request and approval settings

Custom report generation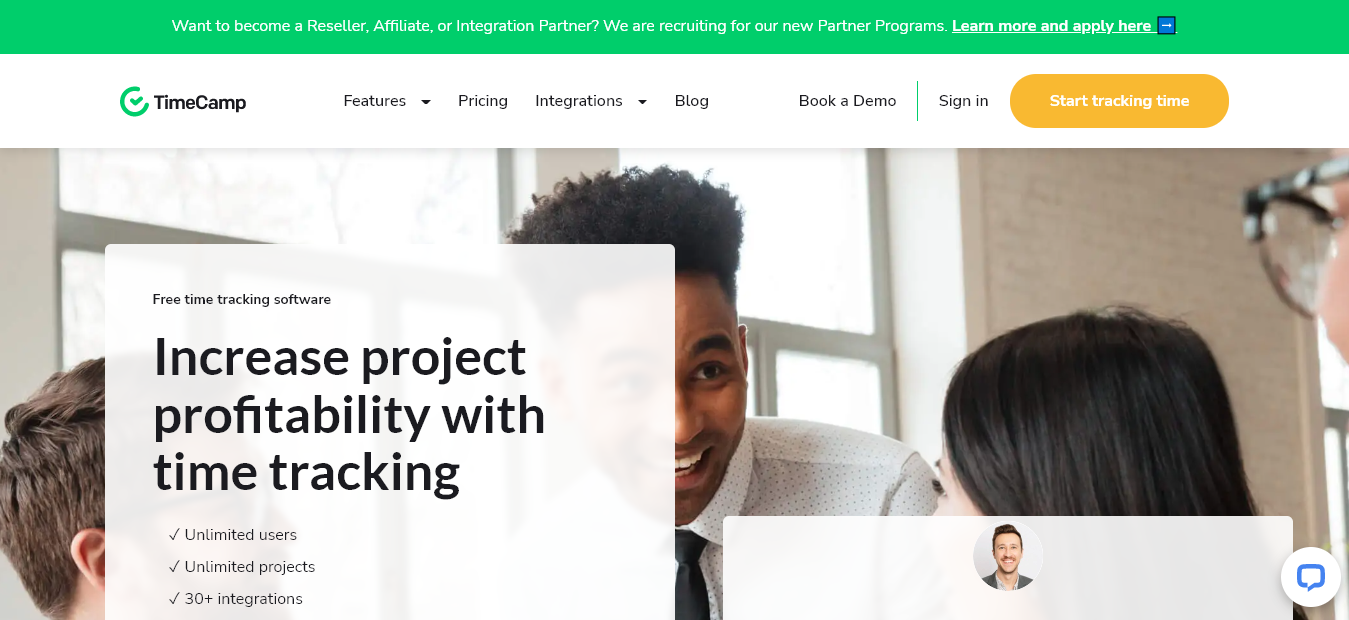 TimeCamp is a completely automated tool that goes a step ahead to improve their employee efficiency, project profitability, and business productivity. All your project complexities come to an end as you can empower your employees to give more time to growth-specific tasks rather than operational ones.
It offers time tracking and timesheet features where employees can input their time and tasks for the day. Furthermore, you can also optimize task workflow and project billing to keep all the expenses in your company's budget. Though it mainly focuses on project management, it provides attendance marking options to enable correct time tracking.
Key features of TimeCamp
Keyword-based project tracking

Off-the-shelf integrations with your preferred applications

Drag and drop interface to add, delete, or update timesheet inputs

Mobile app to offer convenience to the employees

Leave, payroll, and overtime calculation

10+ inbuilt and custom report generation

Invoicing approvals and exporting

PayPal integration for invoice payments

Configure custom billing rates and budget management
Read more: Slack alternatives for team collaboration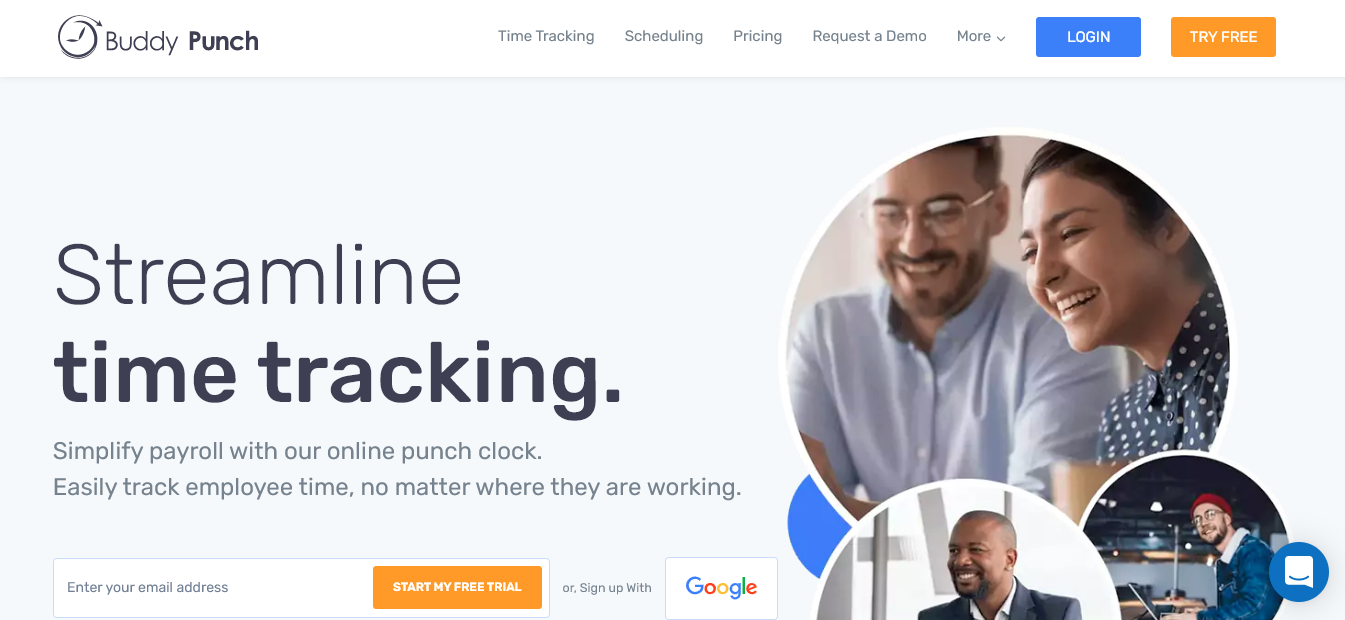 Buddy Punch is an employee time management tool that accommodates your complete workforce, whether they are working at the office or remotely. It simplifies capturing attendance and tracking work hours of employees for HR so they can focus on other core tasks.
The task of reviewing, approving, and analyzing timesheets also gets simplified as it can now be done with a single click. The system empowers you to know if the employees are currently working at the right location or not with the help of location tracking. Creating schedules for your employees is also easy. This helps you ensure that all your business tasks are covered, and your employees know their work timings.
Key features of Buddy Punch
Overtime monitoring and complete insights into total worked hours

Time-off requests from the calendar

Build custom reports from timesheets and send to your integrated payroll software to compute salaries

4 options to mark attendance – Pin, Password, QR code, & face recognition

Time card approvals

Customizable reports for each business need

Automatic break calculations

Set up attendance punch minute round off
Concluding Notes
Implementing such automated solutions can be a beneficial contribution to your company in this tech-savvy era. But the suitable one will help you overcome your manual tasks, simplify your workflows, and allow employees to do more. Many organizations have started using digital tools, and they can see the difference it makes to productivity and performance.
Now that you are aware of the best Clockify alternatives, you can choose the best pocket-friendly software that can fulfill your unique business need. They might offer different free trial versions, which can help you understand each feature better.