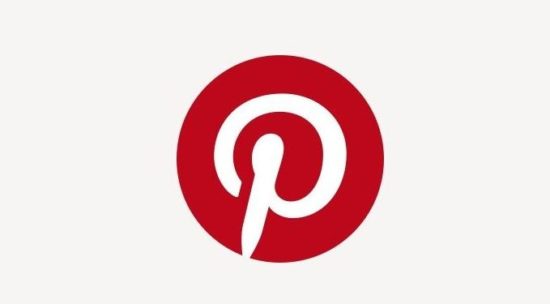 Pinterest is a web and mobile application company that has captivated the internet users completely and is still on the move. It is a large site cataloging content and idea for almost all the areas of life. We can pin and re-pin the images or content in much like the same way, we share the content on other social media sites like Twitter and Facebook.
In spite of its overwhelmingly large amount of information coverage, yet it may run short for few of us. There are many other sites very much similar to Pinterest and few are more specific to a particular niche. To look for a diverse quality and curated content, go through these alternatives to Pinterest which are given below:
Free Alternatives to Pinterest
1. Inspiration Grid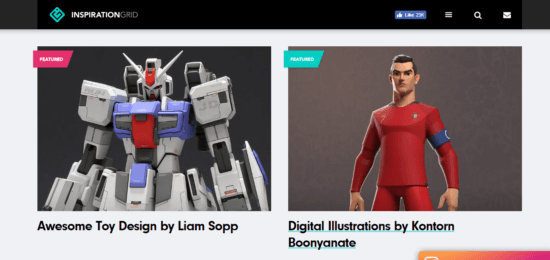 If you love creating some beautiful artwork and logos, this is community worth trying it. Inspiration Grid is actually a platform made for photographers, graphic designers, web designers and many other professionals. You can share your work online and show your talent in the world. It is one of the most effective ways by which amateur photographers and web designers can present their new designs and ideas in the global world.
Also Read: Best Sites like Photobucket 
2. FoodGawker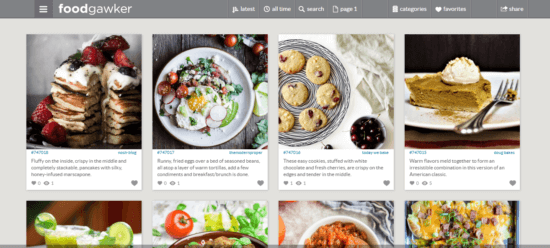 FoodGawker is a website specially made for food lovers. In this website, you can find new dishes and recipes from different parts of the world. You can get the recipes of fruits juices, snacks,and many other food items instantly on this website. FoodGawker also shares some of your best food photos if you have put on the website. This website has easy user-interface with different categories of foods which makes it easy for you to find what exactly you want.
3. DwellingGawker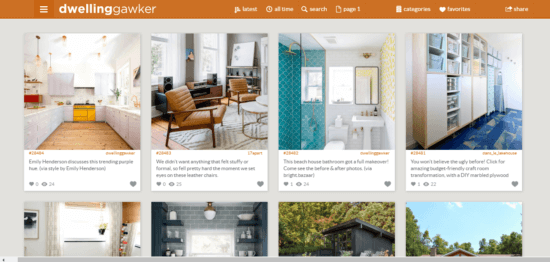 The next on the list is DwellingGawker which will give you an array of ideas for garden design, home interior,and home décor. There are many designs and color combinations for your rooms which you can take from this website. If you want a new style of outdoor or indoor garden, this website has it all for you. The designs on this website are given by experts which will your house and garden a new look. You can also get many ideas of furniture and home décor in this website.
Also Read: Best sites like Tinypic
4. 500PX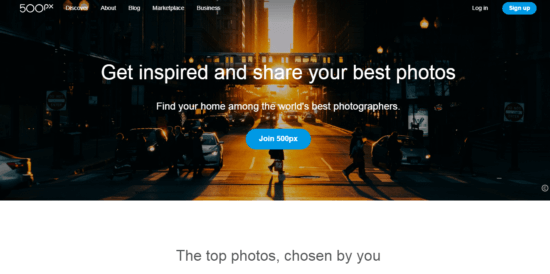 Another one on the list of websites like Pinterest is 500PX. 500PX is a medium by which videographers and photographers can show their skills in the world. It shows the photographs taken by various photographers from all parts of the world. There are more than million members of 500PX who regularly submit their works on this platform and gain good responses from the people. 500PX helps the new photographers to license their photographs and sell them online and earn profits.
5. HomeTalk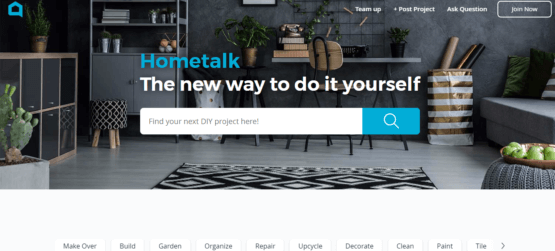 If you want one website similar to Pinterest, then you can choose HomeTalk website. It is a website where you will find thousands of ideas for your home and garden. You can also find many handicraft items on this website which make your home look more beautiful. There is also a community where the users can discuss new designs and ideas of the garden, drawing rooms and offices. The users can also post new projects on this website.
Recommended: 12 Best sites like Slader
6. Liqurious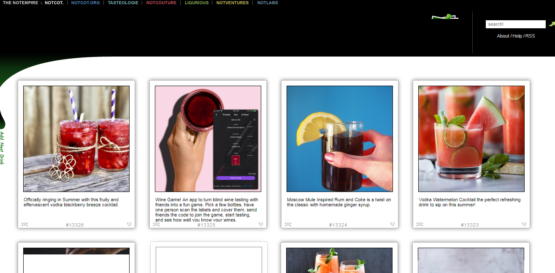 #6 on the list of sites like Pinterest is Liqurious. Liqurious is again a food website where you can find numerous recipes for fruit juices and other drinks. It also provides you the recipes of many health drinks which can cure most of your health issues. Liqurious has a nice layout by which you can find the recipes of health drinks, fruit juices,andother tasty drinks according to various categories.
7. Piccsy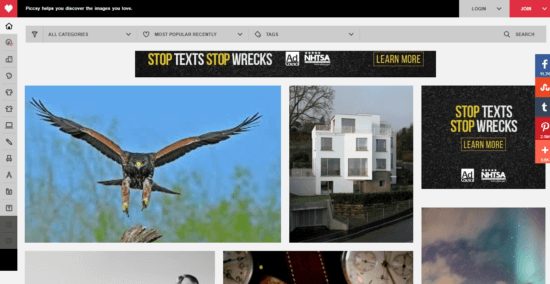 As the name suggests, Piccsy is an app by which you can find many images of various subjects. You can get the images of t-shirts, nature, flowers, animals, waterfalls, galaxy and many others. The users can download the pictures on their device to use them as wallpapers. You can create a beautiful library of all your favorite images and share them with your friends and siblings on various social media sites and apps.
8. Behance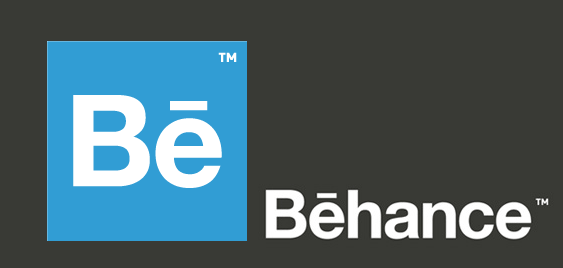 It is one of the best Pinterest alternative to showcase and discover work of creative and imaginative people. It is quite alike the Pinterest and navigation through the site is also very simple. The categories are easy to locate due to alphabetic listing. Freelancers and designers can get help in resume making.
9. DeviantArt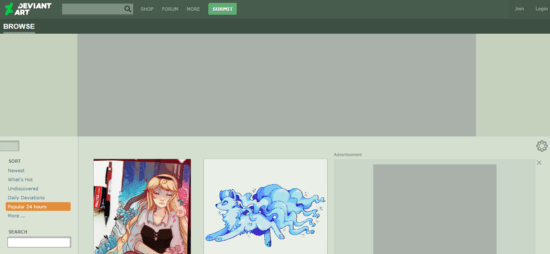 As the name itself suggest, it is for the artists and art devotees. It's an official platform for the art community people. Established as well as emerging artists showcase their work. On registering on this site, it gives the exposure, resource, and tools to become a better cum more successful artist in sculpture, painting, pixel art, body art, etc.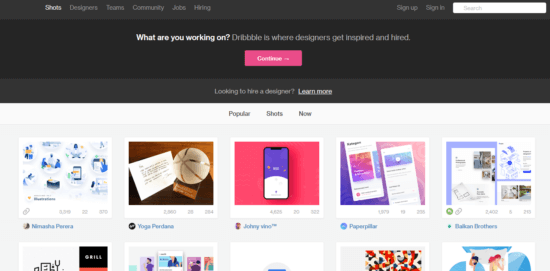 It is one of the perfect sites for visual and graphic designers. Its layout is pretty resembling the Pinterest, it features a lot of designs for artwork, logo, web, posters, pixel art, graphics and more.
11. Dudepins
Pinterest is majorly dominated by and for females, so here is a site for Men. This site has images, videos, and articles that cater the need and interest of the men like fancy rides, newest hardware, cars, scotches, etc.
Also Read: Best alternatives for Time Doctor 
12. Awwwards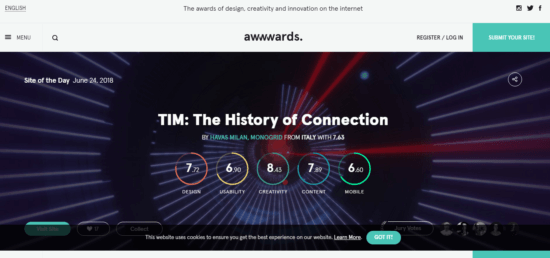 This site mainly recognizes the creative work of web designers and developers of the world. This is the one of the best alternatives to Pinterest if you are looking for designs. This site has a layout similar to Pinterest and has a very good quality of content. Mainly this site is designed to provide awards to designers.
13. Craftgawker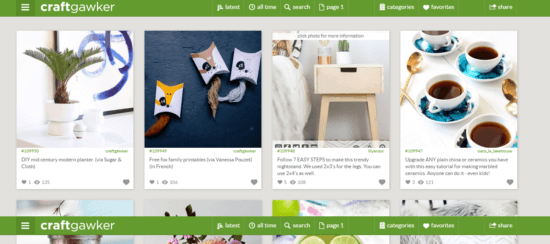 If you are interested in art and crafts then this is the best site for you. This site has content that mainly revolves around art and craft. Among the list of websites like Pinterest, this is the best fit according to us.
14. Designspiration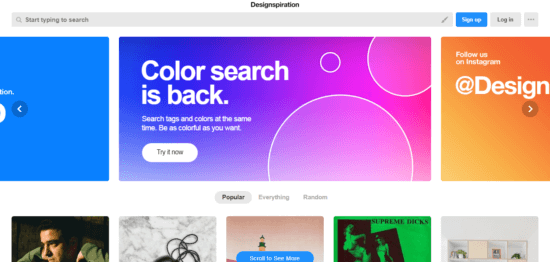 If you are searching for art, architecture, photography and web inspiration. Apart from Dribble and Behance, this site is very similar to Pinterest. This is available as the web version.
15. ETSY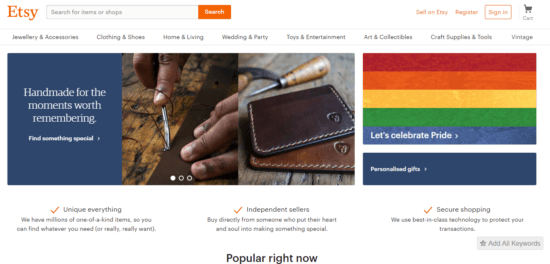 Unlike other alternatives to pinterest, this is an E-Commerce store with a layout similar to Pinterest. You can shop and sell anything on Etsy. This site also provides affiliate program where you can earn money by referring it to someone.
16. Fancy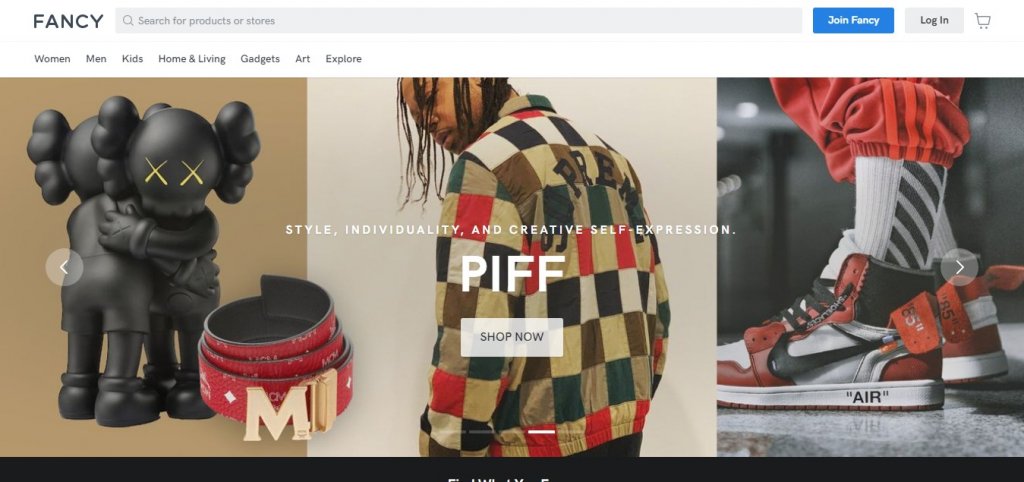 This Pinterest alternative in 2019 is for the people who are looking for interesting stuff. Fancy also provides the opportunity to sell items. It has a layout very similar to Pinterest. This is available on web version but also has android and iOS app.
Art and skill are worth only if they receive a professional touch from experts. You can become famous on social media platform through your creativity by using these sites. They will connect you with the world and give you a large place for finding new ideas.
17. Juxtapost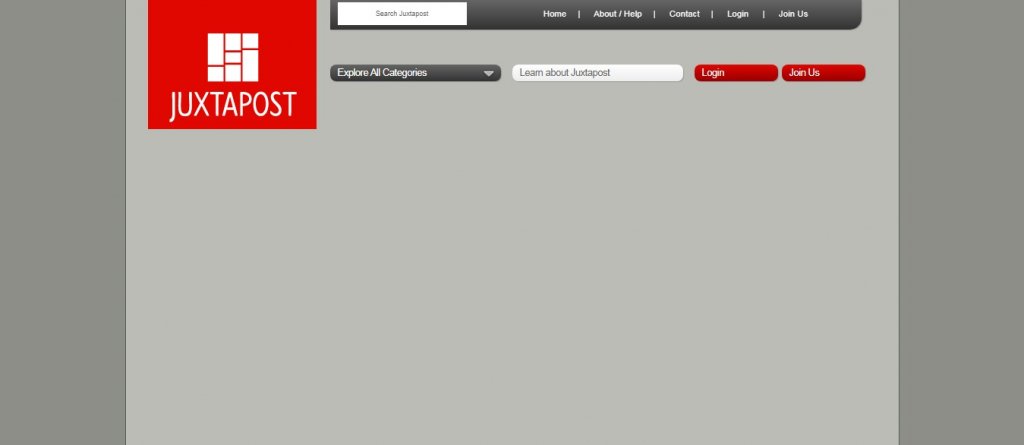 Juxapost is a social site wherein you can post photos and images. It is one of the free Pinterest alternatives having a superb dashboard. You can bookmark the photos you like while searching the web. Further, the users can share, view and export the images and photos on this site.
In addition to that, this site is easy to use. You don't need to make an account or registration. The users can post content on their postboards on Juxtapost site. There is also a privacy feature wherein you can save your personal photos or images or other content. 
18. We Heart It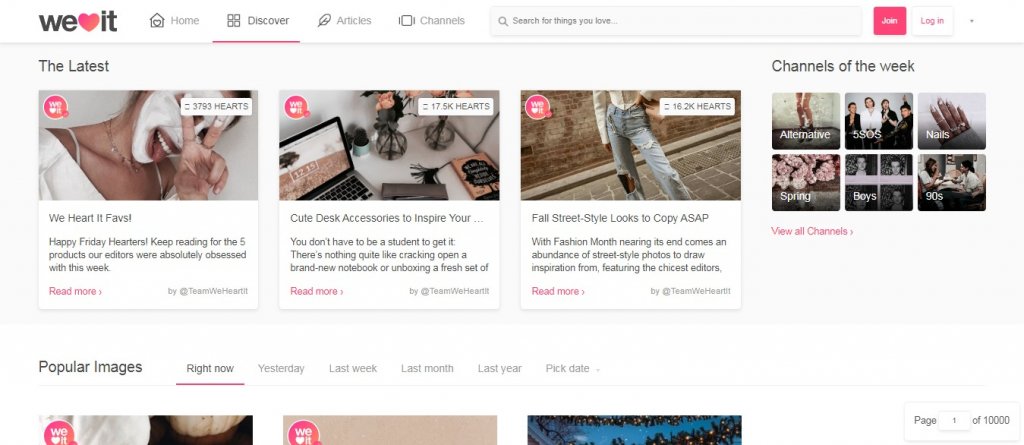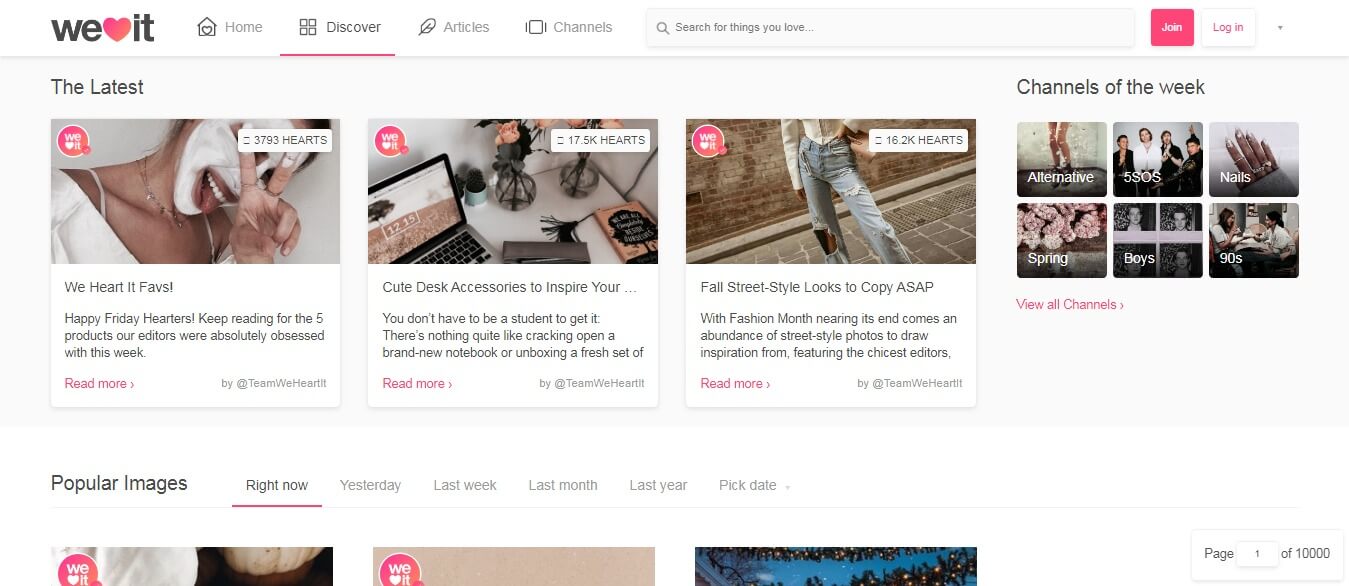 The next on the list is We Heart It. It is one of the newest and best sites like Pinterest you can use to create videos and post images. Further, the site has many motivational quotes to share with your friends and cousins.
You can also get many useful tips on travel, fashion, beauty, food and other topics on  We Heart It site. Apart from that, you can know the latest trends in the outfits and jewelry by joining this site. There are many cool types of wallpaper on this site. You can create your own album and save photos in My Uploads. 
19. Dudepins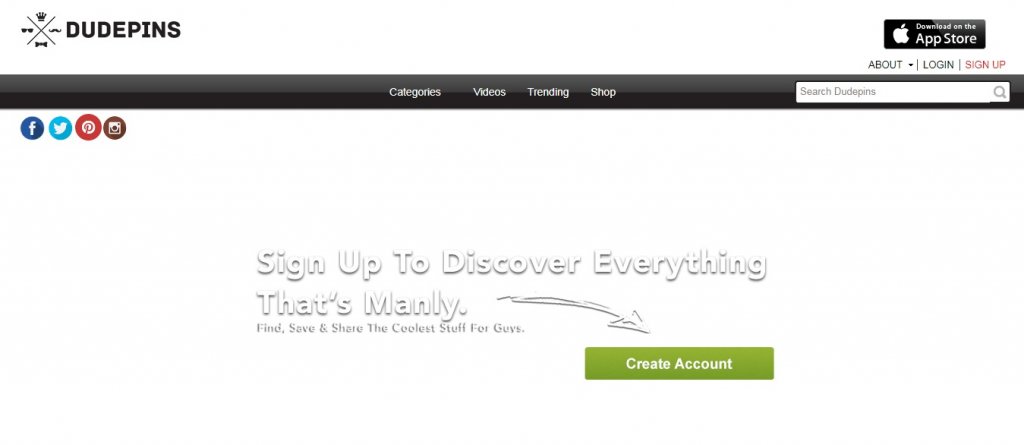 This is the site exclusively for the interest of men. It is an amazing website like Pinterest you can use to get recipes of various cuisines. This site also shows the cool outfits for men and varieties of watches which make you look hot. 
Further, the site shows all the latest movies. Besides that, there are many hot photos of famous Hollywood celebrities on Dudepins. It also gives you knowledge about travel, music, fashion, food, cars and lots more. The men can know about the whole world on Dudepins. 
These are few of the best Pinterest alternatives that can inspire you for creative ideas when Pinterest gives you a feeling of being stuck.
Recommended Reading on Alternativoj: If you're looking for miscellaneous  alternatives check out our posts like Alternatives to Pinterest, Alternatives to Omegle, Alternatives to Yesmovies.