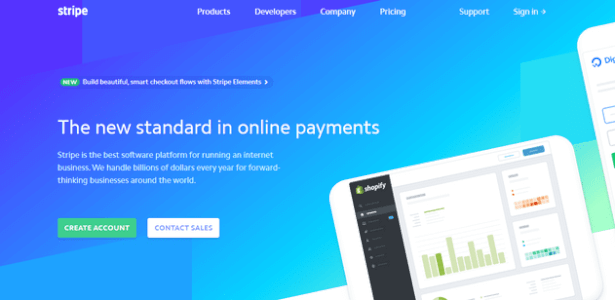 Try the best stripe alternatives for online payments. Stripe is a third-party payment system that is built with a single thing in mind: make it easy for small business people and the merchants. With its vast range of features, in budget pricing and whole lots of customizations, the stripe is taking the pain of paying online via credit card.
Most of the features of the stripe are developed to even run for a large enterprise. Stripe has one of the most prominent systems that handles all of the background processes and also the security features.
The different organization has different needs, and one of those needs is the software. Depending on what kind of work and how the payment flows they need a payment system. But stripe can work for most the people. The transaction between different countries is also possible in the stripe; it will convert the money of varying currency into your local currency.
Well, in theory, Stripe gives every tool necessary for small business and merchants to run their business. But it's not always true.
Stripe has earned itself a 4-star rating, but that for now. Stripe is a good processor but not a perfect one. So, before going for stripe you should keep in mind two thing, that is whether you will use everything that strip has to offer and other is that does stripe has everything you need?
If your answer is Yes the go for it, but if your answer is No then there are some of the stripe alternatives that could suit your organisation.
Best Stripe alternatives
1. Paypal Payment Pro
Paypal pro is a payment managing solution built atop the Paypal technology that enables the business and merchants to receive credit card payments online as well as through mobile and retail cards.
Well, PayPal offers two solutions for accepting credit card payments: Paypal Payment Pro and Paypal Payment Standard. The standard amount has the same fee as a pro, but it doesn't have any monthly charges. It just that the regular payment does not integrate with your website payment.
A monthly fee of $30 is expensive, but this includes all the monthly gateway fees also there are no setup fee or any minimum processing gateway fee. Paypal is one of the most transparent and consistent payment processing systems.
The Paypal Pro compromises of excellent adaptability that allows you to configure the setting of services as per your business demands. Paypal Pro works efficiently with all the device whether it's your desktop or smartphone. You can directly send an invoice to your client inbox through the smartphone. Every system has faults and so do the PayPal, but those are some tiny problem that you would not encounter much. Despite all with PayPal widespread recognition and its features are some serious advantages for individual and small businesses. Because of this in this list PayPal is one of the best stripe alternatives.
[su_note note_color="#e9f0fe"] Top 7 Quip alternatives for collaboration 2018[/su_note]
 2. Braintree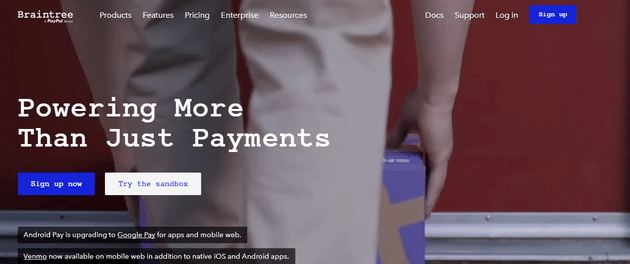 Another alternative to Stripe is Braintree. The concept of Braintree is design such that it makes the payment processing much more comfortable that even no-brain can use. The Braintree has a wide range of option to customise and also provides multiple services at no charges beyond processing fee.
Many of you might not have heard this name, but that doesn't mean that it is not secure or is a small organization. Braintree now has been around decades and process more than one billion transactions every quarter. Braintree has been operating in more than 40 countries. It splits, accepts and enables the process of payment in more than 130 currencies worldwide.
If you compare Braintree with other payment processing systems, then you get a considerable number of unique features that too at no additional charge or monthly fee. For me, I think it the best deal I could get at this rate.
Some of the features include the upgraded security feature Hosted Field that lets the user maintain control over their web checkout that to while keeping the necessary alleviate for security required by the PCI.
Developers and marketer would love to consider the Braintree as their payment processing system. Because Braintree brings a transparent, and developer welcoming system to the boards.
3. Refrens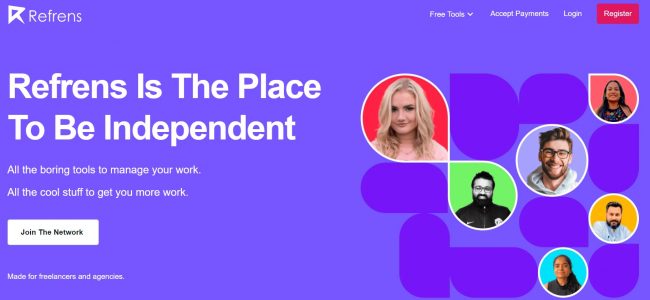 Refrens, is a full-service gateway for freelancers and businesses. It has the lowest transaction fees of 1.8% with 0% forex charges. The exchange rates are higher than google live rates. The process of registering yourself is very easy and less troublesome. Additionally, it is the ideal payment gateway for receiving international payments in India because of its low rates, quick turnaround time, and complete transparency.
3. PayU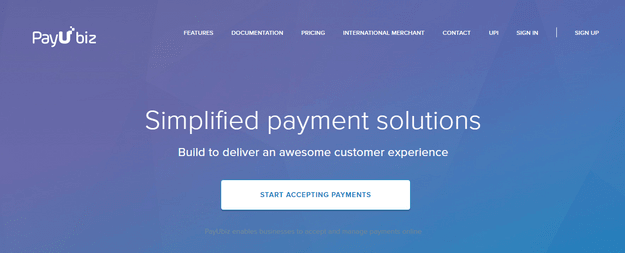 PayUmoney is one of the leading payment processing tool dedicated for a fast and straightforward money transfer for the buyers and sellers.  PayU focuses on the relationship between merchant and the buyer that makes shopping or any online buying easy. With it's more than 250+ payment methods to make payment simple, fast and reliable with any device whether its smartphone or your laptop or desktop.
PayU has an online interface through which the buyer and seller both can view their transaction history and can get the analytic report of their account. With its years of data on the anti-fraud, the security system of PayU can handle any problem-related security.
Integrate PayU today and start receiving the payment for the local merchants, also this integrate is a one-click gateway to the customer for their purchase. Together with its API, the system of PayU is secured for any transaction, and even the software development gives the user what they want because of these reasons PayU is one of the best Stripe alternatives.
[su_note note_color="#ffffff"]Recommended:
Best FreeNas alternatives in 2019
[/su_note]
4. Skrill

Skrill which was known as MoneyBroker until 2013 is used as a payment gateway by many of the e-commercials, gamers and grumbler's website. It also uses a money transfer platform to your mobile wallet or directly to the bank through a service called "Skrill It".
Since when Skrill was first launched, it has now evolved from a website to place the bet to a fully developed site for money transfer, wallets and a variety of service for the merchants. With this payment service, you can send money to your families living abroad by paying through the credit card or any other associated payment method.
The money which is held in your account can only be used by you and no one else. You can either use it for shopping or buy an online service, or you can just transfer your funds to your account.
Skrill has every feature that an e-wallet should possess. Once you open your account and it is well funded, then you can start depositing the money on the site that accepts the Skrill deposit option.
Try out these Stipe alternatives for online payment. If you know any other please let us know in comments.