Adobe Illustrator is effortlessly one of the most liked industry-standard software for designing and editing vector graphics. It has great features to work on, yet working with the same features and having the same templates makes the work a bit tedious and also is not a cost-effective solution. 
Digging into free Adobe Illustrator alternatives will definitely recuse you from missing out on other incredible options. 
This article will introduce you to such free adobe illustrator alternatives which have fascinating features and exciting templates to put forward to work with. 
The main catch of this article is that the websites and tools mentioned are free to use. This will allow you to try on new options without investing any money. And if any website turns out to be good enough, it'll be time well spent. 
Free Adobe Illustrator alternatives
1. Inkscape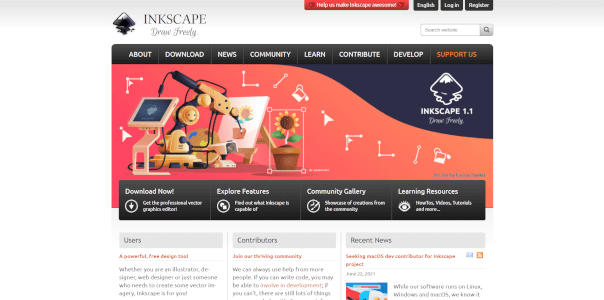 Inkscape has Adobe Illustrator like sketching, illustrating, and editing tools involving bitmap tracing, It has a user-friendly and easy going interface. keys to move and rotate by screen pixels, edit gradients with handles, anxd color painting over objects which gives Inkscape a comparable margin as Adobe Illustrator alternative. 
Inkscape allows you to created gradients and complex textures also. Other than these, grouping, layering, and locking objects tools give you the freedom to customize the feel and looks of any project in balance with efficient working. 
It works with platforms like Mac, Linux, and Windows. This is a quality product that allows both amateurs and professional web designers to work with SVG file format. Technically skilled people can combine Inkscape into another software program of theirs using the open-source package. 
2. BoxySVG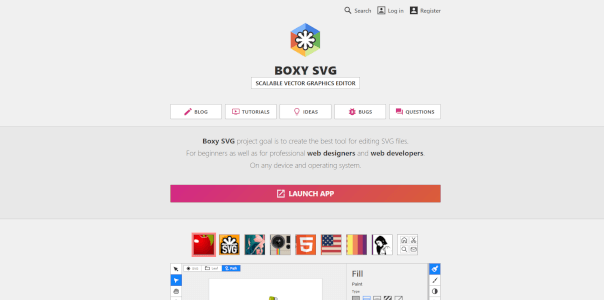 BoxySVG is a desktop app-like robust browser-based vector-free editor tool. It works in the browsers of Windows, Linux, and Mac-like operating systems. It allows you to create expandable vector graphic files which work as Google Chrome extensions. It has a very simple and user-friendly interface. With a fairly good range of basic tools like text, pens, basic shapes, Bezier curves, stroke and fill, ability to add type, layers, etc. it offers optimal vector graphics creating an experience in SVG format. 
In comparison to Adobe Illustrator, it is fast and easy to pick and work on and the files created are cleaner and efficient. Along with SVG and SVGZ format files, one is able to import and export PNG and JPEG format files too. All this makes BoxySVG one of the most suitable Adobe Illustrator alternatives. 
3. GNU Image Manipulation Program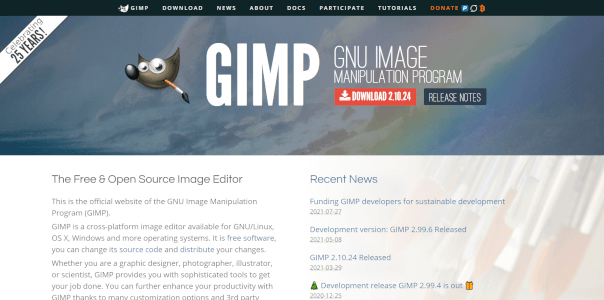 GNU Image Manipulation Program is also called GIMP. Though it has minimal vector functionalities, it has tools very much similar to Photoshop. This makes it an incredible image editor along with strong image manipulation options. 
If you need to do unique style image editing, then GIMP is worth a trial, as it has various customization options and in addition to this, it has third-party plugins too. Highly technical people can take full advantage of this free and open-source GIMP, custom tools in creating graphics and illustrations on Mac, Linux, and Windows platforms. For the amateurs, it offers a tutorial so that you can use and enhance your designing capabilities and productivity. 
Also Read: Best alternatives to Photoshop
4. SVG-Edit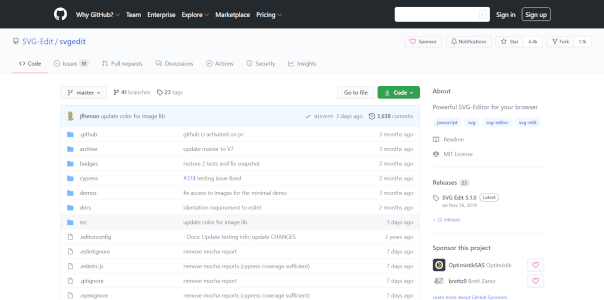 SVG-Edit is another Adobe Illustrator alternative that works on Linux, macOS, and Windows web browsers. It has a straightforward and clean interface that allows the export of raster and vector formats by web developers. 
Though SVG-Edit has a lesser number of advanced tools compared to others, professionals can create SVG files for the websites to their fullest. It has featured tools for text, shape, hand-drawing, and path, etc. which allows you to use this free vector graphics software to create and edit any SVG files in any web browser. 
It is an open-source tool offering an open end for the addition of new features at any time by the developers. SVG-Edit is a tool made on JavaScript, CSS3, and HTML5, having no server-side functionality, it allows downloading and modification of the codes for you to create your own version making it a free alternative to Illustrator. 
5. Vectr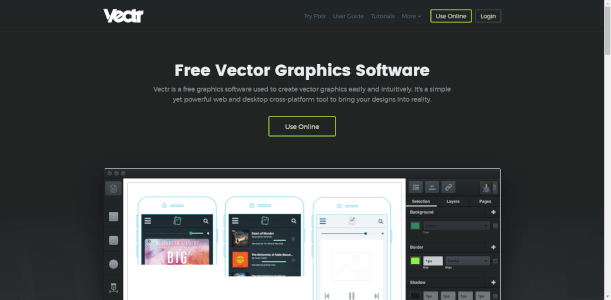 Vectr has an easy and intuitive interface along with interactive tutorials for beginners. It is a free, smart, and slimline in-browser Adobe Illustrator alternative which earlier was available offline as a desktop application software. Current operating systems like Windows, Mac, and Linux are good to go with it.  
Vectr doesn't have many advanced features of Adobe Illustrator, still, it has all the necessary basic tools for vector designing and editing like text, shapes, and multiple layers. Whatever Vectr is capable of doing, it does it nicely. All your work created in SVG, JPG, or PNG file formats can be saved online and exported too. 
Vectr is very popular among amateurs as it enables them to create a basic graphic design with the least of the struggle. 
6. Vecteezy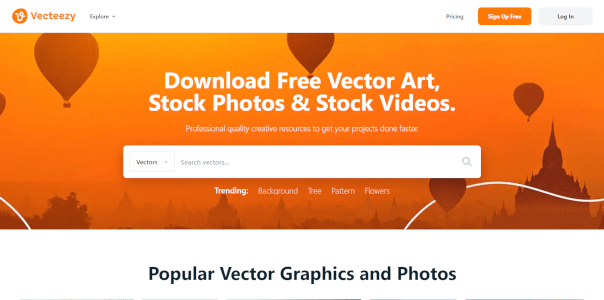 Vecteezy is yet another free in-browser Adobe Illustrator alternatives with a simple user interface, compatible with modern operating systems like Windows, Linux, and macOS. It has nothing to hide behind the paywall and has a variety of choices in vector elements. Vecteezy has sharp-looking vector graphics software has tools with a wide range of shapes, ready-made clipart, and typefaces for text-based designs to choose from. It also has simple tools like a color-picker and pen that enable you to draw freehand shapes and edit the existing ones too. 
Vecteezy needs you to create a free account or log in using Facebook to save your created work. Opening large files is definitely chaos, as while doing so Vecteezy gives you a warning that this may lead your browser to freeze, but this is something all web-based apps have to counter. The only thing is that Vecteezy is brave enough to admit it. 
Also Read: Best alternatives to Tinypic
7. Pixlr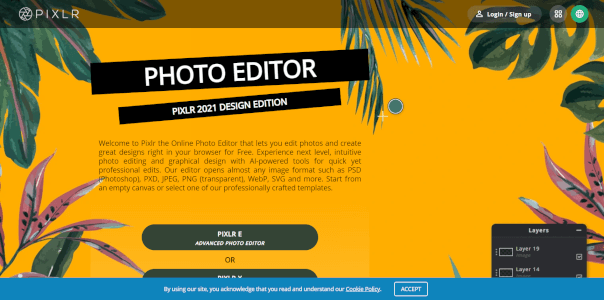 Pixlr is a cloud-based vector graphics editor that is well supported on Windows or Mac desktop, mobile, and/or the web. Though less advanced than Illustrator, a range of features for creating, editing, and sharing creatively designed images makes it one of the very popular tools like Adobe Illustrator. 
Professionals in the position of requiring different devices to work from love this tool. Pixlr comes with two variations: for editing photos is Pixlr E and for the designing of graphics is Pixlr X. Pixlr E enables you to combine your dearest photos into cohesive, clean, and beautiful designs with the help of a photo collage maker. Whereas Pixlr X gets updated with templates for presentations, business cards, event invitations, resumes, newsletters, and social media giving you an extra edge. 
8. Gravit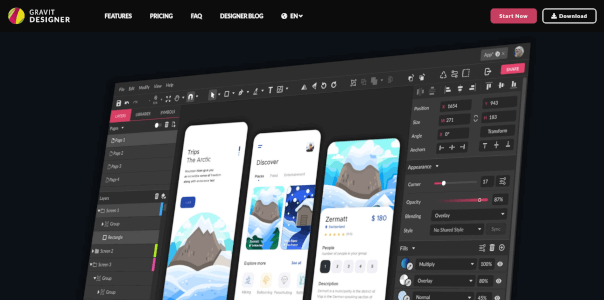 Gravit is designed with a simple and user-friendly interface. This in-browser-enabled software is supported in Mac, Windows, and Linux. It comes with video tutorials for beginners. 
It supports CMYK rendering, allowing you to print good-quality images without even downloading them. Importing and exporting various files in PDF, JPG, PNG, SKETCH and SVG is also comfortable making it one of the considerable Adobe Illustrator alternatives. 
Gravit is favored by freelance designers and Illustrators as it has strong yet basic vector editing tools like pen, knife, line, bezigon, slice, and gradient editor. Its advanced functionalities include symbols, Boolean operations, international text support, etc. that enable you to get a robust design. 
Recommended Reading on Alternativoj: If you're looking for miscellaneous  alternatives check out our posts like Alternatives to Adobe Illustrator, Alternatives to Pixieset, Alternatives to Backpage.
Conclusion: 
The above-listed free Adobe Illustrator alternatives are worth a trial and who knows you may find one out of the above useful and would give you a cost-effective and budget-friendly tool to work on. Hope you find this article useful.